Wednesday will be an raincoat day for most of New Zealand, but while the forecast may be gloomy for many, experienced surfers will be stoked.
Big swells are predicted to start pumping up the east coast on Thursday, from Kaikoura to north of Mahia Peninsula, with favourable winds for board-riding also expected at many breaks.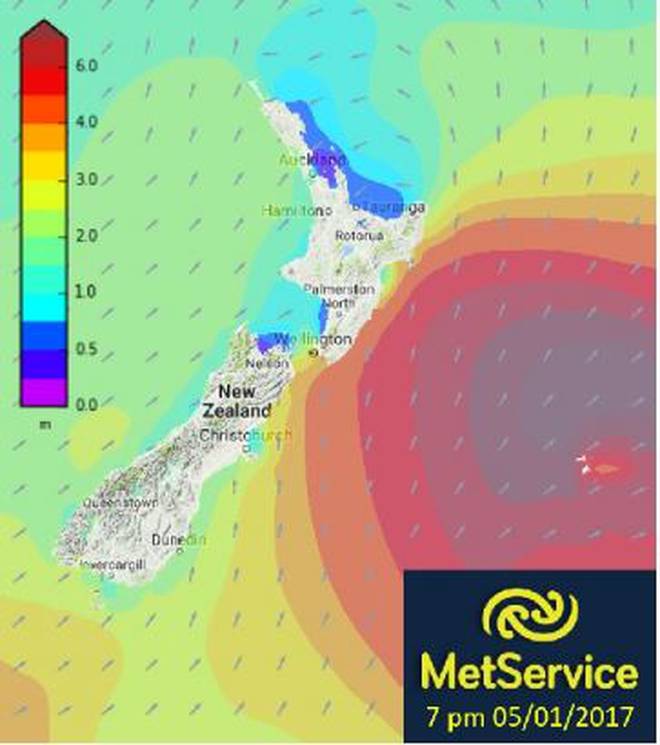 "Gale force southwesterlies offshore from New Zealand, caused by low pressure to the southeast of us, are expected to bring large swells to the Kaikoura Coast, Wellington and the east coast of the North Island from Thursday," the MetService says.
"Waves could get to 4-4.5m for Kaikoura Coast, Cook Strait and the south coast [of the North Island] on Thursday, particularly around Palliser Bay.
"Swells around Wellington will begin to ease on Thursday evening, but the large waves will also spread up the east coast of the North Island, before easing back by around midday Friday.
"Waves of about 3.5m are expected up the east coast, but closer to 4.5m in the south and around exposed areas such as Mahia Peninsula."
On land, the Metservice expects a strong, cold southwest change to spread northwards over the South Island from early tomorrow, reaching Wellington in the early afternoon and Gisborne in the evening.
Temperatures are predicted to range from a chilly 12C in Gore to 26C in Gisborne and Napier.
MetService meteorologist Ciaran Doolin said a series of weak fronts would move up the country tomorrow.
"Most areas are, unfortunately, likely to see periods of showers and [in] some exposed coastal areas quite strong southwesterly winds as well.
"There will be a few exceptions. The Bay of Plenty will be relatively nice, with a few showers in the overnight period. After that it should fine up and be quite nice.
"Nelson should be okay. There are some isolated showers, perhaps, in the afternoon and evening ... in the ranges, but as far as the city and bay are concerned it will remain dry.
"For the most part, most coastal areas will see some showers."
But things are looking up for Thursday, with mostly fine weather across much of the North Island, and in the South Island, remaining showers in the south and east clearing and otherwise fine.