Christmas is a time of peace and joy - and an increased risk of dying from a heart attack.
New Zealand researchers have confirmed this in a study published today based on 25 years of mortality data, including 197,109 cardiac deaths.
Their study raises questions about rich Kiwi Christmas delights such as pavlova and cream, alcohol intake - and even the risks of heading off to some of our favourite holiday beach spots.
For the December 25 to January 7 period each year, Josh Knight and colleagues found on average a 4.2 per cent increase in the number of non-hospital deaths from heart-related problems.
The average age of cardiac death during the Christmas holiday period was 76.2 years, compared with 77.1 at other times.
They did not find any significant change from the seasonal trend for cardiac death within a medical facility, or for overall mortality.
US researchers have previously shown a spike in daily death numbers during the Christmas/New Year holiday period for cardiac and non-cardiac diseases. The spike persisted after adjusting for the fact that the northern Christmas falls in winter.
But because the Kiwi Christmas is in summer, the New Zealand study was free of the complications of winter's known increase in cardiac deaths triggered by conditions such as pneumonia and other respiratory illnesses.
In the journal of the American heart and stroke associations, the researchers say suggested explanations for the Christmastime increase include:
• Changes in diet and alcohol intake,
• The emotional stress of holidays,
• Delays in seeking medical help, and
• People who are terminally ill possibly being able to time their death to when they are home from hospital during the holidays.
The last two on the list have the most support from their data, although one of the co-authors, Professor Rod Jackson, of Auckland University, added there is some evidence that eating a meal high in saturated fat can increase the thickness of our blood and its ability to form clots, potentially increasing a person's risk of heart attack and stroke.
"It is possible that people over-indulge and there are changes in people's blood viscosity and clotting that happen within hours of a fatty meals, particularly after a saturated-fat meal," Jackson said.
Knight, a PhD student, said people might delay seeking help for a heart problem that flares up during the holidays, perhaps because of access issues or if they have gone to a holiday destination that is remote from medical facilities.
"[They] end up having a cardiac event that would otherwise be non-fatal."
"If the event was non-fatal there is a good likelihood that the individuals would have quite a number of healthy and productive years left to enjoy."
Knight suggested future research could check to see if cardiac deaths from delayed health care are happening in remote holiday destinations and, if so, improve their emergency ambulance services.
He said some terminally ill people might be able to be able to hold off death until a day that is important to them.
"The ability of individuals to modify their date of death based on dates of significance has been both confirmed and refuted in other studies, however it remains a possible explanation for this holiday effect."
Jackson said the holiday message of the research is: "If you feel unwell, go and seek help immediately."
Kiwi cardiac deaths per day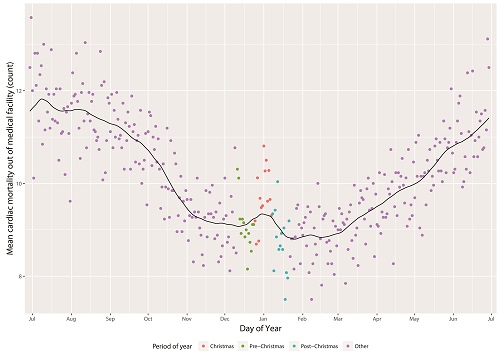 Source: The Journal of the American Heart Association/American Stroke Association