Key Points:
The top of the country is set to be lashed by thunderstorms, strong winds and hail today as a fierce front batters the island. But forecasters say we can expect warmer, sunny conditions across much of the country later this week. MetService communications meteorologist Lisa Murray said there have been flashes of lightening in Bay of Plenty and off the coast of Taranaki. Decent rain fall has hit the eastern area of Bay of Plenty and heavy falls are approaching Taranaki. A severe weather watch is in force for most central and northern regions of the North Island with the possibility bursts of heavy rain could lead to localised flooding. The watches stretch from the Tararua Ranges to Northland. MetService duty forecaster Tom Adams said the worst weather was reserved for Auckland north.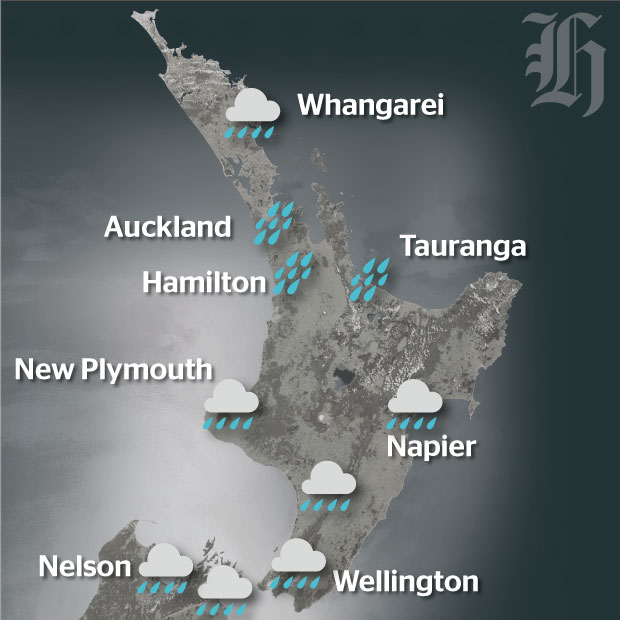 Localised thunderstorms would be interlaced with sunny spells for the City of Sails today with heavy rain forecast. The morning would be marked by strong winds and hail this afternoon. Adams warned winds accompanying thunderstorms could gust up to 90km/h. Some parts of the island could see over 70mm of rain fall in 12 hours, possibly leading to surface flooding in Whanganui and Bay of Plenty. "What's happening is there's a pretty active front crossing the island with a low centre. When that happens it can take time to get across, leading to heavy rainfall ," he said. Adams said like last Monday's massive hailstorm over Auckland's western suburbs most of today's forecast thunderstorms would be localised. In comparison, weather in the South Island was set to be more benign with most of the island expected to be fine with the chance of a few showers over inland regions. Power is out to 30 homes in Snells Beach, north of Auckland. A Vector spokesperson said the fault is not weather related and power is expected to be restored after 11.30am.
Warmer, sunnier times ahead
Meanwhile, warm nor'westers, or foehn winds, are forecast for parts of the eastern South Island tomorrow and Wednesday, before spreading to the east of the North Island from Wednesday into Thursday. These toasty winds, tracking from eastern Australia and across the Tasman Sea, will promote the warmest days of the spring so far across New Zealand. There's a chance that a few spots in the north of Canterbury will approach 30C on Wednesday and in coastal Hawke's Bay and Gisborne on Thursday. While other areas of New Zealand will have above-average temperatures, the 30C mark will be less likely to be reached, according to the National Institute of Water and Atmosphere (NIWA). Eastern Southland and Otago will enjoy summery temperatures surging toward 25C tomorrow, ahead of a southerly change that is forecast to arrive tomorrow night into Wednesday. Ahead of that southerly change, it is possible that some parts in southern and middle Canterbury may experience record or near-record warm overnight temperatures. Farther north, Auckland and Hamilton should reach into the 20s on Wednesday and Thursday and Wellington the upper teens. Gusty nor'westers might temper the warmth in Wellington, however. The last 30C temperature occurred eight months ago in March - in fact it reached 33.1C at Hastings, Napier, and Gisborne on March 8. Since then, the warmest temperature observed in New Zealand was at Wairoa, Hawke's Bay, where it reached 27.1C on October 20. Last year, we didn't need to wait until November to surpass the 30C threshold as Kaikoura, Canterbury reached 31.8C on October 7. As warmth unfolds on the east side of the South Island, drenching rains may cause flooding along the West Coast from tomorrow into Wednesday. A weak southerly is forecast to move up the eastern South Island late on Wednesday, putting an end to the summery warmth. The east of the North Island may have one more day of unseasonably warm weather on Friday before cooler air arrives in time for the weekend. Another round of warm temperatures, especially in the east, is possible early next week.