"You can shed tears that she is gone or you can smile because she has lived."
Those were the last words on the order of service for Georgia Buckingham's funeral yesterday, and while there were tears aplenty, there were smiles too.
The 16-year-old died peacefully at her home last Friday, after an almost two-year battle with myeloid leukaemia.
Family and friends filled the main hall at Te Ahu to standing room only to farewell the teen, described by her uncle, Sean Bellew, as "a mighty kid".
Typically, she had asked him to lead her service, because he was old and could talk a bit.
No one who knew her would have been surprised by that assessment.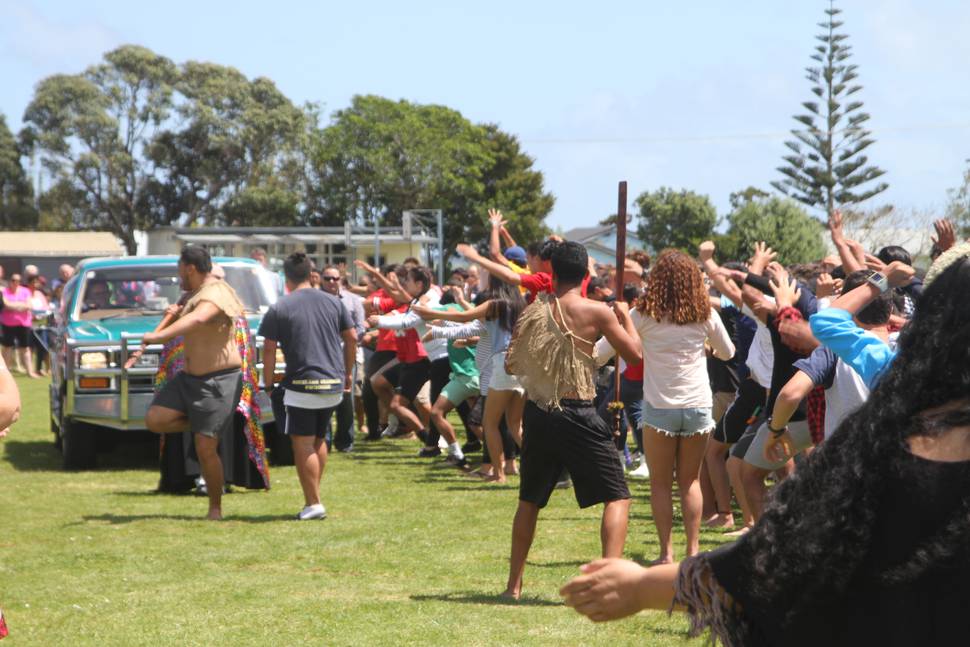 She had led a short, uncomplicated life. Never short of courage, she had travelled to Invercargill while desperately ill to see her grandfather on his death bed, and now she had "gone to the other side" with the purest soul that a woman could have, he said.
Her courage and humility had been second to none, he added. He had never seen her shy away from an activity, a responsibility or an opportunity to socialise with others.
She had been strong, had not suffered fools and had not minced her words. No one had ever doubted what Georgia was thinking.
She was never selfish, had never lost an argument (at least with her father), and had been into everything that was going.
With 400,000 likes on Facebook the world had known Georgia, and Georgia had known the world.
Georgia was diagnosed with myeloid leukaemia on Christmas Eve, 2014, months of debilitating treatment at Starship Children's Hospital offering every hope that she had beaten the disease. By June last year she was back home and planning to return to school.
On May 12, exactly a year after she was told that she was in remission, her cancer cell count increased dramatically. More chemotherapy and a bone marrow transplant, courtesy of a donor in Europe, failed to keep the cancer at bay.
The courageous, irrepressible teenager was back at her home at Takahue in September, determined to make the most of the little time left to her.
Those last few weeks of memory-making included four days in Sydney, where the highlights included meeting her favourite band, Five Seconds of Summer.
Mr Bellew believed the concert prolonged her life. She had been treated like a VIP, he said.
"She was rockin.' She loved it."
He had also been deeply impressed by the community he was visiting for the first time.
"I am amazed at how you go about the business of caring for one another," he said.
"We don't do that in the South Island. This is a great community, and I can see why people love living here."
Many of the tributes paid yesterday were deeply personal, every one of them speaking of the impact Georgia had on others and the qualities they saw, admired and loved in her.
Lisa Jones spoke for Kaitaia's 'Taupata (Street) Triangle' and the Houhora campers, saying a beautiful child had turned into a funny, strong-willed, special teenager.
Beverly Thompson remembered watching horror movies with her lifelong friend, and Georgia's father Glenn (Bucky) scaring everyone until they could scream no more, while Aaliyah Dane farewelled "a small ball of happiness," the "social media queen" who had helped those who loved her immensely.
"You kept us positive. You made us laugh. You were always there, never judgmental. You taught us to take advantage of each day," she said.
Earlier in the day Georgia was farewelled at Kaitaia College, the students welcoming her on to the field with a karanga and farewelling her with a haka. Almost everyone was in mufti, answering Georgia's wish for lots of colour.
"However we knew her, Georgia was always colourful and cheerful. She was a special person," Rev Michael Withiel said, the embodiment of Kaitaia College's spirit.
"Winning the Year 11 award for integrity was fully deserved. She was a shining example of resilience and fortitude.
"I am angry that such a loving young lady has been so cruelly taken from us. It does not seem fair," he said.