A Whanganui woman is warning pet owners to be careful after her cat was apparently doused in flammable liquid and set alight.
Two-year-old Sparkles came home on the evening of August 13 with burns, a large cut, and a crushed paw, owner Tracey Bright said.
"When she lay down in her favourite spot she had a big cut, all her whiskers were gone. It was almost like she'd been shaved, all her fur was just sort of gone," Bright said.
She rushed Sparkles to the vet, who told her the cat had been burned.
"We realised since then she had a crushed paw, so she'd been held down and squirted with the lighter fluid and lit."
Bright faced the decision to either remove Sparkles leg, or pay thousands for skin grafts.
She decided to try skin grafts. The grafts under the cat's armpit worked well, but did not take on the back of her lower leg. The area will be left to heal over, which may take several months.
So far, the vet bill is up to $1800.
Now Sparkles must be kept confined and is not allowed to jump, "but you try to tell a cat not to jump around".
Bright said it looked as though Sparkles had only been briefly lit on fire, "like a flash flame".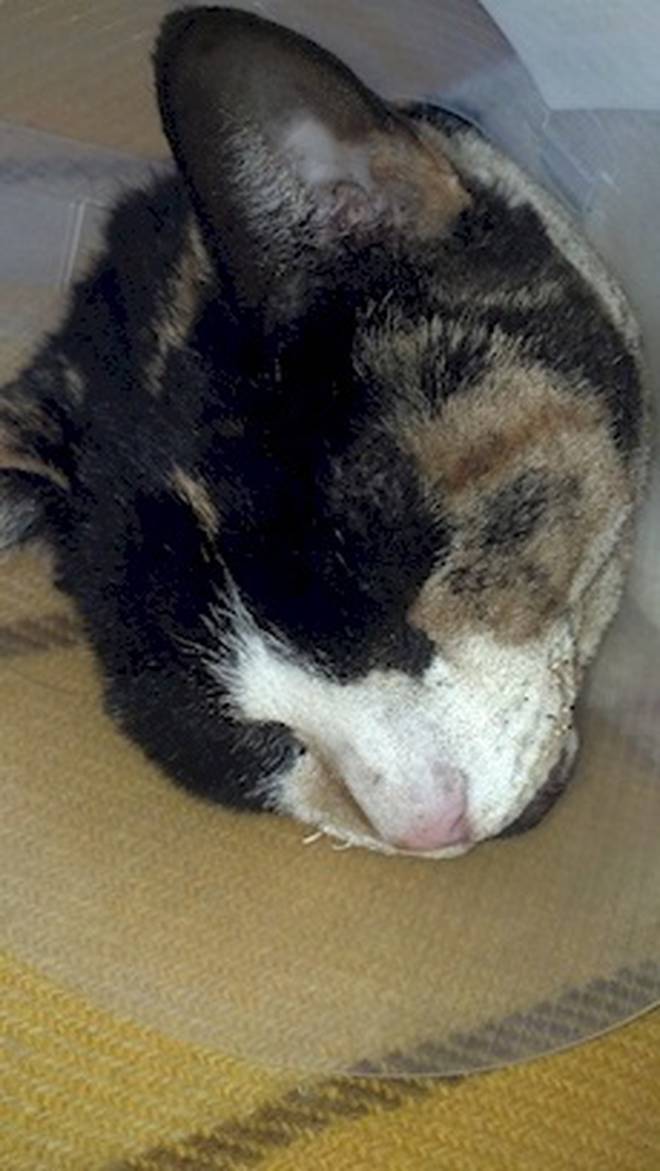 She was glad her 7-year-old daughter hadn't been home when Sparkles came in injured. Bright herself was "in tears".
She began a Givealittle page to help pay for the vet bills, and said it has been "overwhelming" seeing the responses from people.
She has reported the incident to police.
Bright is now warning other pet owners who live in the Argyle St area by posting on the Buy Sell Swap Wanganui Facebook page.
"I've seen so many cats missing in Wanganui at the moment," she posted. "I don't know if its all related but I don't want this to happen to any other cat.
"Please be careful and lock your cats in if you can. It makes me sick to think this person is out there. Regardless if you like cats or not its an awful thing to do."
The Givealittle page has raised at least $1300 so far.
Readers can head to givealittle.co.nz/cause/savingsparkles if they want to donate.