An early morning hunt for stingrays nearly ended in tragedy for an orca in Whangarei Harbour after it got stranded.
But the orca, known as Nibble, managed to get himself off the beach as the tide came in and before a rescue was needed, Northland orca expert Ingrid Visser said.
Dr Visser said Nibble was among three orca who visited Whangarei Harbour on Saturday morning and became stranded in the early hours of the morning just off Tamaterau on the northern coast of the inner harbour. She said Nibble was probably chasing stingrays at the time.
"With an incoming tide, the two orca accompanying him swam around him as they all awaited him to refloat," Dr Visser said.
"The Orca Research Trust responded within minutes of getting a call about Nibble's plight. But local residents, Trevor and Cathrine Kehely who run the Blue Heron Holiday Park right next door to the stranding site, where able to report that Nibble had successfully refloated and the three orca headed up the harbour."
She said Nibble's name came from the distinctive shape to the tip of his dorsal fin.
Dr Ingrid Visser, who has been researching orca for more than two decades said: "we think that Nibble was shot and the bullet hole became infected and swollen, causing the disfigurement that we now see.
"It looks like mice have been nibbling at the trailing edge his fin, hence his name."
She caught up with the orca as they approached Kissing Point Marina and found that they all looked in great shape. Nibble was none the worse for his "wee adventure."
"He was accompanied by Miracle an adult female, who stranded in 1993 at Great Exhibition Bay, where she had to be rescued by humans."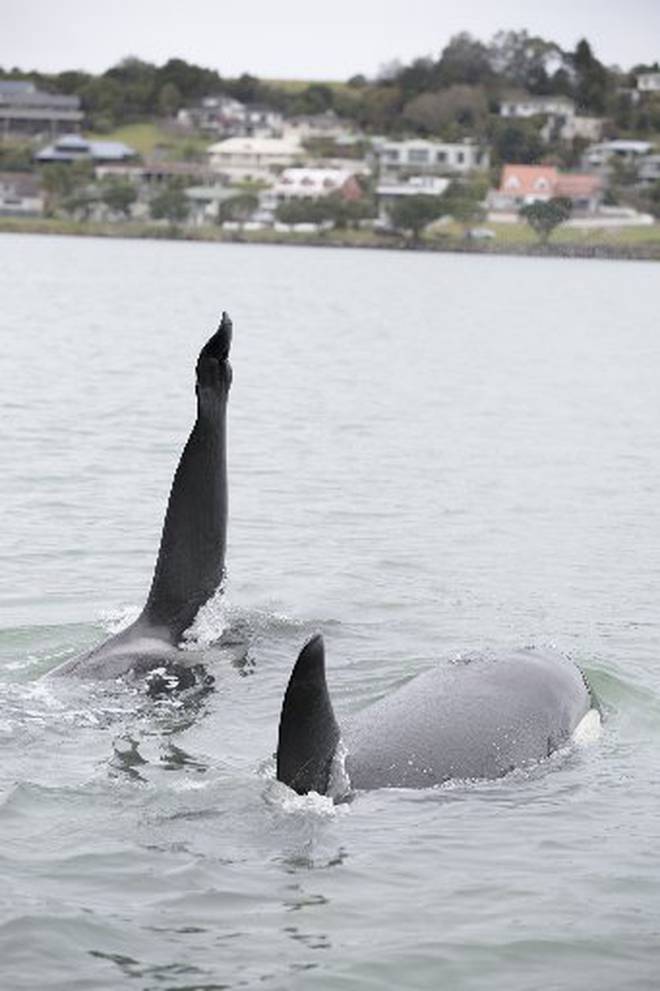 The third orca was Miracle's calf, a young male born in September 2009.
"All three of these orca are regular visitors to Whangarei Harbour and they know the area well. Miracle gave birth to her first calf in 2004 inside the harbour, so it is great to see her continuing to return."
Dr Visser also praised the local community who had taken the time to call her.
"So often people think someone else has called the 0800 SEE ORCA hotline. But what often happens is that no one does, so I encourage everyone to call when they see orca, as those calls are the key to rescues as well as our research."