Large parts of the country have again woken to a frosty morning, with the lowest temperature dipping to - 6.5C.
The heaviest frost of the year struck most of the country yesterday. Temperatures fell to as low as -7C, causing severe frosts in parts of Otago.
Air New Zealand spokeswoman Anna Cross said the winter weather had caused some delays.
Fog delayed one outbound regional service NZ5031 from Hamilton to Wellington.
NZ8677 from Kerikeri to Auckland and NZ8251 from Whangarei to Auckland have also been delayed due to fog and icy conditions, she said.
Five outbound jet services at Auckland Airport were also delayed for a short time while aircraft were de-iced.
"Obviously this has some flow on effect on our schedule."
Up to date information on Air New Zealand arrivals and departures is on their website
MetService meteorologist Ciaran Doolin said this morning it was residents in the coastal Coromandel town of Thames who shivered through the coldest night in a populated area, recording a chilly -3.4 degrees Celsius. Frosts were also widespread in Auckland, Waikato and the Bay of Plenty.

Only Eastern Rangitaiki, at 752 metres above sea level in the Hawkes Bay hills, won the icy battle with Thames. The mercury fell there to -6.5C.
In the South Island, Lake Pukaki in the Mackenzie Country was coldest, with an overnight low of -2C.
It was also a frosty morning in Christchurch and further north in Blenheim, with 0.8C recorded at the garden city's airport at 7am the city's overnight low. Blenheim fared slightly better, with a 2C low.
Dunedin, by contrast, bounced back from a -7C low the previous night to notch a positively tropical 9C overnight.
A nor-west flow over the South Island, combined with insulating layer of cloud in some areas, had protected the usually colder island from the brisk conditions experienced further north, Mr Doolin said.Wellington also fared well, escaping frosts and enjoying a temperature of 11C at 7am. Palmerston North was also frost-free.
After a frigid morning in Maungatapere, one plucky Northlander took to the slopes for some impromptu frost-boarding
Auckland was a mixed - albeit brisk everywhere - bag.
"There's a bit of variance in temperatures, but it's chilly, no doubt about that. It's similar to the previous night."
The overnight low at Auckland Airport was 2C, but it was colder in the city's west. It was foggy at Whenuapai, with a low of -1.6C making it the coldest in Auckland overnight.
Henderson was was 1C at 7am, Onehunga 6C and Whangaparaoa 8.6C.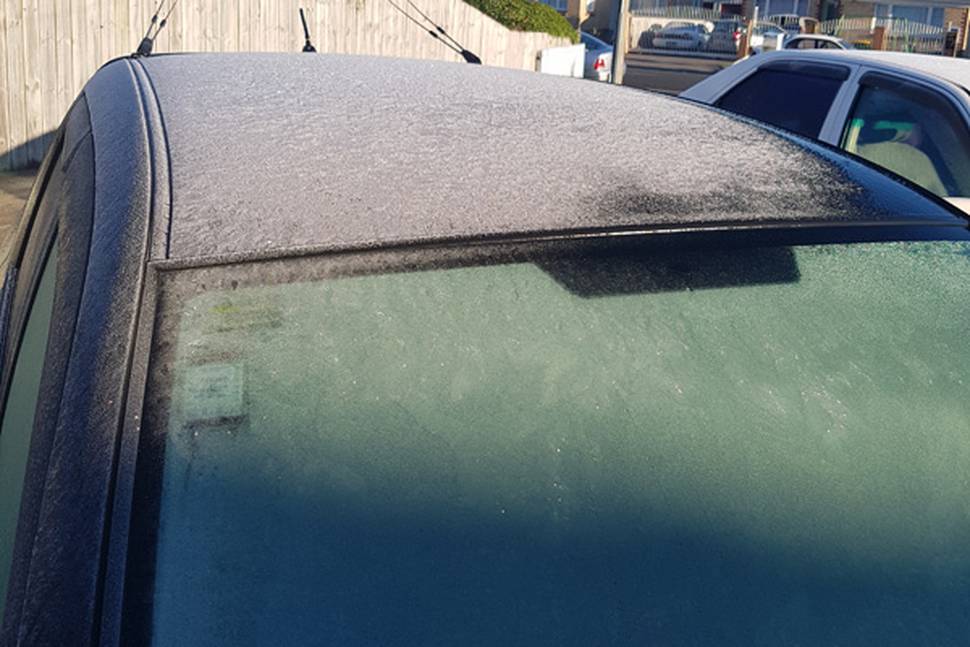 Hamilton was also affected by fog this morning, after falling to -1C overnight. Fog should clear between now and 10am, Mr Doolin said.
Whakatane was the coldest centre in Bay of Plenty, with -2C overnight. The temperature fell to 1C in Tauranga.
The last two nights have been frosty for many parts of the country, but the situation - at least in the North Island - should improve from today, Mr Doolin said.
"There looks like a slightly warmer air mass is coming down ... there's a very shallow low off the east of the North Island. It's not going to have a huge impact on weather, but it will bring down some warmer air."
WEATHER TODAY
Auckland:
Fine at first. Cloud increasing later with showers in the evening. High 15C.
Hamilton: Fine. High 12C.
Tauranga: Sunny with light winds. High 13C.
Palmerston North: Morning cloud, then sunny. High: 14C.
Wellington: Sunny with northerlies. High 15C.
Blenheim: Fine with westerly breezes. High 16C.
Christchurch: Fine with northerly breezes. High 14C.
Dunedin: Cloudy with a few spots of rain. High 14C.