Annie McGregor has kept a boot which belonged to her mountaineering husband John Harrison for almost 50 years after he lost his life on Mt Rolleston in one of New Zealand's worst climbing disasters. Now a bronze replica of that boot and a plaque will be placed at Arthur's Pass to mark the anniversary of the tragedy, reports Tom Doudney.
Arthur's Pass is the scene of both the happiest and saddest moments of Annie McGregor's life.
It was here, in 1960, that she married the love of her life, a09-06-2016 17:44:23ccomplished Christchurch mountaineer John Harrison, in the little chapel by State Highway 73.
And it was at Arthur's Pass again, on June 23, 1966, that Mr Harrison was killed in an avalanche during an unsuccessful attempt to rescue four climbers trapped on Mt Rolleston.
The climbers who perished on the mountain were Christchurch man Bruce Ferguson, 19; Colin Robertson, 20, of Invercargill; and Englishmen Michael Harper and Jeffrey Wilby, both 21.
The death toll of five was the second highest for a single incident in New Zealand's mountaineering history.
On June 25, Arthur's Pass residents, along with friends and relatives of those who died, will gather to commemorate the tragedy with a service in the chapel, a gathering in the community centre and the dedication of a memorial in the shape of one of Mr Harrison's boots created by artist Sam Mahon.
Mrs McGregor was 27 when Mr Harrison died and their daughters Sue and Wendy were just 3 and 5.
Now 76, Mrs McGregor said she still thought often of her husband and the events that led to his death.
The boot was one of several of his possessions she still had and the idea for a memorial was already in her head when she was told that 50th anniversary commemorations were being planned.
She intended the memorial to be placed on a flat rock behind the Arthur's Pass Chapel, beside a pathway leading to a "contemplative corner" by a waterfall.
"Having an occasion to remember it and to make sure that the boot is on the rock is pretty important to me because, for all these years, I have felt as though I have failed to do something, failed to leave his mark where it was most needed," she said.
Although just 34 when he died, Mr Harrison had become one of the leading New Zealand climbers of his generation, having made several notable first ascents and other climbs in the Southern Alps in the 1950s.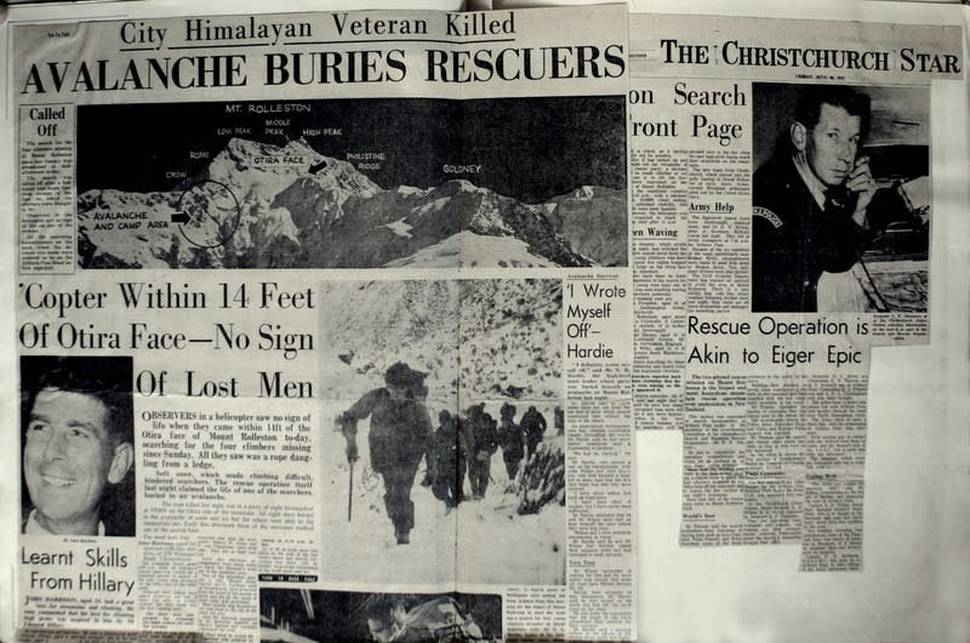 He also took part in notable expeditions to Antarctica and the Himalayas. In 1961, while a member of the Mt Makalu expedition led by Sir Edmund Hillary, he had played a key role in saving a fellow climber, Pete Mulgrew, who became ill at high altitude.
As members of the New Zealand Alpine Club, Mr Ferguson and Mr Robertson were known to Mr Harrison, who was chairman of its Canterbury-Westland section. When he heard they had failed to return from their climb and that bad weather was moving in, he volunteered for the search party.
"He said to me that he couldn't not be there to try and save them because they were both really nice, important young climbers of tomorrow," Mrs McGregor said.
"He was in business on his own account at that stage as an artist and designer and he really probably couldn't afford to leave his desk and rush off up a mountain for a week, but there was no way he wasn't going to pull his weight."
And so it was that Mr Harrison was among a group of eight searchers camped in atrocious conditions on the mountainside when they were buried by an avalanche.
Two of the searchers, Pete Squires and Ian Gardiner, dug themselves out and worked frantically to reach the others.
The tent containing Mr Harrison, John Wilson and Norman Hardie was the last to be reached. All three were pulled unconscious from the snow but only Mr Wilson and Mr Hardie could be revived.
Mrs McGregor still remembers the visit from the policeman who told her that Mr Harrison had died.
"I woke up at 4am in the morning and knew there would be a knock on the door. Now, how you know something like that, I'm damned if I know, but I was sitting up in bed waiting for somebody to knock on the door and there was the knock," she said.
"I said to him, 'There has been an accident, hasn't there? I hope nobody was killed' and he said, 'I can't tell you that' and I said, 'but you actually have to -- I'm not
going to let you leave until you tell me exactly what happened and who it has happened to'."
The search for the four climbers was abandoned soon after Mr Harrison's death. Three of their bodies were recovered over the next three years, but Mr Wilby was never found.
While it was his exploits as a climber which made Mr Harrison well known, Mrs McGregor said he had also been an extraordinarily good artist.
"He was left-handed and he would just sit there, holding a conversation and drawing a picture all at the same moment. When he was down on the ice for a few months he did a lot of Antarctic pictures in pastel."
• Organisers of the commemorations are looking for any surviving relatives of two of the young climbers who died -- Bruce Ferguson of Christchurch and Colin Robertson of Invercargill. Anyone who may be able to help can get in touch with John Wilson, PO Box 51-030, Arthur's Pass 7654; 318 9118; johnmalcolm@xtra.co.nz
This story first appeared in the Christchurch Star