From babies to centenarians, New Zealanders turned out in their thousands yesterday to remember their forebears who died in wars.
In Christchurch, former air force engineer Bill Mitchell, 103, led the dawn parade in a United States Army jeep, supported by five generations of his family.
At Mercury Bay on the Coromandel Peninsula, 5-month-old Ruby Kennedy cuddled next to the medals on the jacket of her father Michael Kennedy, a warrant officer physical training instructor in the navy.
And at Mataura in Southland, 82-year-old veteran Alex Deans collapsed in a bitterly cold dawn service. He was caught by bystanders before he fell, taken to Gore Hospital, and returned to the Mataura RSA in time for a cooked breakfast and rum.
Big crowds continued a renewed interest in Anzac Day, a feature of the Gallipoli centenary last year.
War historian Ian McGibbon said interest in Gallipoli as a symbol of New Zealand nationhood had been growing since the 1980s as "a reaction to Britain turning against New Zealand in the 1970s" - when Britain joined the European Union and ended its special trade relationship.
"Gallipoli was not of great interest to New Zealand up to 1980. [Author] Maurice Shadbolt popularised it, and we sort of followed Australia, and it gradually increased," he said.
"Australia took 50 90-year-olds to Gallipoli in 1990. I think that caught the imagination. Young kids started to recognise granddad's service.
"This has been building, not just in the last few years."
Governor-General Sir Jerry Mateparae told the Wellington service about his own grandfathers.
"One of them fought at Gallipoli and then went on to serve on the Western Front. The other also served on the Western Front. Both were wounded, repatriated and medically discharged before the end of the war," he said.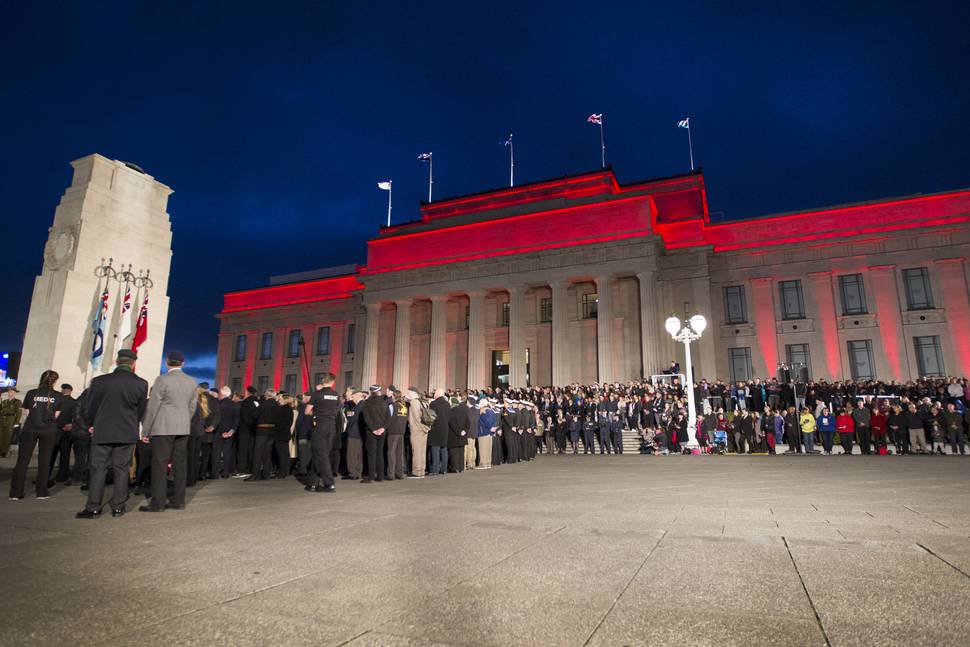 "What we all share in our histories is a tragic legacy of armed conflict and war. Surely we wish it were otherwise. Surely, our hope is that there will be a time when war and conflict are consigned to history."
At the Auckland War Memorial Museum, Turkish exchange student Yigit Can Kaya, 18, delivered the Anzac dedication only days after arriving from Istanbul for a two-week exchange at Rangitoto College.
He told a hushed crowd that he cast his mind to those young men who had lost their lives in war from his school.
"Taking part certainly made me think about the students from our school who fought and died and it made me think it could have been me."
At Gallipoli in Turkey, hundreds of New Zealanders and Australians slept out at the site of the April 1915 engagement, where 2779 New Zealanders were among 130,000 who died in an ill-fated British attempt to capture Turkish ground.
New Zealand and Australian soldiers marked Anzac Day with a dawn service in a specially constructed blast-resistant memorial in the Taji military base in Iraq, where 300 Australian and 100 Kiwi soldiers are training Iraqi troops.
Soldiers mingled briefly for a customary gunfire breakfast afterwards, but without the traditional ration of rum in their coffee because of an alcohol ban apparently imposed by the Kiwis.