Welcome to 18sq m of pure escape.
It's got four walls, a floor and a roof, but that's where average ends and special begins for this shed.
A hardwood deck leads through a custom glass sliding door to a reclaimed redwood floor, flanked by cedar cladding and joinery, fully insulated and topped with pre-painted steel roof and flashing. A four-burner gas barbecue awaits fresh sausages and steak outside.
Inside, no expense has been spared.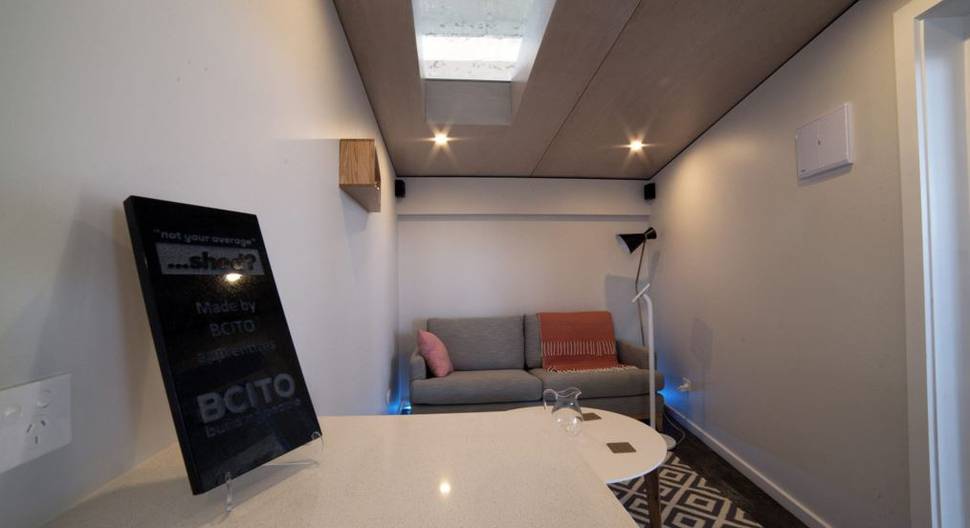 A 46-inch flat screen TV is paired with a sound system and PlayStation alongside stylish furniture. A built-in bar is accompanied by a 133-litre, glass-door bar fridge. Four cases of Pepsi Max and 10 Nando's meal vouchers included in the shed will keep everyone fed and watered.
This is "Not Your Average Shed" - a grand design on a small scale built by apprentices in the Sylvia Park Shopping Centre carpark and aimed at highlighting the shortage of young people keen on a building career. The Building and Construction Industry Training Organisation has projected a 50 per cent shortfall in the number of apprentices needed to meet current demands for new housing.
Completed in just three weeks, the architectural beauty is designed to be transported off-site on a truck. Anyone looking to replicate it is unlikely to get change out of $80,000.
Building apprentice Anna Clearwater, 23, one of two women working on the job, said the high-spec build was an opportunity to test her skills and see new building techniques in action on a condensed scale.
It's a second shot at a career for Ms Clearwater, who started a university degree in international politics before dropping out when she realised her heart wasn't in it.
Although initially concerned about the realities of being a woman on a building site, she hasn't looked back since organising a couple of weeks work with a builder.
"Those barriers disappeared as soon as I got my foot in the door."
Managing the shed site is newly qualified builder Cody Webby, 22, who took a more traditional path into the industry as a 16-year-old school leaver.
He has worked his way up from digging ditches to overseeing half million dollar builds.
While starting young meant he was hard at work while his mates were goofing off school or playing rugby, he reckons financially he's now in a far better position.
"I'm pretty bloody happy with how things have worked out for me to be honest."
His boss, Russell Clark, is project managing the build.
Building is a team effort, so he looks for staff who have played sport or had after-school jobs, Mr Clark said.
"I tend to look more at that than have they got an A in maths or science."
The completed dream shed is up for sale on Trade Me to benefit housing charity Habitat for Humanity. The auction closes at 8pm tonight, with bids topping $22,000 by 5.30pm.
- additional reporting Cherie Howie