Pack the sunscreen and hat, it's going to be another hot day across the country.
Those in the North Island will feel it most, with temperatures in the high 20s and the hottest areas, Gisborne and Hastings, reaching a maximum of 31C.
MetService duty forecaster Leigh Matheson said the hot conditions and humidity were the result of subtropical air reaching the country.
"We've had a lot of subtropical air trapped over the North Island, with a ridge of high pressure, so it's been fairly warm and humid for many places for the last few days.
Read more:
Heatwave brainwave: 'Took us 30 minutes to make... Best idea ever'
"And it's stayed pretty stationary for quite some time thanks to a couple of slow-moving weather patterns."
A high of 28C is expected in Auckland, with an overnight high of 18C.
In and around Whangarei, there will be some clouds forming but with a high of 27C.
Tauranga's highest temperature will be about 25C today, the same in New Plymouth, while those in Wellington will have a cooler but still hot 22C.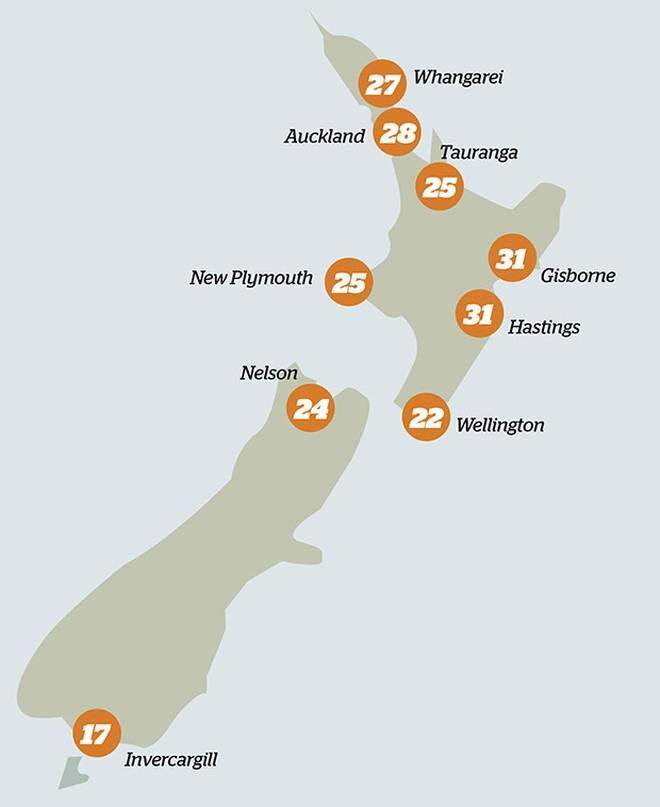 Despite the sunny conditions over the past few days, Ms Matheson said showers were expected to creep in over the North Island by about Wednesday.
"... We've also got the remains of [ex-Cyclone] Victor, which is sitting to the northeast of us, passing to the east of New Zealand, which is going to encourage a southeasterly flow over the North Island."
The humidity is expected to stick around for the next few days, however. The humid conditions will start to ease slightly by Thursday and Friday.
"As we push into Wednesday, we start to see more cloud going around the eastern areas and showers spreading over the North Island.
"So it doesn't mean that everyone sees a shower, but they'll be more widespread through the [North] Island," she said.
"As we get into Thursday, south to southeast winds spread north over the [North] Island and [it looks] more like rain through Wellington, Wairarapa, Hawkes Bay and Gisborne."
In the South Island, a severe weather warning, heavy rain, was put in place over Fiordland, Westland and the Otago and South Canterbury headwaters just after 8.30am today.
The rain is expected to slowly ease either tonight or early tomorrow morning.
Nelson is forecast to be fine throughout the day, with some clouds, and a high of 24C. Those in Greymouth and surrounding areas will need an umbrella, as rain, possibly heavy at times, is forecast today.
Other parts of the South Island which can expect rain are Invercargill, Alexandra, Queenstown, Dunedin and possibly Christchurch.
Invercargill gets the "coolest" place award, with the city officially being the coldest area in the country today, with a high of 17C.
Around NZ today
• Kaitaia: High: 27C. Overnight: 18C.
• Whangarei: High: 27C. Overnight: 18C.
• Auckland: High: 28C. Overnight: 18C.
• Thames: High: 28C. Overnight: 18C.
• Tauranga: High: 25C. Overnight: 19C.
• Whakatane: High: 25C. Overnight: 17C.
• Napier: High: 30C. Overnight: 20C.
• New Plymouth: High: 25C. Overnight: 17C.
• Palmerston North: High: 28C. Overnight: 16C.
• Wellington: High: 22C. Overnight: 17C.