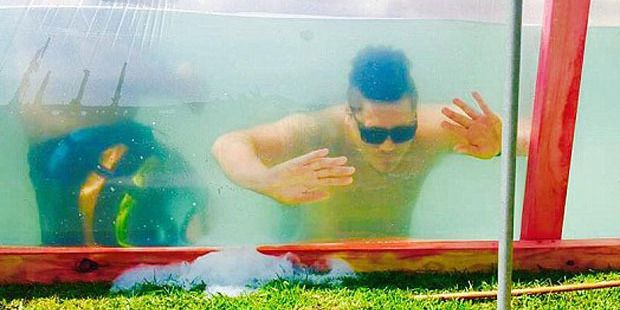 Thousands of New Zealanders hit the beach as high temperatures blanketed the country, but three mates had a better idea.
With some serious "Kiwi ingenuity" the three men constructed a makeshift swimming pool in their backyard, using only timber, a nail gun and some plastic wrapping sheet.
"Took us 30 minutes to make... Best idea ever, next one will be bigger and deeper, everyone can join... bring the BIKINIS!" wrote Aucklander Danny Aldworth, after he posted photos of the engineering masterpiece.
READ MORE
• How to sleep through the heatwave
The pictures show the three men enjoying their new backyard addition, which looks to be around 4 metres in length and about 1 metre in depth.
The men reportedly escaped strict pool regulations because they drained it after use.
The photos have been shared thousands of times and sparked hundreds of comments from bemused social media users.
"If the sides are 1.2 metres or higher and there's no way of climbing in, no fence required!" Wrote Therese Meyrick.
"Bit of kiwi ingenuity right here genius mate," wrote Zoe Powell.
The pool's plastic walls eventually gave way after the men "over filled it", said Mr Aldworth.
Pack the sunscreen and hat -- it's going to be another hot day across the country.
Those in the North Island are feeling the heat the most, with temperatures in the high 20s and the hottest areas -- Gisborne and Hastings - reaching a maximum of 31C.
MetService duty forecaster Leigh Matheson said the hot conditions and humidity were the result of subtropical air reaching the country.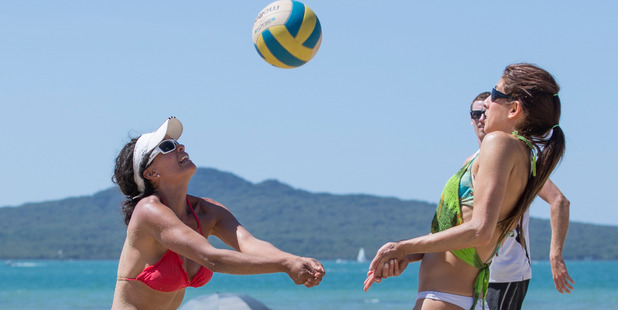 "We've had a lot of subtropical air trapped over the North Island, with a ridge of high pressure, so it's been fairly warm and humid for many places for the last few days.
"And it's stayed pretty stationary for quite some time thanks to a couple of slow-moving weather patterns."
A high of 28C is expected in Auckland, with an overnight high of 18C.
Further north, in and around Whangarei, there will be some clouds forming but with a high of 27C.
Tauranga's highest temperature will be about 25C today -- the same in New Plymouth -- while those in Wellington will have a cooler but still hot 22C.
Despite the sunny conditions over the past few days, Ms Matheson said showers were expected to creep in over the North Island by about Wednesday.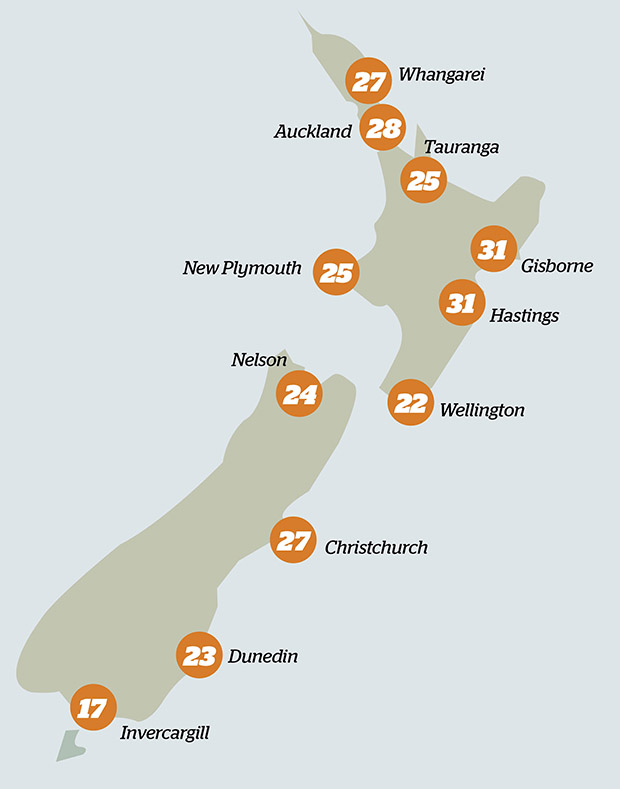 " ... We've also got the remains of [ex-Cyclone] Victor, which is sitting to the northeast of us, passing to the east of New Zealand, which is going to encourage a southeasterly flow over the North Island."
The humidity is expected to stick around for the next few days, however. The humid conditions will start to ease slightly by Thursday and Friday.
"As we push into Wednesday, we start to see more cloud going around the eastern areas and showers spreading over the North Island.
"So it doesn't mean that everyone sees a shower, but they'll be more widespread through the [North] Island," she said.
"As we get into Thursday, south to southeast winds spread north over the [North] Island and [it looks] more like rain through Wellington, Wairarapa, Hawkes Bay and Gisborne."
In the South Island, a severe weather warning - heavy rain - was put in place over Fiordland, Westland and the Otago and South Canterbury headwaters just after 8.30am today.
The rain is expected to slowly ease either tonight or early tomorrow morning.
Nelson is forecast to be fine throughout the day, with some clouds, and a high of 24C. Those in Greymouth and surrounding areas will need an umbrella, as rain, possibly heavy at times, is forecast today.
Other parts of the South Island which can expect rain are Invercargill, Alexandra, Queenstown, Dunedin and possibly Christchurch.
Invercargill gets the "coolest" place award - with the city officially being the coldest area in the country today, with a high of 17C.
WeatherWatch analyst Philip Duncan said Tuesday and Wednesday would get a little bit cooler with the winds picking up, cloud building and a few showers.
"It's going to be quite a warm, humid week though, for the north of the country with showers and high humidity," he said.
By Thursday, Mr Duncan said, winds would change to easterly and the big heat would return to the upper North Island.
"Victor itself is not going to bring a lot of weather to the country, but once it passes by the North Island it does change the weather pattern. There could be more humidity, more showers and more cloud for northern New Zealand for the next 10 days.
"It's good for the farmers and gardeners.
"They are very happy to hear rain back in the forecast."
Mr Duncan said people at the North Island's east coast beaches should be aware of the dangers from swells and big waves created by Cyclone Victor.
"I'm not sure if what happened in Bay of Plenty on Saturday was anything related to Victor with that boy drowning, but this is what we see almost every time there is a cyclone that is offshore.
"We almost always see a death or someone being swept out to sea.
"So we are trying to put out a message that even if the weather is really lovely at your camping ground or your beach there is quite a dangerous storm well out at sea that is changing the conditions on our east coast beaches," he said.
Mr Duncan said people should use commonsense and stay alert if they were on rocks, were looking after children or were not confident in the water.
Outlook
Auckland/Hamilton/Whangarei
Today: Sunny and hot. High 20s. 30C in some spots.
Tomorrow: Cloud and showers. 27C.
Tauranga
Today: Winds and clouds pick up. 26C.
Canterbury
Today: Cloudy with a few spots of rain.
Tomorrow: Light rain or drizzle
Nelson and Marlborough
Today: Fine
Tomorrow: High cloud with a few spots of rain
Otago and Southland
Today: Rain at times, easing to a few showers about the south coast tomorrow morning.
- With Daily Mail Australia