Tot is sitting up and showing signs of starting to talk.
Leo Forrest, the baby born in Armenia with Down Syndrome, celebrated his first birthday this week with a chocolate birthday cake and an outing to a park.
His parents Samuel and Ruzan Forrest said their son was doing well and receiving specialist physical and intellectual help, as well as daily massage from his mother.
Read More:
• Funding row: Where has the money for baby Leo gone?
• Baby Leo's father 'punched and threw table' at trustee
• Baby Leo case: Texts reveal home tensions
He was able to push buttons and was beginning to say "dad" and "mum". "He's a bucket of fun," said Samuel Forrest. "He can sit up on his own but he's not yet pulling himself up. Progress depends on the child, but the average age to walk for someone like Leo is two years."
"He's 10kg, right in the median for typical weights for Kiwi kids his age."
Babies with Down syndrome lag behind developmentally and Forrest said they didn't expect Leo would walk before he was 2 years old.
Leo's plight was taken to heart when Forrest said on his GoFundMe crowdsourcing page titled "Bring Leo Home", that he'd been given an ultimatum - his wife or his baby.
The appeal raised more than $500,000 for the baby from 17,900 donors.
Forrest, 38, set up the appeal hoping to raise $60,000 to allow him to dedicate a year to raising Leo as a fulltime solo father back in New Zealand. He and Ruzan Forrest, 30, reunited a month after Leo's birth.
She gave birth to Leo on January 21 in Armenia, where disabled babies are often put in orphanages, and initially disowned the boy. His condition came as a surprise and Ruzan Forrest said she was in shock and did not know what to do.
Before the couple reconciled, The Leo Forrest Trust was set up to handle the donation windfall.
Leo's mother said the name Leo just came to her when she was pregnant. "It suits him," shesaid. "He looks like Simba from the Lion King and Leo is a Lion's name."
She asks that he not be referred to as "Down syndrome baby Leo" because it should not define him. She said the donated money meant they could get extra treatment for Leo.
"Treatment is very expensive for a special needs person. Without that it wouldn't have been possible."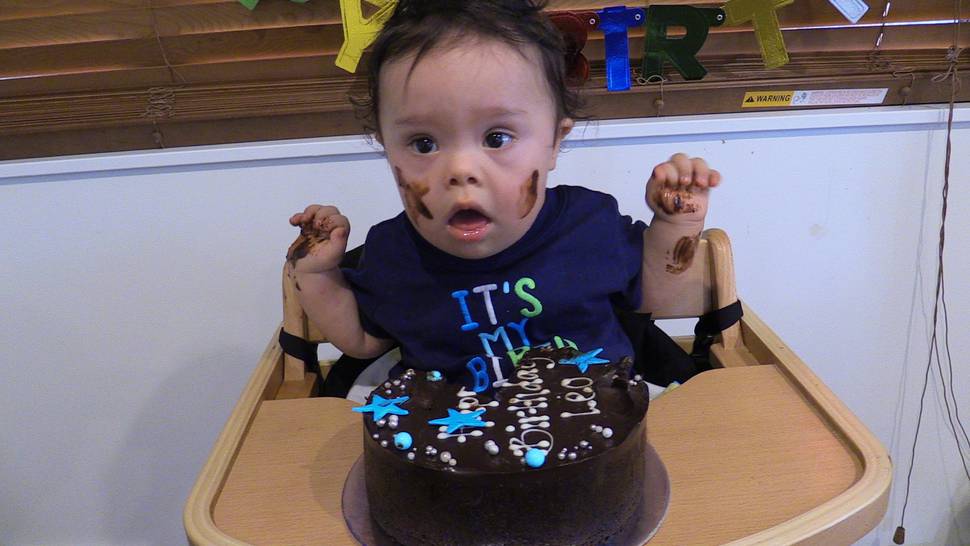 Samuel Forrest, who worked as a freelance business contractor in Armenia, said he has been working from home developing a "start-up" business software product. He said 2015 was a difficult and stressful year after raising the money.
Questions arose about his management of the money, including flying home business class (to give his wife privacy while breastfeeding), and his request to draw $90,000 from the trust in the first year for living expenses.
He was acquitted in December of assaulting his fellow trustee Trina McLachlan following an incident on July 8. He said his wife has replaced Ms McLachlan as the other trustee of the money.
At trial the Forrests and McLachlan gave markedly different accounts of the incident. Judge Kevin Glubb said while it was "possible there was a punch, I am simply not satisfied given the inconsistencies."
Forrest's goal was to end 2016 in a more positive personal position, and said he had quit his heavy smoking habit on his son's birthday.