An alien-looking black frog-fish caught in Northland waters will be formally identified at Te Papa Museum today.
The museum's fish curator Andrew Stewart is about to closely examine the bizarre black "fish" found in shallow waters in the Bay of Islands earlier this month.
The mutated-looking aquatic creature with legs was caught alive but died shortly after.
While it is thought the weird creature is likely to be a species of Frogfish, scientists won't know for sure until it is examined in minute detail.
The process includes thawing, identifying, collecting a tissue sample, pinning fins out, photographing and fixing in formalin.
It will then be transferred into an alcohol solution for storage.
He said while the mystery fish may need to be sliced open to determine the sex and prey it was hoped to keep the specimen as intact as possible.
"Generally speaking we don't dissect specimens as this is destructive and cannot be reversed.
This will mean it will be available for research for well over 100 years, probably longer."
Mr Stewart said he hoped to have a positive identification this afternoon.
The bizarre black "fish" earlier appeared on Te Papa Museum's Facebook page.
The photos were reportedly sent to the museum for identification by Claudia Howse, Glenys Howse and James Beuvink.
Glenys Howse commented on the image saying the creature was found in shallow waters in the Bay of Islands in Northland and did not survive after it was caught.
Based on the images, it's thought to be a species of Frogfish, but can't be confirmed until it's more closely examined.
If initial guesses prove correct, it's a creature that packs an impressive bite: "Frogfishes have the fastest bite of any vertebrate. Their mouths expands at the speed approaching a .22 rifle bullet - and that's in a medium 800x denser than air" notes the museum's post.
Followers commented on a second photo of the fish, saying it looks more like a "frog-fish-bird" or a "toothless dragon".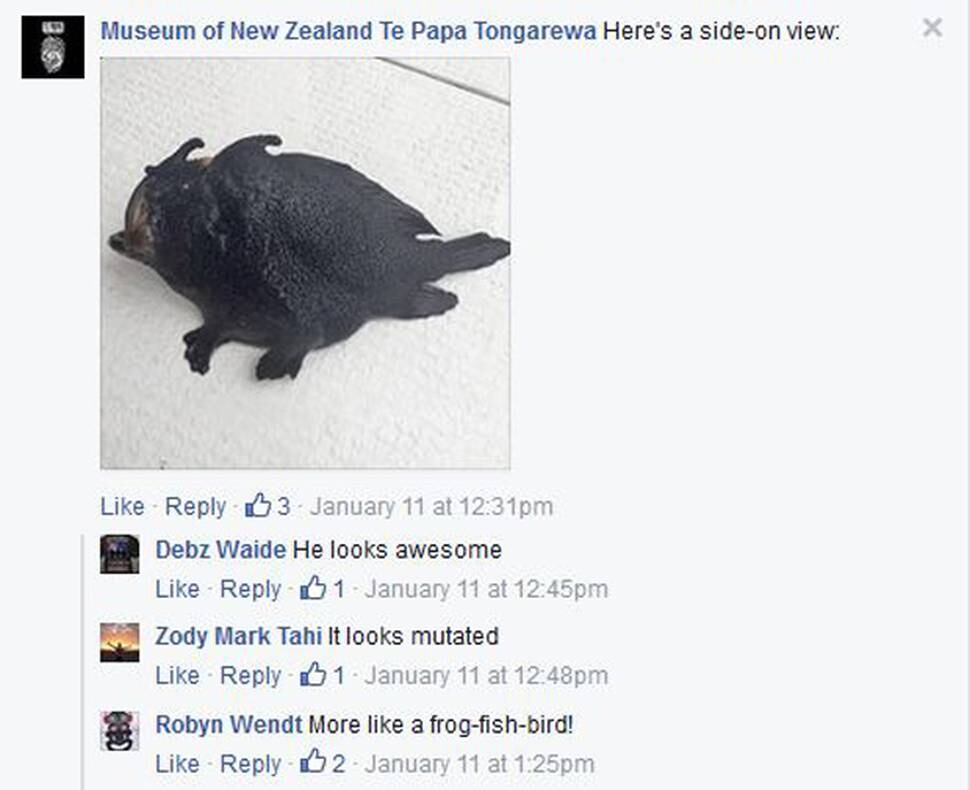 - nzherald.co.nz