Fears have been raised that other owners of significant Auckland trees will attempt to copy a Mt Albert man's success in removing his 39m protected Norfolk Island pine.
Hueline Massey of the Tree Council said others who wanted rid of special trees guarded by Auckland Council rules might seek to copy the unusual circumstances which resulted in the Woodward Rd tree being felled.
"Other people could do that too," Mrs Massey said after James Gilderdale called in contractors on the tree he feared was trying to kill him and his family for the last few years as it shed branches and cones in a slow dying phase.
READ MORE:
• Chainsaws ringing as controversial protected Norfolk pine comes down
He went to the Environment Court seeking a declaration that if the Auckland council prosecuted him in the District Court, he would have a defence recognised in the Resource Management Act.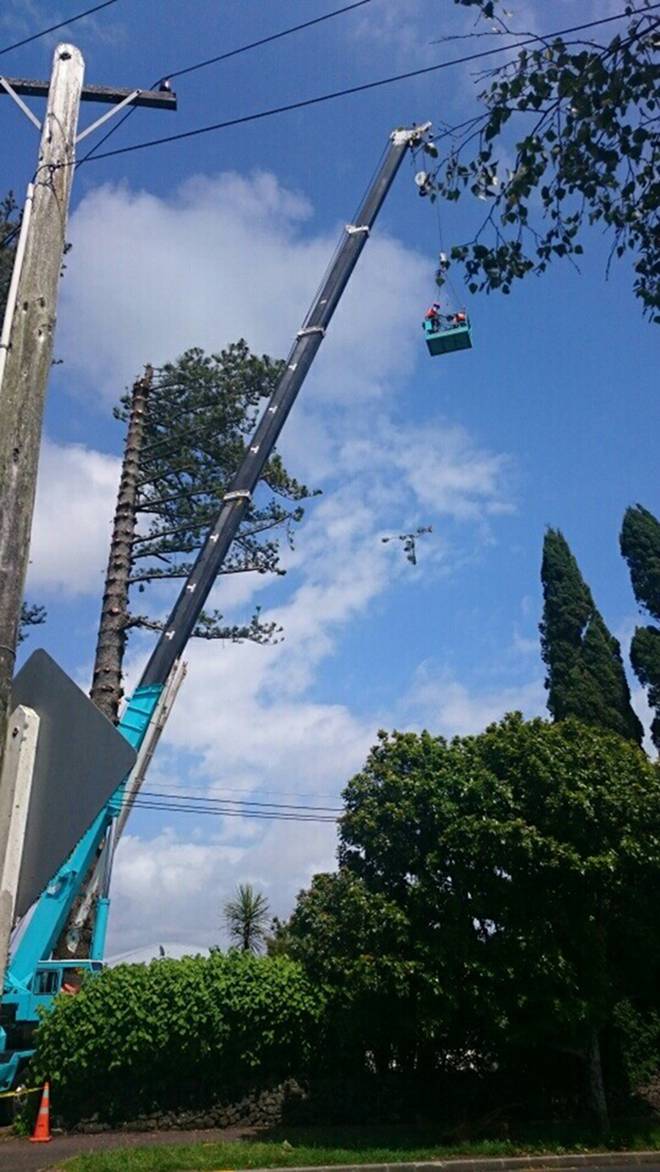 Although he was denied that declaration, Principal Judge Laurie Newhook said Mr Gilderdale would have a strong defence in the District Court because the tree posed an "undeniable presence of risk to human life".
Mrs Massey said she had never seen a case like that before and it worried the Tree Council.
"We oppose the fact that due process was not carried out, therefore it's putting it into a category where people will read about it and say 'oh well, if that's what you can do, you just have to go to the courts and say the tree was a threat'," she said.
Auckland had lost enough significant trees and extremely tall, stately Norfolk Island pines were regarded as sentinel trees, she said.
"This is a precedent-setting case. It's something that we would not like to see happening at all. This is a big issue because the only trees we have really are those on a schedule so these are precious and there are very few there," she said, estimating about 5000 Auckland trees were listed on the District Plan.
"When something is in the District Plan, is has the highest protection in law, so surely everyone interested should be able to have a say," she said.
However, she said the Tree Council would not have opposed removal of the Woodward Rd pine, given the extremely threatening circumstances.
"Not even the Tree Council would object to the removing of the tree because it's damaging the house. If there's no other alternative way of managing the tree - there are times when a tree is in the wrong place or causes real difficulties but this has to be proven," she said.
Branches spearing through the Mt Albert house roof and coming within 1.5m of people was most certainly a "legitimate reason," Mrs Massey said.
Mr Gilderdale said this morning that many of the branches on the tree were now down but the main trunk remained standing and he said yesterday that he expected the work would take some time.
There had been very little interest from people in the neighbourhood, he said. A tower crane was on site, with specialist equipment able to carry two workers to the very top of the pine.
That crane will be used for the extremely heavy lifting, expected to remove the trunk in pieces. Smaller branches have been chipped on-site while the no plans have been revealed for the larger pieces of wood.
Mr Gilderdale was quoted up to $47,000 by tree specialists but said he had not paid that much. However, he said he had paid "tens of thousands" in fees over the matter.
Auckland Council says it will not prosecute him because although the scheduled notable tree was being removed from the property without a resource consent, that was due to immediate safety concerns to people and property.