Residents of a Kingsland property were lucky to escape a house blaze unharmed this morning.
The residence at 15 Kingsland Terrace, which is home to three people, has been gutted by fire.
One resident Eddie Scarlett, 20, said everyone in the house had been sleeping when he smelled smoke and got up to investigate.
"Everyone was asleep and I couldn't sleep for some reason and then I got a weird smell so I got up and walked to the front door and I could just see masses of smoke," he said.
"I ran into the living room where my flat mate's brother was sleeping on the couch with his friend and told him to get out.
"Then I ran into my other flat mate's room and told him to get up and they didn't really believe me because they were half asleep and then I ushered everyone out of the house."
He said it was extremely lucky he had been awake at the time of the fire.
"It was just pure luck I was awake because I was about to fall asleep and then I just smelled something."
Lydia Ingram, 23, said she had been sleeping when she was woken up by another resident.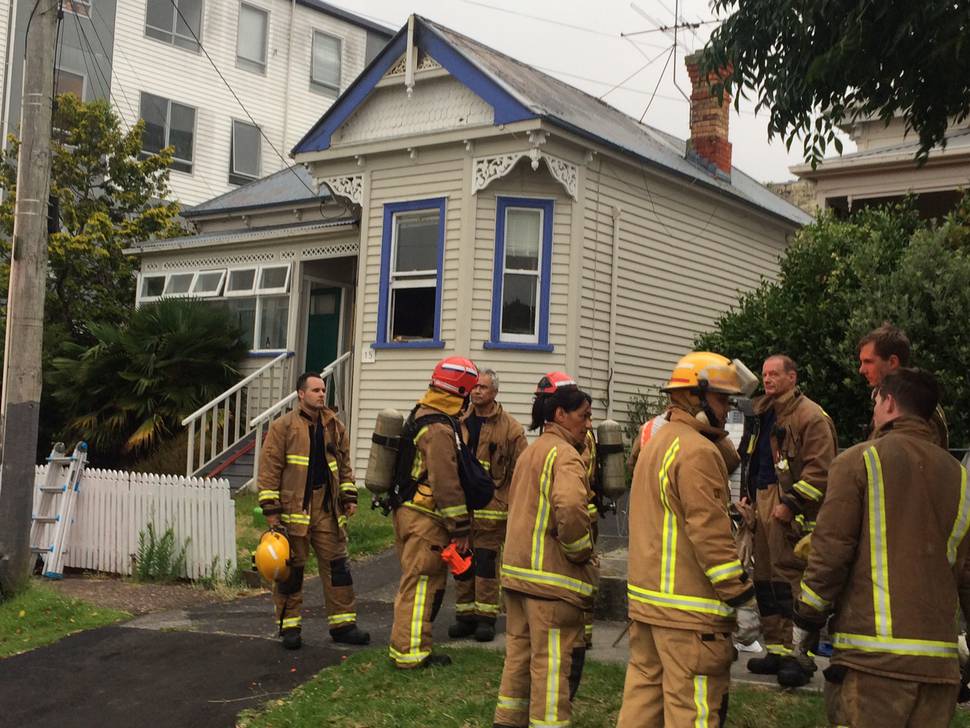 "I came out and tried to smother the flames but it was hopeless because it was actually coming from underneath the stairs," she said.
Ms Ingram said she thought those who were in the house at the time of the fire "underestimated" how bad it was.
She said she would take the residents to her house while fire services continue to investigate the cause of the blaze.
Around 11 firemen remained at the scene.
Dario Davidson, who has just reentered the building to fetch belongings, said the house had been gutted.
"There was a lot of smashed wood and stuff around. I just ran in to grab a purse," he said.
"Everything is just wet. I got damp going in there."
A Fire Service spokesman said the first firefighters on the scene found the Kingsland Terrace house well involved in flames.
The spokesman said but all occupants have now been accounted for.
Balmoral fire station officer Mark Griffin said the cause of the blaze was believed to have been to a discarded cigarette butt that had not been properly extinguished.
"It would appear that there had been a small fire earlier on in the evening which they have attended to themselves and believed it to be out but it obviously it wasn't.
"When we arrived the fire was in the front porch area moving rapidly into the roof.
"We believe it may have been caused by a discarded cigarette."
Mr Griffin said emergency services were alerted at the fire at around 4am.
"We had three appliances here and we had two hose deliveries and the damage was contained to the front section and roof space of the house.
"Everyone was out when we arrived and no injuries were sustained.
"They had a smoke alarm in there but the fact that one of the residents saw it and got everyone was a blessing for them and for us."