Like many Nelsonians before them, Prince Charles and Camilla, Duchess of Cornwall, have strolled through the Saturday Market in Nelson.
Today they encountered merino, chocolate and a curious smelling black garlic paste as they walked by the stalls.
"He smelt the garlic and said he didn't like the black," said stall holder Ralph Butcher of Karamaya Black Garlic.
The royal couple arrived at the Cathedral steps in Nelson at 11.15, where they were greeted by Nelson Mayor Rachel Reese and iwi representatives.
They then walked down Trafalgar St to meet and greet hundreds of Nelsonians who had lined the street to meet them, including a corgi dog appropriately named George.
"He got to lick the Prince's hand," said George's owner Hannah Petley.
"Prince Charles asked if he was a friendly corgi and I said, 'yes he is'."
The royal couple then walked through the market before Camilla headed to Nelson's World of Wearable Art museum and Prince Charles to the Cawthron Institute.
The Duchess of Cornwall arrived at the World of Wearable Art (WOW) Museum to be welcomed by creator and founder Dame Suzie Moncrieff, international projects manager Ali Boswijk and competition director Heather Palmer.
She was presented with a bouquet of flowers by Dame Suzie's seven-year-old granddaughter Daisy Moncrieff, who wore a floral outfit chosen by her mum.
The Duchess was escorted through the museum by Dame Suzie, who explained the stories behind some of the garments, including some on live models.
"It was very exciting. She looked very pretty," Daisy said later.
Camilla also met Wellington model Sophie Pentley, who was wearing the "Baroque Living Room" artwork featuring a lampshade headdress, asking her, "Are you hot in that?"
Ms Pentley replied: "It's ok."
Camilla added: "I guess you're in the shade."
Of her outfit, Ms Pentley said: "It's more comfortable than it looks. It's mostly velvet, braid, tassels, fringing and a little bit of wire.
It's inspired by the Victorian era, when the parlour was the main room."
On her royal encounter, she added" "It was pretty special."
Soon after entering, Camilla admired Gillian Saunders' creation "One for Sorrow", which the artist described to her as "a military-style magpie funeral".
"She wanted to know what the magpies were made out of. I told her baling twine, from the hay bales from my husband's brother's farm. She was very lovely, relaxed and natural," Ms Saunders said.
Dame Suzie guided the duchess around the exhibits, including a moving display of "Bizarre Bras", which captured her interest. She stayed longer in the room than planned.
"She hadn't seen enough so she decided to have another look around," Ms Pentley said.
In the room, she also met Wellington model Lucy Aitcheson, who was wearing the "Frockatoo", a dress made of feathers of a cockatoo. Camilla told her, "It looks very good on you."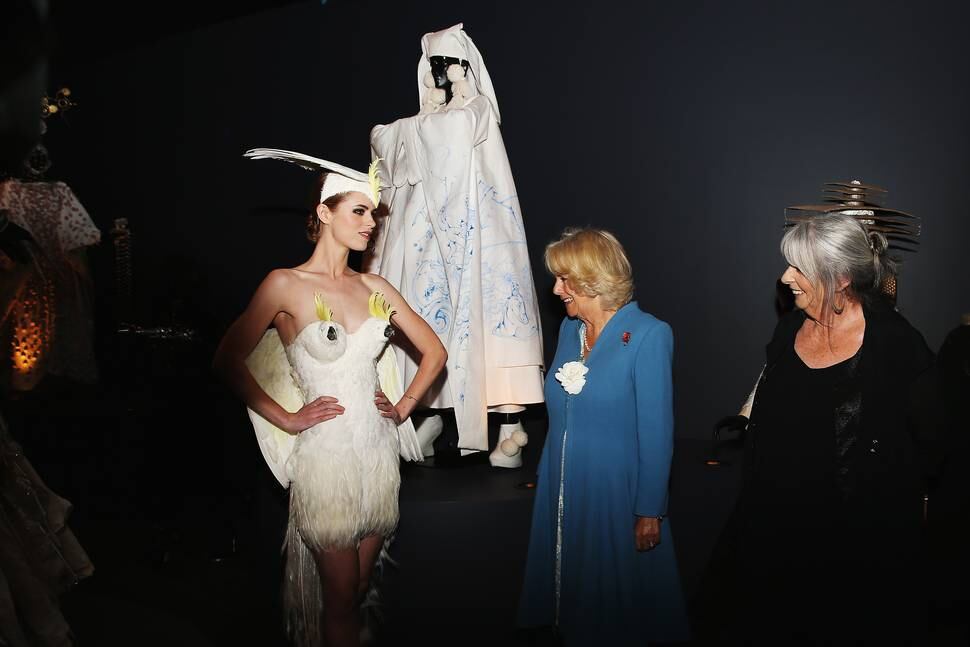 Ms Aitcheson said: "She liked the birds. She's very beautiful."
Camilla was also captivated by a self-lit highland pipe band costume.
Dame Suzie said: "She loved the technical side of it and she found the Frockatoo amusing. She had a giggle and said it was well made. She really enjoyed herself. I found her really lovely, genuine and down-to-earth. She was really interested in the garments she viewed and he materials used. She said she'd never seen anything quite like this."
Posing outside with the models, Camilla jokingly said: "I feel like I need to wear a pair of heels."
Lucy told her: "Enjoy the rest of your stay. I hope you have a nice time."
WOW is an annual competition for artwork that can be worn on the body. It began in 1987 as a promotion for a rural art gallery.
The museum displays winners from past competitions and entrants from the most recent show. Hundreds of entries, many of them inspired by the flora, fauna and cultures of the South Pacific, arrive in Nelson every autumn for the show-selection process.
Before Camilla arrived, Suzie said: "It's a real thrill to have the duchess coming to visit the WOW Museum to see the artworks up close and view the fine craftsmanship. She's a patron of the arts and obviously has a real interest in it."
Donning a freshly dry-cleaned lab coat the Prince of Wales delved into the world of algae and invertebrates as he explored sustainable seafood at the Cawthron Institute.
Prince Charles looked through microscopes at energetic algae, chuckled at the aptly named multi-coloured algae disco, saw baby snapper and heard all about how Cawthron and research company Plant and Food Research are working towards making the seafood industry sustainable and clean with the ever-increasing population.
A "first in the world" achievement for the institute was unveiled to the prince in the form of the first female scampi bred in captivity in New Zealand.
In honour of the royal visit Cawthron has named her Camilla, which was met by laughter.
Prince Charles was shown Camilla the scampi through a video link and when he asked how large she would grow, staff told him she would get to be about 120 grams.
He was invited back to see her in her later life.
The prince also took an interest in the two-day old mussels buzzing about under a microscope and their fully grown counterparts sitting on display nearby.
He asked a number of questions about their growth, diet and life outside the lab, and finally whether they are eaten raw.
Scientist Serean Adams said they were best steamed "with a bit of wine".
During the prince's scientific jaunt, 92-year-old Jaqui Botting sat patiently in her walker waiting outside her rest home - across the road from Cawthron - with a Christmas card in hand.
Although she couldn't remember the year or many of the details around when it was given, the name Charles was clear in the signature.
Ms Botting had been a nurse in Clarence House and had kept the Christmas card from the prince and his parents as a treasure.
Prince Charles reminisced with Ms Botting on his way out of the institute and his words left her almost speechless.
"He remembered me didn't he?" she said. "It was very nice."