The Herald has been following five well known Kiwis for five days as they attempt to 'Live Below the Line' - by spending just $2.25 a day on food and drink.
Beginning Monday (September 21), Petra Bagust, Geoff Scott, Ria Hall, Eve Gordon and Holly Arrowsmith will share their thoughts, struggles and hunger pangs with Herald readers as they attempt to live off little to raise funds for and awareness of TearFund's fight against human trafficking.
Day one
Day two
Day three
Day four

Day five
Petra Bagust
Breakfast
- Today was the toughest a good start with porridge... I felt quite a lot of love for this warm bowl of breakfast!
Morning Tea
- None again.
Becoming a habit on this budget.
Lunch
- I had Rocket and Chickpea salad for lunch with some mashed Kumara yum! Filled a very empty spot.
Dinner
- No idea but I suspect an egg on toast! (I'm working again tonight, so have to send this away before I actually work out what's for dinner).
How I'm feeling:
"Lack of sleep, lots of work and little food has led to brisk walks around the block to keep me going. I feel privileged more than anything to have the choice to go without, to make a symbolic statement that so many of us don't have enough.
It's been humbling to try and function really effectively on $2.25 a day and without my food crutches such as chocolate, coffee and nuts. I feel great about drinking so much water. Live Below the Line has given me much more than it's taken - I have been part of something bigger than myself and my life.
I believe that the money everyone involved has raised, will change people's lives. It will make life better and we all need that sometimes."
To donate, got to: https://www.livebelowtheline.com/me/petrabagust
-
Geoff Scott
Breakfast - Today was perhaps my most enjoyable. I soaked some oats when I got home last night in water and a splash of pineapple juice. To this I added a grated apple, some chopped prunes, a pinch of cinnamon and a little orange zest - a very simple Bircher muesli and it kept me going very nicely till noon.
Lunch - I have to say, I just hate wasting things. I had in the fridge a bowl of left over Vinnies staff soup gently warmed. The flavours were even more rounded and delicious from the other night, a treat!
Dinner - Tonight was Italian inspired. Having spent some time working in Milan I did enjoy revisiting an old favourite of spaghetti tossed in olive oil with sliced garlic and some sage - no parmesan - just garlic and sage. It was super tasty and filling and as I have a huge night ahead in the restaurant I better dash and get cooking for my guests.
How I'm feeling: "I am feeling on top of the world. It's been an amazing week. Thought provoking more than anything - I honestly can say I never really felt any serious hunger pains. The food I choose to cook and eat was pretty simple and nourishing and I think actually I enjoyed it more for that very reason, and the fact - that most families for who we are all trying to help in the campaign - have less, much less than me."
To donate, got to: https://www.livebelowtheline.com/me/geoffthechef
-
Eve Gordon
Breakfast - Hot steamed carrot and the last bit of my mars bar!
Lunch - Carrot and crackers and the last of my peanut butter!
Dinner - The last of my apples!!!
How I'm feeling: "I had the busiest day today filming a promo for our new show Ithaca coming up at Q theatre in November! So I didn't have time to do any kind of preparation!!! Haha! I'm glad to be done but again so so pleased to have the reminder of how precious food is!
To donate, go to https://www.livebelowtheline.com/me/evieg
-
Ria Hall
Breakfast - Porridge with banana and cinnamon (50 cents).
Lunch - Omelette.
Snack - Small bowl of brown rice with a dash of soy sauce (10 cents).
Dinner - x2 boiled eggs on toast
How I'm feeling: "I'm completely over eating like this now. My energy is low, and I can't really be bothered doing anything. I'm sluggish and pretty damn hungry. I'm tired and anything makes me snap. Not particularly nice to be around right now. I'm thinking about what I'm gonna binge on tomorrow. Overall, I'm so I did this. I'm glad I helped make a difference in some small way."
To donate, got to: https://www.livebelowtheline.com/me/riahall
-
Holly Arrowsmith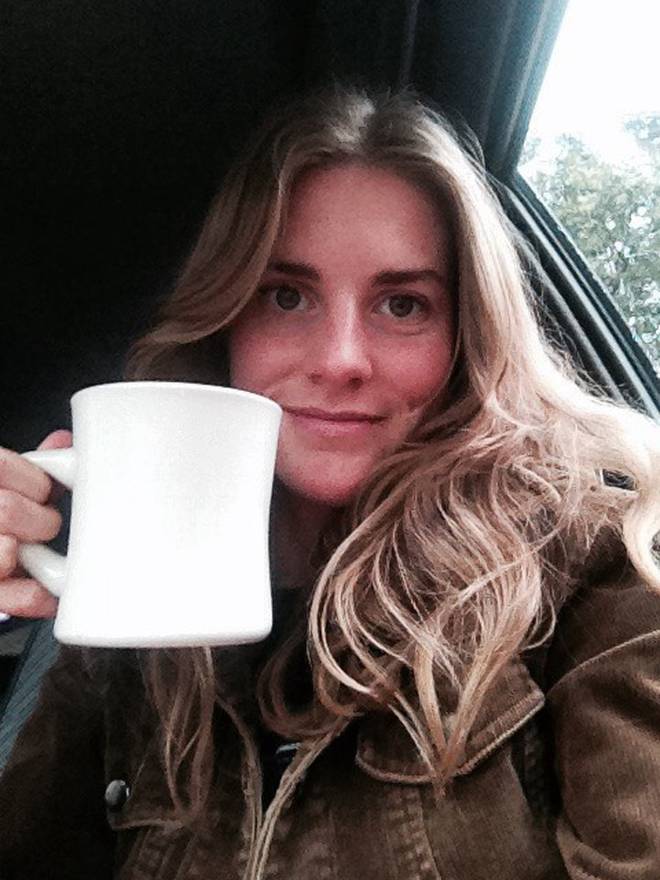 Breakfast
- Left over cornbread with a fried egg, 60 cents.
Lunch
- Homemade bread sandwich with onion, spinach and two slices of tomato, 70 cents.
Afternoon
- Cuppa in the car 20c.
Dinner
- I have been out of the house all afternoon and have not had dinner yet! Feeling foggy.
How I'm feeling: "The challenge is nearly over! I am ready to be a bit more creative with food, but also feel a fresh appreciation towards the fact that this is just five days for me - that tomorrow I can eat whatever I want, for many that is not the case.
I hope for all of us who have realised this, that we do not forget. That we use our gratitude as a motivator, to continue giving out of what we have. Whether we have a lot or a little.
Thank you Tear Fund, Hagar and Nvader for all the work you are doing.
To donate, go to: https://www.livebelowtheline.com/me/hollyarrowsmith