Labour leader Andrew Little has begun broadening Labour's image as as the "jobs party," not just a party for working labour, but for wealth-creating business, especially small business, and for those who want to be their own boss.
Small business - "the engine room of job growth" - would be a priority for Labour as it developed policy over the next two years.
He made the pledge this morning in his first state of the nation speech since being elected Labour leader in November.
He also said that addressing inequality would be a priority.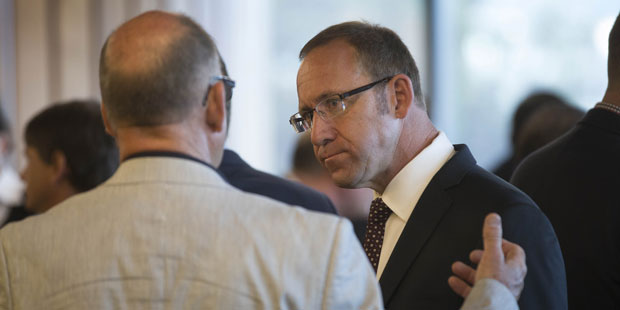 Andrew Little chats to audience members ahead of his speech. Photo /Brett Phibbs
Small businesses were responsible for nearly a third of New Zealand's economy last year, and 41 per cent of jobs created last year were in firms with fewer that 20 employees.
The biggest long-term challenge for New Zealand was where the next generation of wealth creation would come from.
"Not because wealth creation is an end in itself but because a good quality of life for all of us needs strong economic performance.
"The truth is stark," he said. "Doing what we are doing today won't support the standard of living we as New Zealanders want in the future.
"As a country we need to do things differently. That is going to take courage.
"Government can provide some of the leadership to make a difference but nothing will change unless we are all in it together."
Besides small business, the three other issues he planned to give speeches on in the coming months were housing affordability, unlocking Auckland's gridlock to make it an internationally competitive city and developing a manufacturing sector fit for the 21st century.
He delivered his speech to a breakfast audience of business people, party activists and MPs at Auckland's Wynyard Quarter.
Mr Little was deliberately light on policy although he said the super fund would invest in promising local start-up firms, that zero-hour contracts would be banned, and he promised New Zealand would again have the lowest unemployment rate in the developed world as it had 10 years ago - it's ninth today at 5.4 per cent.
"When people have jobs, they have dignity, they have self-respect, and their families have the best future," he said.
"The Labour Party I lead is about jobs, good jobs, skilled jobs, well-paid jobs. That's what a good fair and wealthy society is based on and that's what Labour stands for."
Last December in his first major speech outside Parliament Mr Little announced that finance spokesman Grant Robertson would head a Future of Work Commission to look at the changing nature of work.
Today he said there were huge opportunities for the economy in having a stronger small business sector - "in having more businesses that are nimble, flexible and innovative."
He promised less red tape and fewer hurdles for people wanting to start their own business.
Mr Little also focused on inequality. He referred to an OECD report of last year that concluded that income inequality from 1985 to 2005 had knocked 10 percentage points off New Zealand's growth.
"It's a vicious circle; more inequality, slower growth, more inequality.
"We have to break that cycle if we want to succeed."
Right now many New Zealanders did not have a good enough quality of life and the number of children living in poverty had increased by 20,000 since National came to power in 2008.
"Those children would fill 95 primary school halls and 40 per cent of them come from working families."
Mr Little drew on his experience as a former EPMU union boss and positive dealings he had had with Air New Zealand and Fonterra to accentuate his connection with business.
In 2005 the EPMU had worked closely with Air New Zealand to find a way to keep engineering jobs in New Zealand that were heading overseas, and they kept 300 in New Zealand and Air New Zealand benefited from productivity gains.
"As a union leader, I was always conscious that wealth had to be created first before it could be shared," he said.
During his time as national secretary, Fonterra embarked on a project to increase the productivity of their plant and machinery.
They had realised that for every 1 per cent increase in time that their plant was operational, they could add $100 million to their bottom line.
"The upshot was they gave frontline maintenance engineers more responsibility and they increased the incomes of those workers. /the jobs were actually more satisfying at the end of it."
Too often the Government saw work as transactional, as though hiring people was like buying or selling a product.
"Well it's not. At its best, like it was at Fonterra, it's about shared purpose.
"That's the philosophy we need to bring to Government."
Speaking to reporters afterwards, Mr Little would not be drawn on changes to Labour policies that small businesses might oppose such as abolishing the 90-day trial period for new workers and increasing the minimum wage.
There was three years to the election and all policies would be reviewed by the party in time.
His speech was about setting direction.