Family and friends of the first road-crash victim for 2015 are reeling over the death of a "beautiful angel" known for her vibrant smile and happiness.
Lavi "Lovey" Taimani, 22, was a passenger in a car that crashed into a lighting pole on the Southern Motorway in Auckland at 6.15am on New Year's Day.
She died at the scene, near the East Tamaki offramp, and four of the six other people in the car were taken to Middlemore Hospital with minor injuries.
Police spokeswoman Noreen Hegarty said it was likely speed and alcohol were contributing factors.
It is understood Miss Taimani, an Onehunga High School old girl, was a student at Auckland University.
The holiday road toll now stands at 14 - double last year's - with the latest fatality occurring after a car hit a tree in Canterbury last night, killing its male driver.
The Toyota saloon ran off on Lake Road at Leeston, near Lake Ellesmere, and struck a tree at around 11.20pm. The driver, who is expected to be named later today, was found dead at the scene, police said.
With many holiday-makers preparing to head home, the nation's road policing chief, Assistant Commissioner Dave Cliff, issued a plea for drivers to be vigilant. "Families have enjoyed time away and now they should give themselves plenty of time to reach their destination," he said.
Last year's Christmas-New Year road toll was seven, from a total of 193 reported injury crashes. But the official holiday period was three days shorter than this year's - which ends at 6am on Monday.
Yesterday, police dealt with holiday road fatality No 13 - a male passenger killed in a three-car crash in Hamilton.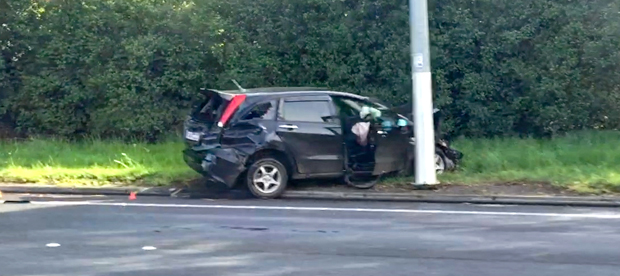 Lovey Taimani died when this car hit a lighting pole near the East Tamaki off-ramp on the Southern Motorway. Photo / Sam Sword
The crash happened at the Dinsdale roundabout in Hamilton shortly after 2pm.
Two people, including a female driver, were critically injured. They and two others were taken to Waikato Hospital.
Senior Sergeant Kevin Anderson, of the Waikato road policing group, said the accident was a tragedy and it was not yet clear how it occurred.
Last night, tributes to Ms Taimani were flowing on Facebook.
Her aunt Nuku Havea wrote: "It was an unfortunate, unforseeable circumstance that no one saw coming. We are so grateful that we have her in our life."
Her close friends were devastated by the 22-year-old's death.
"Who said you were allowed to leave?" Pepe Fuataga wrote. "You mean everything to me. You know everything about me. You know me better than I know myself! I'm trying my best to be strong and to stop crying but how can I?"
Another friend who had spent New Year's Eve with Miss Taimani said she was shattered. "Hard to believe that you can really be here one minute and gone the next ... How is this even happening?"
Lovey was "the beautiful, smiley and full of happiness girl that everyone adores".
News of Miss Taimani's death came after a police analysis of road fatalities over the past 12 months revealed a rise in the number of passengers killed in accidents.
Of the 297 people fatally injured in 2014, 69 were passengers - up from 49 in 2013 - and the number of motorcyclists killed also increased, from 36 to 43.
The number of road-crash victims was up 17.4 per cent on the 2013 total.
The age group with the highest number of victims also changed. In 2013, the biggest group was 40 to 59 but in 2014, it was 60-plus.
The number of babies and children killed - 14 - was double the 2013 total.
For the fifth year in a row, the area with the most fatal crashes was Canterbury, where 38 people lost their lives in 2014, followed by Manawatu/Wanganui with 34 fatalities.
Mr Cliff said that generally, most Kiwis "know and action" basic road safety messages including wearing seatbelts, staying alert, driving within the speed limits and ensuring they are well rested and sober.
"However, everyday people make everyday mistakes and unfortunately a mistake while driving can lead to death and injury," he said.
"We have hundreds of families dealing with the devastating loss of a loved one and many more supporting family members with ongoing and in some cases lifelong disabilities ...
"At the end of the day, the goal is to have all families travelling safely and reaching their destinations together.
"One of the hardest jobs a police officer will do is to tell a family that one of their members has died as a result of a car crash."
Mr Cliff urged holiday-makers returning home this weekend to remember that tired drivers are unsafe drivers.
"Families have enjoyed time away and now they should give themselves plenty of time to reach their destination. Keep your focus on the road, and factor in some all important rest stops for everyone in your care."
"High-risk and dangerous overtaking is not worth the lives of you the driver, any of your passengers or any other road user."