Do you know more? Contact the Herald here.
A woman has been seriously injured in front of her two small children while trying to stop a bag snatch at an Auckland supermarket.
The 43-year-old woman was struck on the back of the head and knocked to the ground after she went to a woman's aid in the Countdown supermarket in Northcote, Auckland, this afternoon.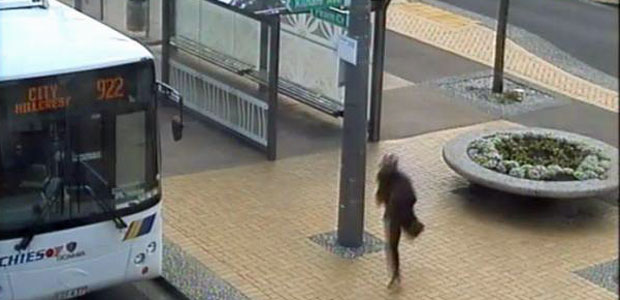 The suspect was also caught on camera fleeing the area.
Police said a young man had tried to snatch the handbag of an Asian woman about 1.40pm.
The 43-year-old good samaritan, who was at the supermarket with her two young children, saw the incident and went to help.
The offender struck her on the back of the head, knocking her to the ground, police said.
He then fled empty-handed.
The woman was taken to Auckland Hospital with a fractured skull and bleeding on the brain, and is undergoing surgery tonight.
Her two children, aged 2 and 4, were not injured.
"This woman was acting as a good samaritan in coming to the aid of someone who was being attacked," Detective Senior Sergeant Stan Brown said.
"She's sustained a serious injury in front of her own children and we're determined to identify and apprehend the offender as soon as possible.
"If you were there, please call us," Mr Brown said.
Countdown spokeswoman Kate Porter said the incident in the lobby of the Northcote store happened "extremely fast".
"The team immediately called the police and ambulance and helped to support the two customers involved and their children," she said.
"We've worked with the Police this afternoon to provide footage and as much information as we can, and will continue to do so.
"This is an unprecedented situation involving a customer who was simply trying to help do the right thing, and our thoughts are with the victim and her family at this difficult time."
The offender is described as a young Maori or Pacific Islander, possibly 15 or 16 years old, and was wearing black clothing and a baseball cap.
Police have released CCTV images of the teenager running away from the scene, and in the area before the woman was attacked.
Police want to speak to anyone who was in or around the Countdown supermarket, and from the Asian woman with the handbag, who left the scene.
Anyone with information is asked to call North Shore Police on 09 477 5261, or Crimestoppers on 0800 555 111.