Teen arrested over shooting of former league star who upset Tongan royalty by wooing two princesses.
A former Auckland policeman and Kiwi league representative who romanced two Pacific princesses has died in Hawaii, after an apparent family shooting.
Josh Liava'a, whose marriage to Tongan Princess Mele Siu'ilikutapu was annulled five weeks after they wed in Auckland in 1969, died on Monday after being shot in Kahaluu, according to Tongan news website New Zealand Kaniva Pacific.
Hawaii News Now reported Samuela Mataele, 18, was arrested after a seven-hour manhunt over a shooting incident involving his uncle.
Samuela Mataele was officially charged by Honolulu police just before 3pm (New Zealand time) with three offenses. He was charged with murder in the second degree, terroristic threatening in the first degree and a firearms violation.
His bail has been set at $250,000.
Unless he makes bail overnight, Mataele would likely make his first court appearance to face the charges tomorrow morning.
Tongan-born Liava'a, 65, represented New Zealand at the 1975 league World Cup.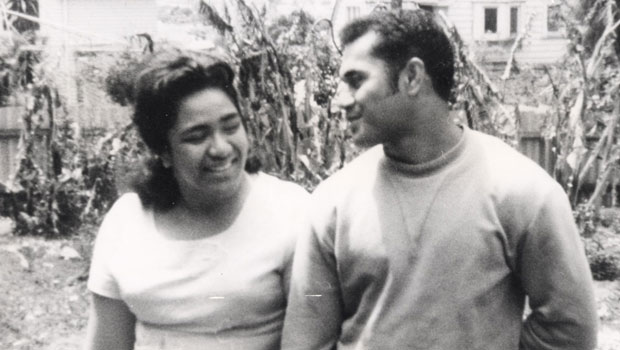 Josh Liava'a and Princess Siuilikutapu, soon after their wedding in 1970. File photo / NZ Herald
His marriage to Princess Mele - a niece of the Tongan King - was initially kept secret from the country's royal family. When news of the nuptials emerged, Tonga's Parliament passed a law to annul the marriage to Liava'a - a commoner. The princess, a 21-year-old Auckland University student, was ordered back to Nuku'alofa.
Liava'a angered Tongan royals again when details of his affair with King Taufa'ahau Tupou IV's only daughter, Princess Pilolevu Tuita, emerged in 1999. The scandal hit headlines when contents of a 1985 love letter written by the princess became public.
The Herald featured Liava'a in 2000 - then the owner of a Sydney night club with six children.
He said he was being accused of plotting to assassinate the king and that Tongan authorities had taken a contract out on his life because of the fallout from his relationships with the princesses. He also revealed he demanded millions in compensation from the Tongan Government over a business failure.
Auckland police found Liava'a posed no threat to the king while he was in Sydney for the 2000 Olympics, and he said he spoke with the Tongan commissioner of police, Sinilau Kolokihakaufisi, about his problems.
"I told him I had been wronged for 31 years," Liava'a told the Herald.
He also spoke about his marriage to Princess Mele. "We were both over age [for marriage]. They could not give a stuff. From the day they found that I married their princess in 1969, they said they would kill me.
"I believe that it was an under-estimation on my part to think that what happened in 1969 had passed into history.
"It has since transpired that these guys will never let up. But after 31 years, my name and members of my family have been subjected to many punishments through the actions of the Tongan Government," he said at the time.
According to Kaniva Pacific, which confirmed Liava'a's death with his cousin, the former detective sergeant is survived by his wife Victoria and children. A family meeting is taking place in Auckland to finalise funeral arrangements. His body is expected to be returned to NZ.
As well as representing the Kiwi league team, Liava'a played for the Northcote Tigers, Auckland and New Zealand Maori.
Next trending article: Doc's ice challenge warning