We're their unhappiest migrants ... so the Aussies have created some new insults.
Are you a Kiwi struggling to get by in Australia? Email your story to newsdesk@nzherald.co.nz.
New Zealanders living across the Tasman have been labelled "South Sea Poms" and "carping Kiwis" after a survey showed they are Australia's unhappiest migrants.
Kiwis were the migrants most likely to be dissatisfied with their financial situation, were often discriminated against, didn't feel safe and were extremely unlikely to view Australians as nice people, a study by Melbourne's Monash University found.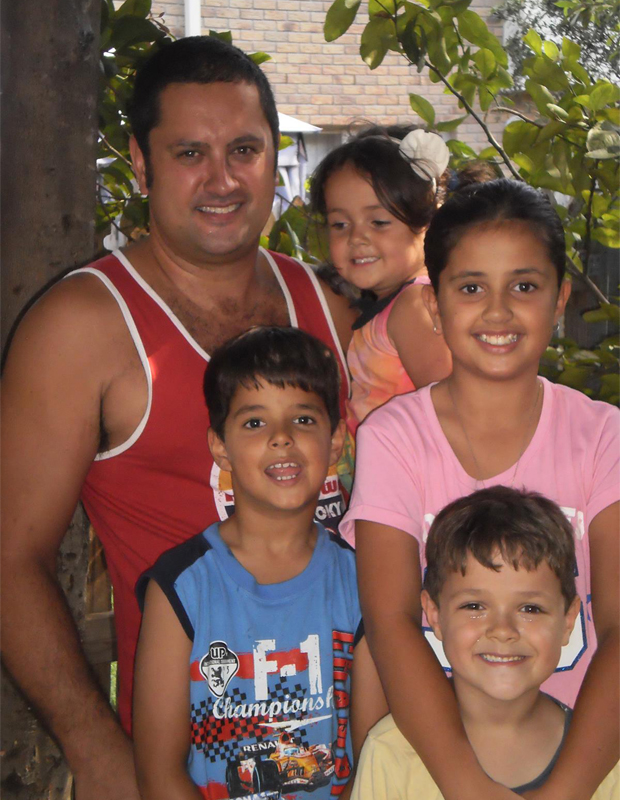 New Zealander Tim Baker with his children (from left) Aramiha, Yolanda (rear), Penelope and Albert at their Gold Coast home.
About 40 per cent of Kiwi migrants described themselves as "dissatisfied" or "very dissatisfied" with their financial situation. Forty-six per cent said they were poor, struggling or just getting by.
Kiwis were also the group least likely to see Australians as "caring, friendly, hospitable people", only 1 per cent suggesting this was one of things they liked about their new country.
Kiwis were among the most suspicious of others, and just over a quarter said they had been discriminated against - more than twice the level among Brits.
The findings prompted Queens-land's Sunday Mail newspaper yesterday to coin the phrase "carping Kiwis", suggesting they had overtaken "whingeing Poms" as Australia's hardest-to-please people.
It presented the figures in a graphic headlined, "If you don't like it, leave".
Tim Baker, a 40-year-old Kiwi living on the Gold Coast, wasn't surprised by the survey results.
While Kiwi-Aussies might seem a "miserable lot", many had good reason to grumble, he said.
"We are basically second-class citizens over here.
"I've moved here with my Australian wife, had three kids here who are Australians, I have worked here pretty much the whole time and I have bought property. But when I got laid off, what could I get? Nothing."
Study author Professor Andrew Markus said the results reflected the fact that New Zealanders were a "unique group".
A visa introduced in 2001 allowed them to live in Australia indefinitely, but they were excluded from many welfare entitlements despite paying taxes, he said.
Mr Baker, who has lived in Australia for nearly eight years, lost his job in the construction industry during the global financial crisis.
Now in the third year of a social work degree at Gold Coast's Griffith University, he is not eligible for a student loan so he stacks shelves in a supermarket at night to earn the money to pay his fees up front.
The study also found Kiwis were the least likely migrants to take up Australian citizenship. Ninety-two per cent of Chinese migrants who arrived between 1990 and 2005 became Aussie citizens, against 41 per cent of New Zealanders.
That was because it was much harder and more expensive for Kiwis to do so, said Mr Baker, who is to become an Australian citizen this year.
The process had cost him nearly A$3500 ($3800) but for most other groups the cost was A$800.
"I wouldn't have bothered if I could have accessed a student loan."
He didn't believe most Australians viewed Kiwis as whingers.
"I would have thought quite a few Australians are fully aware of our predicament and sympathise.
"The one thing that bugs me about Aussies is this idea that when you come here you've got to fully embrace it and be Australian. You don't have to do that anywhere else in the world. It's acceptable to go and live in another country and be proud of where you come from.
"Most Kiwis come over here hoping for a better life and they find it, I reckon. But, sorry, we are not going to stop supporting the All Blacks."
Carping Kiwis
• 40 per cent of Kiwis living in Australia are dissatisfied or very dissatisfied with their financial position.
• 46 per cent describe themselves as poor, struggling or just getting by.
• More than a quarter have encountered discrimination because of their nationality.
• Only 1 per cent see Aussies as "caring, friendly, hospitable people''.