Every summer, thousands of holidaymakers descend on the Coromandel. Jamie Morton meets some of the people who make the peninsula so special.
Up a winding gravel road, in the trees beyond the Coromandel village of Kuaotunu, there's a small field accessible through a swinging wooden gate.
The long grass can reach your waist in this little clearing, and one corner has been consumed by blackberry bushes.
Cliff Heraud, 90, isn't pleased to see the overgrowth when he slowly makes his way down a path, and there's a good reason.
The site is somewhat of a personal monument, and one of the birthplaces of his dream for the Coromandel - a movement to replenish the peninsula's kauri population with thousands of new trees.
Most of the trees in the field, planted over a decade ago, are now much taller than him.
The retired farmer's vision - to plant 2000 kauri by the year 2000 - was relatively simple when he conceived it in the late 1990s, but still considered ambitious at the time.
This year, the Kauri 2000 Trust will set its 40,000th tree into the earth.
The loss of kauri in the peninsula since logging began had been "remarkable", Mr Heraud said.
Before settlers arrived, one would have seen a vast, seemingly un-ending canopy of kauri stretching down the Coromandel if they'd had a bird's-eye view.
Mr Heraud's own connection with trees might be traced back to the day an arborist showed him how to plant one at school in Eastbourne when he was just 5.
"I remember him pushing his big boot in and just saying, 'You do it gently, you don't have to shove it in the ground'."
The lesson wasn't forgotten.
Later, when he began farming in the King Country, exotic trees began sprouting up around his land.
One year, he and his wife Julie visited Waipoua Forest in Northland, home of the magnificent Tane Mahuta. "That's probably when the impact of the kauri affected me ... it's a magical place, it's like going to a big cathedral."
Eventually the couple decided to settle into retirement, and their summer holiday spot became their permanent home.
But Mr Heraud couldn't put down his love for trees, particularly kauri.
"I actually bought 1500 seedlings, and they were little things.
"I potted them up and we looked after them ... and my wife said to me, 'What the hell are you going to do with them? You'll never get rid of them'."
The answer came with a question at a local community board meeting - what would be a good way to commemorate the coming millennium milestone?
"The scheme all of a sudden crystallised, and we were away."
With the help of a friend, Mr Heraud's thoughts were put on to paper and a small trust was formed.
Dame Catherine Tizard agreed to be a patron soon after hearing the proposal.
"We did have people who were a little sceptical, and even DoC said to me later on they thought it would last a year or two years, and I'd be happy with what I've done."
Today, the trust's planting sites dot the peninsula, from below Waihi up to Waikawau Bay, from Kauri Point near Coromandel township across to Cathedral Cove on the east coast.
A dedicated group of Coromandel residents who share his passion have taken over the programme, which Mr Heraud sees no point in ending.
He's overcome with tears when he thinks about what could be the scheme's greatest legacy.
Local school children who plant the trees, as he did as a child, will know they've given something to Coromandel that will be long-lasting.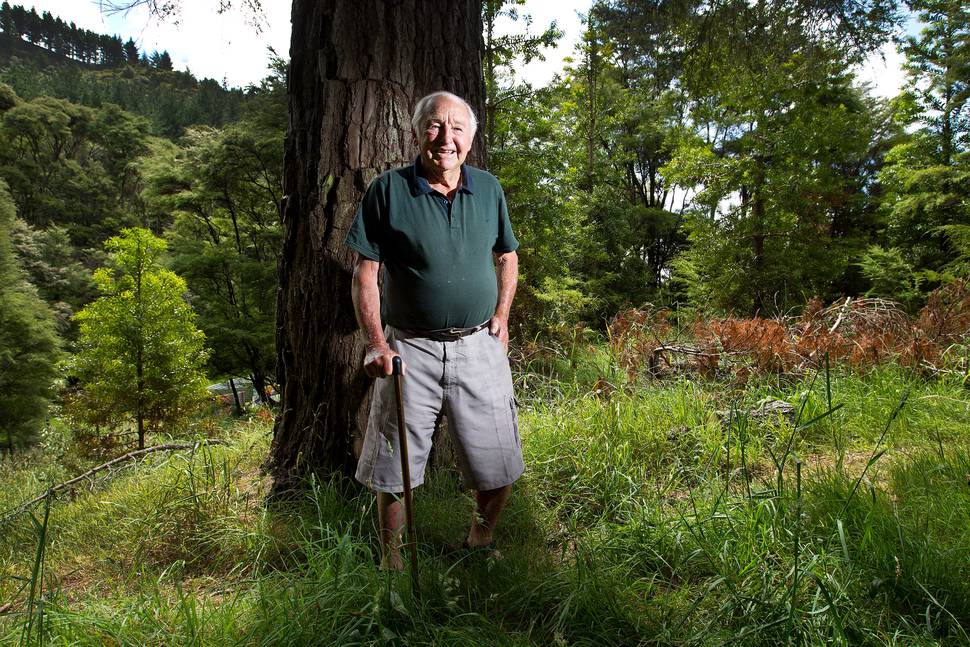 One day, they might revisit the tree they planted years ago, or help carry the movement on themselves.
"Does it overwhelm me? No it doesn't overwhelm me. Looking back, I'd say I knew it was going to happen, and it has happened," he said.