Kim Knight goes behind the scenes with the restaurant workers eating from the "trough of love".
You won't find it on the menu, but it's the most democratic dinner in town. The calm before the customer storm, the 15 minutes when the executive chef sits alongside the dishwasher and everybody eats. Restaurants call this the "family meal". Dean Purcell and Kim Knight went behind the scenes at three Auckland eateries.
Depot and Fed Deli, 3pm.
"Filipino, Chinese, Italian, English, Tongan, Indian, Sri Lankan," says Andrew Mackle, executive chef at Depot and the Fed Deli. "Right at the moment, I think there's two or three Kiwis in here."
The United Nations of Hospitality is having fish pie for lunch. Correction. "Fush pie," exaggerates Mackle, as he deposits a bechamel behemoth.
This is the "family meal" cooked daily for the waiters, bartenders, runners, dishwashers and chefs of these Federal St eateries. Fifteen minutes of tomato sauce and banter down the back of a restaurant where punters eat oysters at $4.50 apiece. Food as fuel. Cooking for kinship. This may be the only time today these workers sit down.
The roast potatoes are made from the innards of the potato skins customers eat with truffle oil and porcini salt. The pie comes from the hāpuku trimmings. Zero waste.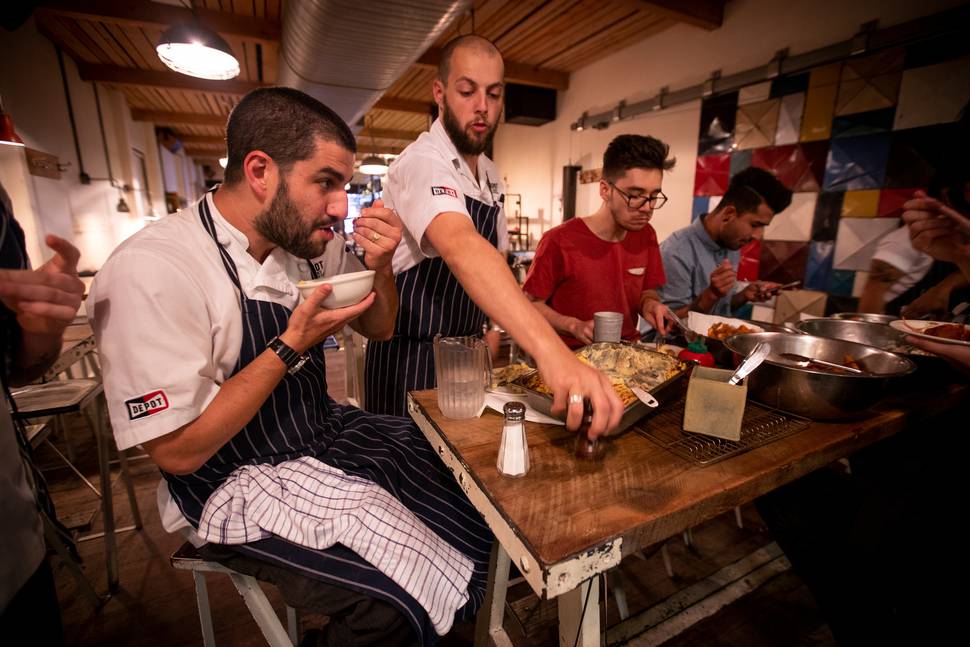 "We try not to make it overly heavy," says Mackle, as industrial-sized bowls of salad and slaw are brought to the table. "You don't them to go back in the kitchen and then go to sleep, or drag their feet around the floor. But you do want them fed and ready to go."
Restaurant owner Al Brown calls it "the trough of love". On the floor, they call it "staffies" and usually whoever is in charge of the oven section decides what to cook for this 3pm feeding frenzy.
"I quite like doing it," says Mackle. "I'm in the office most of the time, barking orders. So it's nice to occasionally say, 'here you go'. It's giving back."
Cazador, 4.40pm.
In the table by the kitchen pass (no, that spatula should not be on fire) they talk homemade pyrotechnics, who is going to the Childish Gambino gig and wonder, idly, about tackling the Tongariro Crossing.
Co-owner and front of house Rebecca Smidt advises: "Quite a cluster-eff for you guys at 7."
Co-owner and chef Dariush Lolaiy advises: "I think I might do a quick beetroot side. Tarragon, capers and vermouth vinegar."
In the clip-on high chair, the couple's 8-month-old daughter, Azhar, chews on carrot and karaage chicken. The latter has been made by chef de partie Yuko Iyanagi.
"I cook that karaage chicken once a month," says Iyanagi. "Because everyone loves deep-fried chicken. I'm Japanese, so I want to make proper Japanese food for everyone to try."
There is kale (the bartender is a university student and she worries he may not be eating vegetables) and squeezy bottles of mayo and sriracha.
"I'm away from my home," says Iyanagi. "I don't see my parents more than once a year. This feels warm. We have dinner together every day. I don't know how to explain it but it is just a warm kind of feeling. Everyone is like family."
On a busy night, it's a table for eight.
"The CDP, the dishwasher, the front of house," Smidt runs through the list. "Former crew." She looks at her daughter. "Future crew."
Minutes before 5pm, Smidt mops up carrot and crumbs. This is the restaurant her in-laws founded more than 30 years ago. The customers will eat venison bresaola and poussin hearts, but first and always, you feed the family.
Saan, 5pm.
The whole dried chilli is a wizened finger of fire.
"What will happen if I eat this? Will I die?"
The sous chef smiles at the staffer. "Yeah, maybe."
They sit boarding-school style at Saan, waitresses and runners drifting in like teenagers, taking opposite sides of the long table. In the semi-private room with the rattan dividers, their soup may or may not contain chicken; it certainly includes whole chilli.
Every bowl is bespoke. Jinyeol Kim is shy about tonight's staff offering.
"I think Thai food is much better than other food. I put chicken into it, because everyone loves chicken, I think. But it is easy to cook for vegetarians too."
Spoons drag, soup is drained. Nobody asks for seconds, everybody knows what happens next. This is a fragrantly-fuelled machine.
Antonia Long is from England and she's worked here as a waitress and a bartender.
"The kitchen puts so much love into these meals. We all arrive just before the shift starts so we can eat together. We ask each other how we are and we care about each other like a real family. I've worked in restaurants where you just eat when you can. It's nice there is a set time. My family is so far away and sometimes it's really stressful in hospitality. Here, we just feel really together."