Powerhouse singer Kelly Clarkson has sold more than 25 million albums to date - but one disastrous move almost killed her career before it had even begun.
The Since U Been Gone singer shot to worldwide fame when she won the first season of American Idol back in 2002. Created by entertainment mogul Simon Fuller, the franchise came with an iron-clad contract for the show's winner and runner-up.
Both Clarkson and second-place getter Justin Guarini were contractually obliged to appear in a musical feature film written by Fuller's brother, Kim.
Released in 2003, From Justin To Kelly is widely regarded as one of the worst films ever made.
"I cried so hard because I did not want to do that movie. One, it wasn't a good movie and two, I just have never wanted to be an actor. It was real tough to get out of that - I couldn't," Clarkson told Howard Stern in a new interview.
"I literally was in Texas in my apartment, crying in my closet talking to [Simon Fuller]: 'Please do not make me do this.' He was like, 'It's already all in the works [for] whoever won the show.'"
Clarkson managed to strike a deal: She could release Miss Independent, the lead single from her debut album Thankful, before the film came out.
"I think that's what saved my career, is that timing. Oh, Jesus," she said.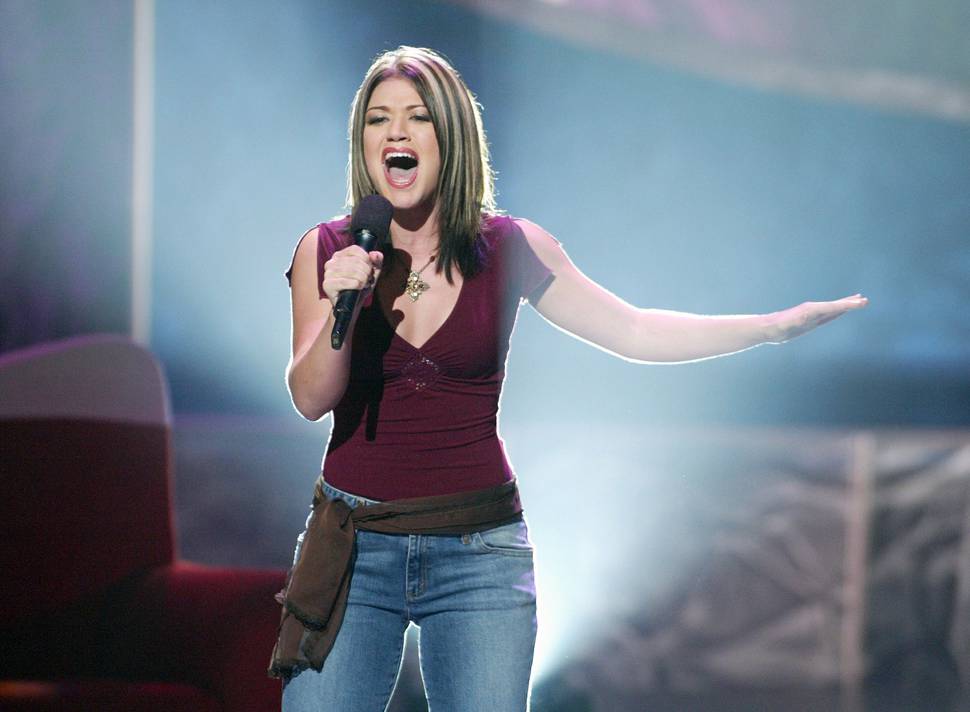 Miss Independent was a US top 10 hit - and two months later, From Justin To Kelly hit cinemas, earning dismal reviews and making back less than half its $US12 million budget at the box office.
Time magazine described the film as "a monstrous Idol movie musical that in the most generous light is the worst film so far this century".
Clarkson said it was doomed to failure from the start. "It was shot in 28 days! We had to learn choreography and a script and how to possibly seem like, 'you know how to act', in 28 days," she said. "I'm glad I didn't want to be an actress, because if I did, that [movie] would have ruined that dream." Clarkson admitted she hit the bottle the one and only time she watched the film. "I literally have only seen it once, and that was at the premiere and I had to watch it. I was so embarrassed. I got VERY drunk at that premiere. I literally ended up in a fountain, soaked. I was real hammered. I was like, 'Jesus, take this away from me!'" she laughed. The criminally dodgy flick didn't help Clarkson get taken seriously as an artist in her early days - she told Stern that in the immediate aftermath of Idol, she was given the cold shoulder by many in the industry.
Or, in one case, the cold elbow. She recounted "getting elbowed in the face" while presenting an award to a certain pop star.
Stern made an educated guess later in their chat.
"That year, you presented an award to Avril Lavigne at the [2002] VMAs. Did she elbow you in the face?" he asked.
"I mean, it WAS her," Clarkson confirmed.
"I will say this: Years later she saw me, and said 'Oh my gosh, people keep saying I elbowed you in the face and I'm so sorry.' I mean, she did it. I don't know if she felt bad about it or didn't mean to do it but it felt purposeful. I think what I was bummed about is, I'm a fan of hers."
Lavigne went on to co-write one of Clarkson's biggest hits, Breakway. At 1:35 in the YouTube video below, Clarkson can be seen giving Lavigne a hug as she presents her with her VMA - while Lavigne awkwardly yanks her body away from her and towards the podium: