Among the young Auckland women who encountered the band up close when they arrived and later were sisters Jeannette and Sally Reid. They were both at the Beatles' Auckland hotel in Elliot Street - Sally on the outside and Jeannette on the inside.

Jeannette Reid: "I was working as a receptionist at the Royal International when the Beatles were booked in by the New Zealand Tourist Bureau. Nearly everyone was in those days. The Tourist Bureau rang up, wanting to make a booking and I said 'have you got names?' and they replied 'let's just say the Beatles'. I thought they were joking but they said 'No, we're not but can you please keep it quiet.'"
Sally Reid: "As the car turned down into the ramp it was a real stampede. People were kicking and pushing. I got jammed against the side, right by the window. I remember seeing the Beatles through the glass and being absolutely beside myself but the police and security removed everyone before they let [the Beatles] out of the car."
Jeannette Reid: The security brought the Beatles up through the kitchens to the top floor and we didn't see them. We were so naive, we thought they'd have to sign in as guests. My friend Barbara on reception got carried away and said 'let's go up.' Several of us rushed the balcony, but I hung back as I was a bit embarrassed. One of the girls threw her arms around George and shook Paul's hand before a security guard got her."
Representing South Auckland paper the Ribbon News-Pictorial was 16-year-old raw recruit, Wendy Munro.
Wendy Newton (nee Munro): "In June 1964, my journalistic training of six months had comprised of reporting on flower shows, senior citizens' concerts and other tame community activities. The Beatles press conference was daunting. I was 5ft tall, skinny and I had to fulfil my strict editor's high expectations, so brain had to outwit brawn. I crouched down and scuttled under the collective press's armpits until I reached the end of the room, where I bobbed up in front of where the four sat at a long table. The boys seemed pleased to chat to someone close by and not have to deal with all the questions being hollered from beyond. My questions were mainly to Ringo because he was right in front of me, but I also conversed with John. Ringo offered me a cigarette and seemed surprised when I said 'No, thank you, I don't smoke.' I ended my article with: 'My impression of the Beatles is that they are witty, good-natured and very co-operative young men who will go a very long way.'"
A tired bunch of Beatles spent Thursday afternoon resting before their final Auckland shows. Jeannette Reid managed to sneak her sister up to the Beatles floor. "Because we often worked split shifts, the receptionists had to have, by union regulations, a small rest room which was up on that top floor. So I smuggled Sally and her friend Robyn up there to try and see them."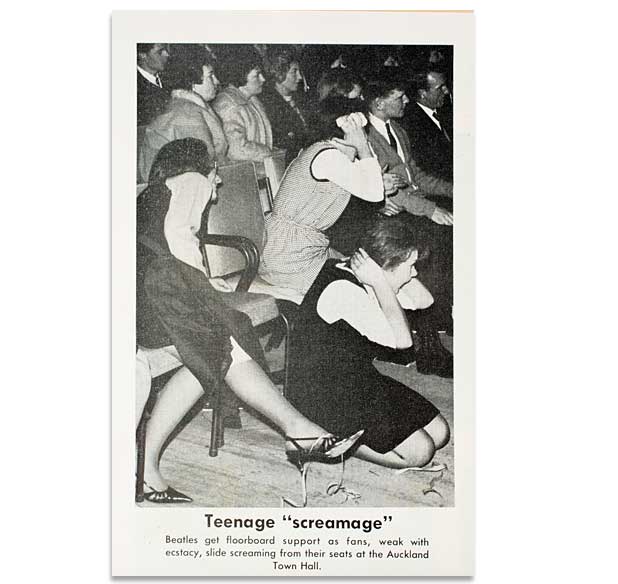 Sally Reid: "We met Derek[Taylor, manager], who was very lovely and he took us to meet them. We saw John and Ringo; we were told Paul and George were asleep. John was reclining in his dark glasses, he was very tired actually. But they were so nice. I wrote it all down in my teenage diary of the time."
At around 4pm the Beatles met with more fans whose pleas had caught Derek at the right moment. Said one then Auckland Girls' Grammar student: "Some invited Beatle fans were there, along with photographers from Candid Studios and the Auckland Star. The Beatles were pleasant, courteous and appeared more than happy to be meeting people during the half hour we were there. I think they picked up on that I was somewhat irreverent towards their fame and not like the hyperventilating majority of teenage girls they met ... I had a small taste of what the Beatles had to endure when I left that afternoon. I was asked if I had met them and when casually replying yes, I was instantly mobbed by crying, hysterical girls clawing at my clothes and gripping my ankles. Not an experience I would wish on anyone."
"I went back after the shows it was more of a wind-down soiree than a party. I recall tea and sandwiches being delivered to the room. "
Edited extract From Half A World Away: The Beatles' Australasian Tour 1964 by Greg Armstrong and Andy Neill.
Stay tuned: nzherald.co.nz will be running a series of stories this week on The Beatles' 1964 tour of New Zealand.