Harley's modern machine is as addictive as ever, writes Jacqui Madelin.
Even Harley-Davidson can cruise on history and image for only so long before it runs out of folk willing to put up with the dynamic and performance compromises its unique flavour demands.
So it was an "about time, too" moment when the V-rod launched, with input from Porsche for its engine and looks, to create a bike that oozed drag muscle straight out of the box.
The VRSC (V-twin Racing Street Custom) aimed to appeal to those also considering Japanese muscle bikes, and it dragged the brand's engineering into the modern era by introducing overhead cams and liquid cooling, alongside the heresy of binning the 45-degree cylinder angle in favour of 60 degrees.
It also tucked the fuel tank under the seat, further lowering the bike's centre of gravity.
That first one delivered 1130cc, now boosted to 1247cc with an attendant lift to power and torque, to 93kW and 115Nm, and the addition of another variant - this one the $28,995 V-rod Muscle, with sharper, more sculptured lines focusing the eye on that ludicrously porky, 240mm-wide rear tyre.
The V-rod may have a greater performance focus but it's still no sports bike, as a glance at the 1700mm wheelbase and 292kg claimed (dry) weight confirms.
But it still feels like a bike that would reward a muscular riding style, that expects you to crouch aboard like a bronco-breaking cowboy poised to wrestle some manners into the explosive muscle coiled beneath the saddle.
So it came as something of a surprise to find the V-Rod has forward-mounted "highway" pegs and foot controls, doubling you up a tad to reach both those meaty bars and the pegs.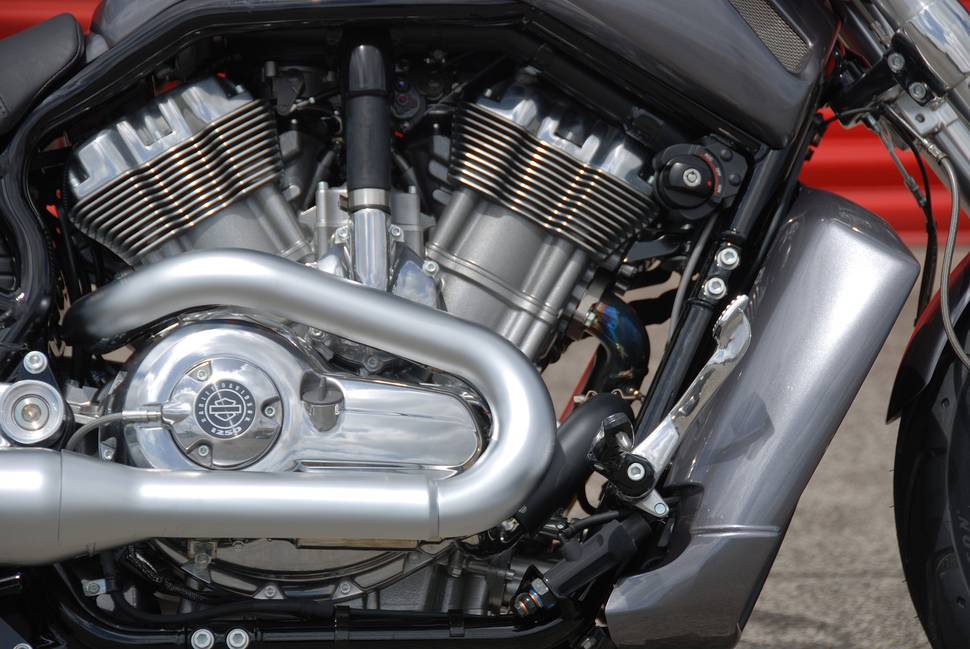 But bear with it, for though hardly nimble, this V-rod is far more capable through a series of bends than I'd expected.
Once you get used to the emphatic body English required, its ability to carve into, and punch out of corners with an aggressive precision entirely unexpected from anything boasting rear rubber this wide was impressive, and where its bigger-engined but more laid-back cruiser stablemates are running out of breath it's still accelerating with a happy bark that suggests there's more to come.
A bark, but not the feral wall of sound one expects from any Harley, let alone one with this bike's drag-strip persona. That pair of black-tipped straight-cut pipes doesn't do the soundtrack any favours, for though it's suitably lumpy and characterful at low revs, it smooths out far too fast.
It took a bit of time to get used to those forward pegs too, and even when I did get comfy - helped by that steeply-stepped seat's ability to stop my rapid rearward slide whenever I thwacked the throttle open - it felt counter-intuitive to have my feet stretched so far forward on a bike that needs to be muscled around to make the most of the performance.
And yes, I did try a jockey's crouch - selecting the optimum one of the five gears to suit the sinuous terrain, and folding my feet up on to the passenger pegs, leaning aggressively into the wind in an aerodynamically efficient pose that wrapped me over the tank, the bike and I tipping as one into bends, left-right-left, engine hauling, select another - ah. You can't change gear like this ... far better to just get used to the design!
And there's much to like about it, particular in those little details - like the carbon fibre drivebelt, the LED indicators in the mirror stalks to de-clutter the front, and the LED brake lights tucked under the mighty curve of the rear fender.
The V-rod won't appeal to sports fans, but it does start to close the efficiency gap to mainstream-brand muscle bikes without compromising one iota of Harley's apparently addictive flavour.