Israeli-Palestinian relations in new crisis with violent clashes following the discovery of body of a Palestinian teenager apparently abducted in revenge attack.
The conflict between the Israelis and Palestinians was thrown into a new crisis yesterday after Israeli police discovered the body of a teenager in a Jerusalem forest. Palestinians say he fell victim to Israelis avenging the deaths of three abducted Jewish youths.
Read more:
• Israel accuses Hamas of murder of teen trio
Palestinians identified the victim as 17-year old Mohammed Abu Khdeir and said he had been forced into a car by Israelis around 3:45am before he was to head to prayers at a mosque near his home in the Shuafat neighbourhood of occupied East Jerusalem. Israeli police said they believed the corpse found in the forest belonged to Abu Khdeir, whose family had reported the abduction to police. "We are investigating and our main focus is to find out if this was criminal or nationalistically motivated," said the police spokesman Micky Rosenfeld.
Palestinians had no such doubts however, and news of the killing fuelled rage and intense clashes with police outside the Abu Khdeir home and in Beit Hanina, a nearby neighbourhood. Coming a day after anti-Arab rioting in Jewish West Jerusalem following the funerals of the three Jewish teenagers, the clashes raised the level of tension in Jerusalem to their highest level in years and threatened to fuel confrontations in the occupied West Bank, where at least seven people were wounded yesterday during Israeli army operations.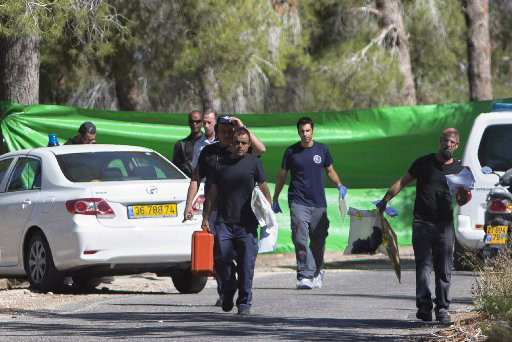 Israeli forensic police officers carry evidence bags in a forest in Jerusalem. Photo/AP
At the family home, against the backdrop of sound bombs, Ansam Abu Khdeir, first cousin of Mohammed, said: "There is not one day they are not killing us and we're not supposed to complain."
She described Mohammed as "a sweetheart, kind, not a troublesome kid. He's so funny, he has a good sense of humour. We just didn't expect it to happen, in Shuafat, in Jerusalem."
Mohammed's father, Hussein, said he and his wife had given DNA samples at the request of police and agreed to an autopsy on condition a Palestinian doctor would participate. Speaking to The Independent, he voiced doubts about whether the Israeli police would find the criminals. "I told the police, 'You will not catch them because the man who was killed is an Arab. If the man killed was Jewish, you would catch the people who killed him."'
He said police had told him that camera footage from the neighbourhood was "not enough". However, the family's lawyer, Mohammed al-Mashni, said he believed police were conducting a thorough investigation.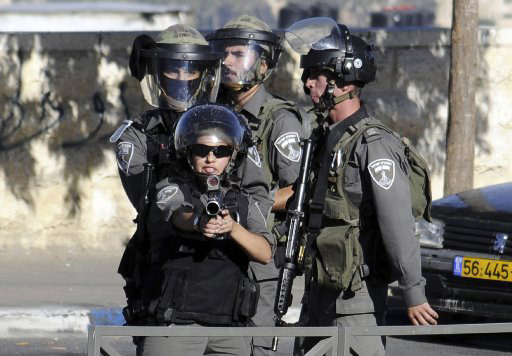 An Israeli border police woman aims her weapon during clashes with Palestinians in Jerusalem. Photo / AP
Elsewhere, more than 40 people were arrested in the anti-Arab riots on Monday night, which were punctuated by chants of "Death to the Arabs".
"The tensions and attacks are all over the places where Arab Jerusalemites meet Israelis," said Menachem Klein, a political scientist at Bar-Ilan University near Tel Aviv. "It's a very dangerous situation and I hope that police don't cover up the investigation."
Abu Khdeir's funeral is expected to be held today after police return his body to the family. Another point of tension will be Friday prayers at al-Aqsa mosque, Islam's third holiest site, overlooking the Western wall, Judaism's holiest locale.
The normally tranquil Shuafat neighbourhood resembled the flashpoints of the two Palestinian uprisings yesterday, as masked youths, some of them bare-chested in the blazing heat, burnt tyres and used slingshots to target Israeli security forces. Smoke billowed into the sky and youths took cover behind metal casing. Sound bombs resounded and youths periodically chanted "Allahu Akbar!", [God is the greatest], before they ran up to hurl their projectiles.
Ambulances evacuated youths who had apparently been hit by rubber-coated metal bullets fired by the security forces.
Mr Rosenfeld, the police spokesman, had no information about the violence in Shuafat, but said that police in neighbouring Beit Hanina had faced stones, petrol bombs and pipe bombs. Youths also attacked the light rail station in Shuafat, a symbol to them of Israeli rule, and shattered parts of it. There were similar attacks on two other stations nearby.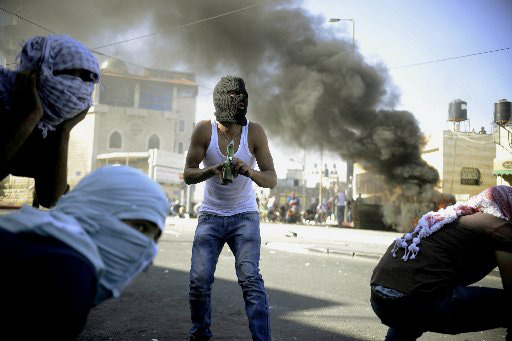 A Palestinian holds a Molotov cocktail during clashes with Israeli border police in Jerusalem. Photo / AP
The Palestinian legislator Jihad Abu Zneid, from President Mahmoud Abbas's Fatah movement who was at the scene of the clashes, said: "This is a natural reaction to killing, demolishing houses and attacking children. [The Israeli Prime Minister Benjamin] Netanyahu is personally responsible for Mohammed's death."
Mr Abbas issued a statement calling on Mr Netanyahu to condemn the killing just as he had condemned the abduction of the three Israeli teens in the West Bank on 12 June. He called on the Israeli government to "act immediately and take real steps to stop the aggression of the settlers and the chaos caused as a result of the Israeli aggression".
Mr Netanyahu's office released a statement saying he had spoken with the Internal Security Minister Yitzhak Aharonovitch and "requested that those conducting the investigation act with the greatest speed possible to investigate who is responsible for this despicable murder". Mr Netanyahu called on citizens "not to take the law into their hands".
In the West Bank, Israeli forces arrested 40 people as part of ongoing sweeps against the Hamas movement, which Israel blames for the killings of the Israeli teenagers. To date, the Israeli government has produced no evidence to support its assertion.
Four Palestinians were also wounded by live fire early yesterday during an Israeli raid in Jenin, Reuters reported. In Idna, in the southern West Bank, the army demolished part of a house belonging to a Hamas member accused of killing an off-duty policeman and three Palestinians were reported wounded in clashes that erupted there. Israeli media reports said that four mortars fired from the Gaza Strip landed in southern Israel without causing damage.
The family of Naftali Frankel, one of the three Israeli teens killed, issued a statement yesterday condemning the killing of Mohammed Abu Khdeir. "There is no difference between blood and blood. Murder is murder regardless of age and nationality."
- UK Independent