A group of people sailing to Great Barrier Island for an early morning surf this morning have been rescued by the Coastguard after their boat began taking on water.
Coastguard Northern region spokeswoman Georgie Smith said four people on board an 18ft catamaran left Omaha this morning heading to Great Barrier Island on a surfing trip.
The group came into trouble near Little Barrier Island in the outer Hauraki Gulf when they encountered seas with swells up to a metre.
A maritime radio was used to contact Coastguard's operations centre around 5.30am.
The call was quickly upgraded to a distress call as the four on board were struggling to keep up with the amount of water coming on board - thought to be from a cracked hull, Ms Smith said.
Coastguard volunteers were paged from Sandspit on board Kawau Rescue and arrived on scene near Te Ananuiarau Bay on the western side of the Island within the hour.
"Quick work was required to get on top of the water intake with salvage pumps on board to bolster the failing efforts of the vessels bilge pumps that simply couldn't keep up."
Three of those on board the catamaran were transferred to Kawau Rescue vessel where one person received first aid for a suspected hand injury and two others for severe sea sickness.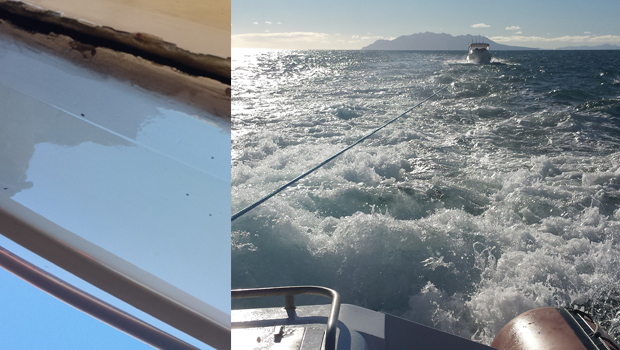 The cracked hull, left, and the boat being towed to shore.
The skipper has remained on the vessel together with Coastguard volunteers who have been working to stem the flow of water whilst the vessel was towed back to Omaha.
Coastguard duty officer Mark Leevers said it was "touch and go out there" as they worked to keep the vessel afloat.
"They've got a two hour tow ahead of them so we're just doing all we can.
"The outcome is a credit to them as they were really well prepared with lifejackets and additional flotation devices should they have needed to abandon the ship.
"The fact they had the right gear including reliable forms of communication meant they were able to call for help and we were able to respond immediately."