Ovolo Hotel, 6 Cowper Wharf Rd, Woolloomooloo, Sydney
We arrived …
a little late for our 7.30pm reservation. The place was pretty full, with a mixed and buzzing crowd. Alibi is inside the long body of the Ovolo hotel; kind of the far end of the foyer, but the groovy lighting and fancy staging makes this its own space.
We chose here because … I was staying in the hotel, a very cool place with nice homely touches. Plus, I've been reducing the amount of meat in my diet lately, so the chance to eat at a much-buzzed Sydney vegan restaurant was not to be missed.
The menu here was designed by Matthew Kenney, a famous vegan pan-sizzler. They don't tend to use the word "vegan" so much, instead, these are "plant­-based food offerings" - don't let the Gwyneth-ness of that put you off, this is excellent and intriguing food in any language.
Our first impression was … earlier in the day, when I had breakfast in these same seats as a guest at the hotel. The space is flipped out from midday to midnight, becoming Alibi. (When it's set up for hotel breakfasts, it's not vegan, because: Eggs and cheese, mmmm - though I didn't see any bacon.)
We started with … the eight-course "plant-based tasting menu", which made life easier for all concerned and set us up for a great evening of surprises. We added on the beverage matchers as well.
First up were delicate kimchi dumplings topped with ginger foam which exploded in the mouth with a burst of flavour from a spicy red cabbage puree, a contrast to the accompanying watermelon poke with kale pickled ginger, macadamia mint and a moreish ponzu-lime dressing.
"This is the best thing I've eaten in years," declared my dining buddy.
The highlight was … The constant run of surprises. There was nothing here I could replicate at home. The beverage pairings were unexpected too: heavy on New South Wales drops you'd be unlikely to stumble across of your own volition. These included a tart Stone & Wood Pacific Ale from Murwillumbah which offset the smokiness of a delicate charcoal steamed bun stuffed with roast carrot, a satisfyingly sweet cashew hoisin sauce and fiery pickled red cabbage.
That carrot had roasted slow and deep for so many hours it was a caramelised joy.
The waiting staff do a great job of navigating guests through the twists and turns of the tasting menu.
You won't find … meat. Unless, you undo all your good work at Alibi by getting a bit drunk later and stopping in at legendary Sydney pie cart Harry's Cafe de Wheels, which is pretty much next door to the Ovolo. Reader, I did.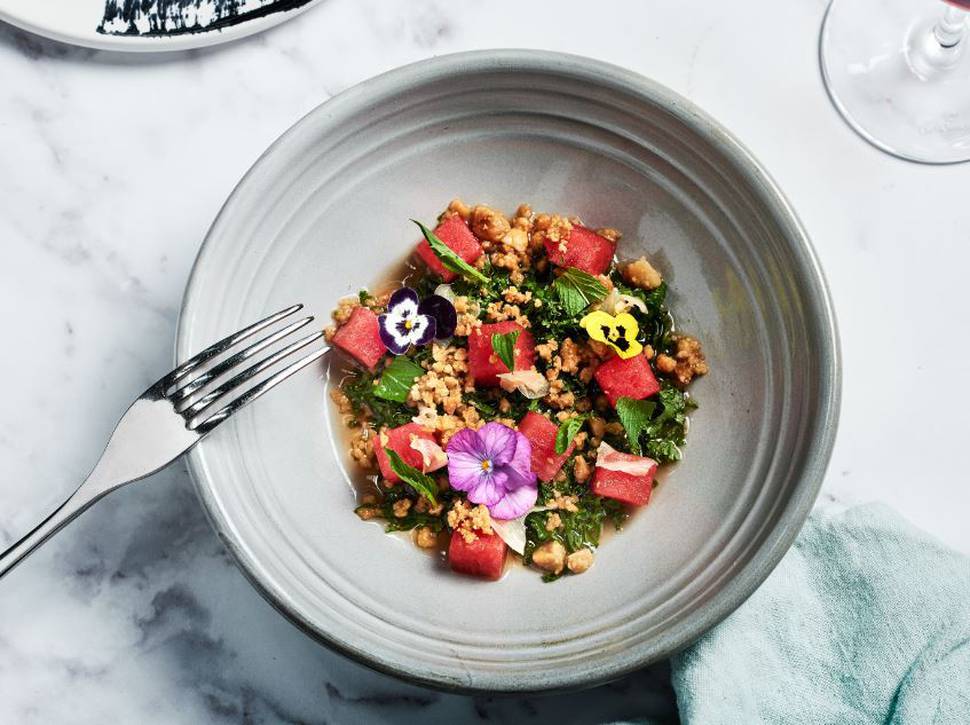 Dessert was …
a wildly ambitious vegan pavlova. Or, as those in the know call it, aquafaba - which sounds like a ghastly Eurovision entry from late-90s Germany but turned out to be a revelation. It's the result of whipping up the brine from canned chickpeas into a deliciously light and surprisingly tasty egg substitute for meringue. It delivered on the ambition.
Come here if … you fancy a meal packed full of surprises.
The bill … The eight-course tasting menu comes in at NZ$72.50. Add NZ$62 for the beverage pairings - you really should.