Raniera Rewiri refuses to accept his ancestors navigated vast stretches of the Pacific "only to become a negative statistic".
Rewiri, aka the Plant Based Māori, is a keynote presenter at the Whangārei Vegan Expo at Forum North on November 25, and organisers are excited to attract a speaker who is passionate about a "fourth pillar" of veganism.
We think there is a growing awareness that a vegan diet can reverse many chronic health conditions, and people are sick of being sick.
Jasmine Fuller, inspired by Rewiri's presentation at Vegan Vibes in Mt Maunganui, says the three pillars — reasons most people are vegan — are preservation of health, animal welfare and concern for the environment or planet.
"He has come up with a fourth reason: preservation of culture. He has a big vision for his people. He doesn't like that Māori have the biggest stats in all the 'bad' things. And he has a mission to help lead his people to a healthier and happier future."
Rewiri says he will be hoping to inspire some people "to begin their journeys". He's proud to be Māori but saddened by his culture's dismal health outcomes.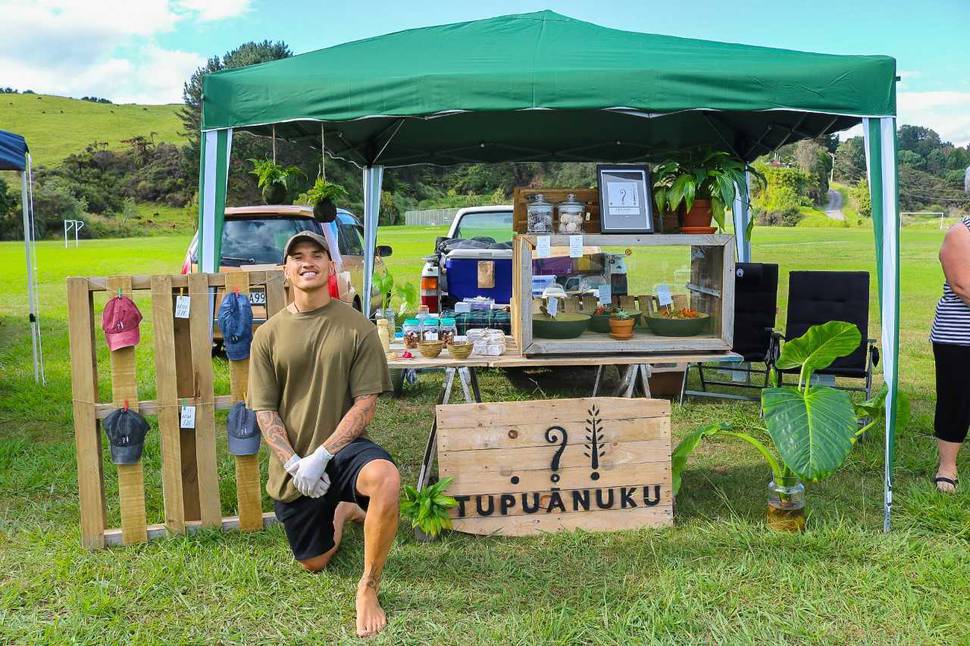 "Māori are at the forefront of bad health statistics, such as heart disease, diabetes and even things like suicide." he says.
Poor diet is at the heart of the problem, says Rewiri, of Te Whakatohea/Tūhoe descent, who became a vegan over a year ago and has also given up alcohol.
"My hope is that, through sharing my journey, I'm able to have a positive influence on others, and leave a good footprint on this planet that we all have the pleasure of sharing."
Raised in humble circumstances in Whakatāne, he hopes that will lead to him opening a vegan store. For now, with his mother, he runs Tupuānuku which sells vegan food at Ōhope Craft Market and caters for events throughout Eastern Bay of Plenty.
"It's all plant-based, nutritious, healthy and most of all delicious," Rewiri says.
"Tupuānuku has the potential to create some significant and transformative changes in the lives of others."
Rewiri is also developing a following through blogs and vlogs, where he demonstrates how eating healthily is not costly.
"If the food is going to fuel my body and provide me with energy to sustain me throughout the day then I believe it is a great investment," he writes.
"Money spent now on good nutritional food is going to save money in later years when the likelihood of paying medical bills is very high."
He also blogs about going alcohol-free after a bet with a mate. The original time frame of eight weeks has stretched out to more than a year of what's now a five-year commitment.
He fizzes about how great he feels.
"My culture and people suffer from alcohol abuse ... I'm a firm believer our children copy what we do."
This will be the third vegan expo in Whangārei, and organisers believe the upsurge in attendance reflects a growing interest in a topic that would have hardly been raised in conversation five years ago.
An estimated 800 or so people attended the first at Whangārei Intermediate in 2016, far more than organisers expected, and 1400 went to last year's, shifted to Forum North to accommodate the escalating numbers.
"We are predicting another increase," says Cathy Duffield, who with her husband Ian is part of the close-knit organising committee. "For the first time, the event will be held on a Sunday, which may be a drawcard. We won't be surprised if 2000 people, or even more, attend this year."
The Duffields have over the years seen a gradual awareness of the benefits of a vegan lifestyle take hold in Northland but it's the recent acceleration of interest that has caught them by surprise.
"We would never have predicted when we moved to Northland over 30 years ago that the day would come when local rural cafes would offer amazing vegan food."
Like where? The Bream Bay locals cite Logan MacLean in Waipu, Whole Life Organics in Maungaturoto, and the Orange Frog in Paihia. Plus a totally vegan food bar and organic shop (Power Plant), and eateries offering separate vegan menus, such as Hotspot Takeaways. both in Whangārei. Supermarkets offer a increasingly broad range of vegan goods. Petrol stations offering vegan pies?
"We think there is a growing awareness that a vegan diet can reverse many chronic health conditions, and people are sick of being sick," Cathy Duffield says. "We see this at our expos as the talks on health by medical professionals are packed."
Another major expo eye-opener, is people can see that virtually every known dish can be made vegan.
The Duffields shifted from vegetarian, which allows dairy and eggs but not meat, to vegan 15 years ago.
"We became aware of the suffering to cows and hens in the dairy and egg industries, and felt that, as much as we enjoyed eating their products, that we could no longer contribute to this suffering.
"Now, of course, there are delicious plant-based substitutes for these products and it has never been easier to be a vegan."
A change of direction for this year's expo is an emphasis on vegan art. Yes, that's actually a thing, and a small group of artists gathers in Whangārei every second Tuesday.
"My goal as a vegan artist is to inspire the goodness within humanity,"says Lynda Bell, who hails from Christchurch but attended last year's expo, staged an exhibition in Whangārei and gave a talk "on how my art relates to veganism". With her husband Rohan, also a vegan artist, "I decided to move up".
So what is vegan art? "It is art with a message. That message is sometimes very subtle — it can be simply about taking care of animals or it could even be a portrait of an animal to remind people about the sentience of animals.
"Some vegan artists might make very graphic images that show the dark side of farming and some might make images with or without words to make people think. For example, the phrase: 'why I love one and eat the other' might accompany a painting of a dog and a pig."
Bell wants her paintings to celebrate compassion and bring about positive change.
"I want to awaken that sense of connection to animals that we all have as children.
"In a world where there is so much negativity and the Earth is in some trouble, I believe that humanity now needs to embrace the goodness within them and protect the vulnerable instead of exploiting and using them unnecessarily. If people can be good to animals, they can also be good to one another."
Many of the speakers and presenters at last year's expo are returning. A notable exception is former Whangārei doctor Michael Klaper, now living in California and a global authority on veganism, thanks to the major role he has played in documentaries Cowspiracy and Diet for a New America, and his books, DVDs and TV programmes.
But the man who was once a nutrition adviser and medical consultant for NASA will be at the expo by video link, ready to answer questions.
The expo also has permission to screen the new Kiwi documentary The Big Fat Lie, which premieres in Auckland only a few days beforehand. It was made by Grant Dixon, who claims a plant-based diet cured his heart disease after a heart attack and four stents.
And David Cordtz, who was hugely popular at last year's expo, is back.
A younger brother of league legend Reuben Wiki, with whānau links to Whangārei, "DC" is a personal trainer, martial arts proponent and founder of fitness group Cross Movement in Auckland.
In 2004, he cut meat and dairy products from his diet. After three months, his body fat had dropped from 15 to 7 per cent.
He never looked back, especially as he noticed a massive boost in his strength, energy and recovery processes. Video clips of his gravity-defying workouts went viral and he now gets invitations to speak at vegan events throughout the world.
Not bad for a boy who grew up in the rough back streets of Ōtara, surrounded by a culture of gangs, drugs, and abuse.
Of Māori and Samoan descent, Cordtz is offering a similar message to Raniera Rewiri: good diet can trump bad stats.
THOSE BAD STATS
According to a 2015 Northland District Health Board report, Māori make up 34 per cent of Northland's population, and half are aged under 24.5. Here's some cherry-picked figures, compared against non-Māori, from that report:
MĀORI CHILDREN:
■21 times more likely to be hospitalised for rheumatic fever
ADULTS:
■80 per cent more likely to be hospitalised for circulatory system diseases, including heart issues and stroke
■3 times more likely to be admitted for heart failure
■5 times more likely to be admitted with chronic rheumatic heart disease
OVER-75s:
■4 times more likely to have circulatory diseases
■6 times more likely to have a lower limb amputated
■4 times more likely to have lung cancer (men)
■5 times more likely to have stomach cancer
LIFE EXPECTANCY:
■Females 75.9 (8.6 years lower)
■Men 71.4 (9.3 years lower)