Fashion-wise, the Duchess of Sussex has been faultless during her royal tour. Until now.
Stepping off the plane in Tonga, Meghan suffered a rare fashion faux pas.
Peeping out from the hemline of her customised red gown was a white tag that clearly should have been removed.
Aside from the minor fashion faux pas, the Duchess was glowing in the bold red dress by British label Self Portrait ($680). It appeared to have been customised, with the off-the-rack version almost floor length.
Prince Harry and wife Meghan were greeted by Princess Angelika Latufuipeka. Later they met with Tonga's king and queen and to attend a reception and dinner featuring traditional Tongan entertainment.
Earlier, the couple had spent the night on the paradise isle of Vatuvara together as they took a break from their jam-packed schedule.
Security held back crowds which turned out to catch a glimpse of the pair in Nadi, after a security scare cut short Meghan's visit to the overcrowded Suva Market a day earlier.
The royals were given a traditional welcome after stepping off their chartered flight on their last morning in Fiji before flying on to Tonga.
Mother-to-be Meghan was wearing a $2600 forest green Jason Wu dress and cradled her baby bump as her husband gave a speech.
The couple sat for the second time on their brief visit to Fiji on a raised dais for the welcome ceremony, during which Prince Harry again drunk a cup of the national drink, Kava, which is made from the roots of the pepper plant and has the appearance of muddy water.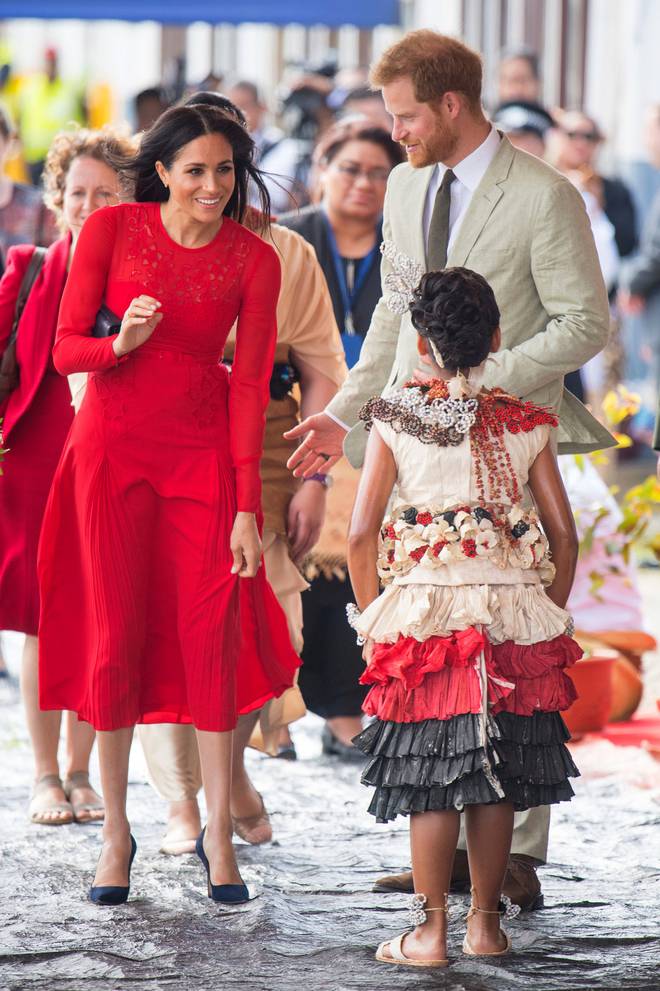 After the ceremony, the President of Fiji, Major General Jioji Konrote, gave a short speech thanking the couple for their visit and congratulating them on the birth of their first child next year.
"Thank you for coming to Fiji and gracing us with your much welcome but very short visit. It's good to know that you promise to come back. May Almighty God be with you now and in the future," he said.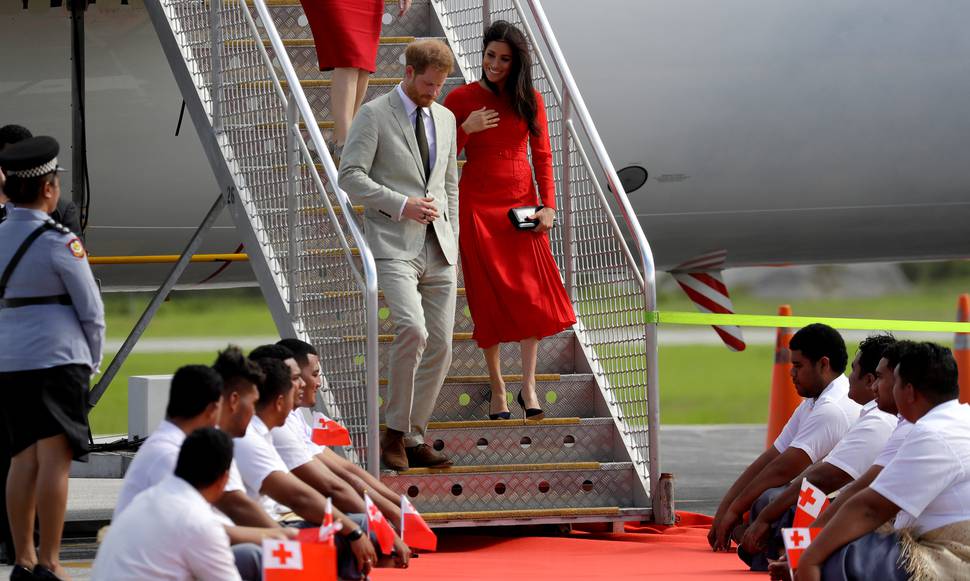 In his speech, the Duke greeted his audience with the traditional 'Bula!'
"Thank you to the people of Fiji for the warm welcome we have received during our visit. The Duchess and I are leaving with special memories of your beautiful country and look forward to returning in the future," he said.
The couple were then invited to walk down to unveil the statue of Sergeant Talaiasi Labalaba, a British-Fijian soldier who died heroically in battle, which had been covered with a blue piece of velvet.
Prince Harry pulled it off with a flourish and then posed for photographs as his wife watched proudly.
Labalaba was a British-Fijian war hero who died at age 30 while fighting insurgents during the 1972 Battle of Mirbat in Oman.
Labalaba helped save other soldiers by single-handedly firing a 25-pound gun that usually took several soldiers to operate, according to the BBC. He continued for more than two hours, even after his jaw was shot off, before he was eventually shot and killed.
A member of the elite SAS group, his heroics were not widely known until recently because the British weren't officially involved in the conflict.