An image that purports to show Meghan Markle preparing to clean up after her squatting dog has sparked a firestorm of excitement on social media - after palace sources fervently denied that the lookalike in the picture is actually the Duchess.
CBS reporter Lisa Petrillo took to Twitter on Wednesday to share details about the encounter she says she had with the Duchess of Sussex, 37, after spotting someone she thought to be the royal walking a dog outside the private Kensington Palace residence she shares with Prince Harry, 33.
According to the Daily Mail, Petrillo shared a photo of a woman who looks just like Meghan, dressed head to toes in black and holding the dog's leash.
In the snap, the woman seems to be getting ready to pick up the dog's waste.
"So incredibly enough, walking by @kensingtonroyal — we spotted this beautiful woman with a familiar air outside the entrance to the private residence where Harry and Meghan live. MEGHAN!?" Petrillo tweeted on Wednesday, adding: "Her dog was doing his business."
Petrillo, who concluded her tweet with the hashtag #princessespickuppooptoo, said Meghan "couldn't have been sweeter", implying she interacted with her — and presumably got a good look at the woman in her snap.
She even added in a reply to another tweet that she had actually "pet her dog" during the encounter.
That woman, who is wearing black pants, black tennis shoes, and a black hat in the photo, seems to have similar facial features to Meghan's, and a similar build.
Royal fans went wild for the photo - with some people commenting to say how 'jealous' they were over Petrillo's alleged royal encounter.
However, TMZ quoted "a source at the palace" as saying that Meghan is not the woman in the photo and that the dog isn't hers, while The Sun also reported that 'royal sources strenuously denied' that the image is of Meghan.
DailyMail.com has also reached out to Kensington Palace for comment.
But after facing some harsh accusations from social media users who suggested that the image might have been doctored, Petrillo replied to say that she still believes the woman in the photo to be Meghan - and that she was not the only one to catch sight of her.
"I'm here on vacation . NOT working . spotted her - as did many of us," she replied to a tweet claiming that the photo was not authentic.
"we were thrilled - don't care if you don't believe. sorry you're so negative . it was just a sweet moment I shared . more important things to worry about. wow. [sic]"
Social media has certainly been left split over the image - with furious debate breaking out over the true identity of the woman photographed.
Some dedicated fans of the Duchess were quick to point out that the Duchess is known to be incredibly fond of dogs and that, while the puppy pictured in the image does not appear to be one of the pooches that she and Harry are known to own, it may well be that they have privately added another member to their family.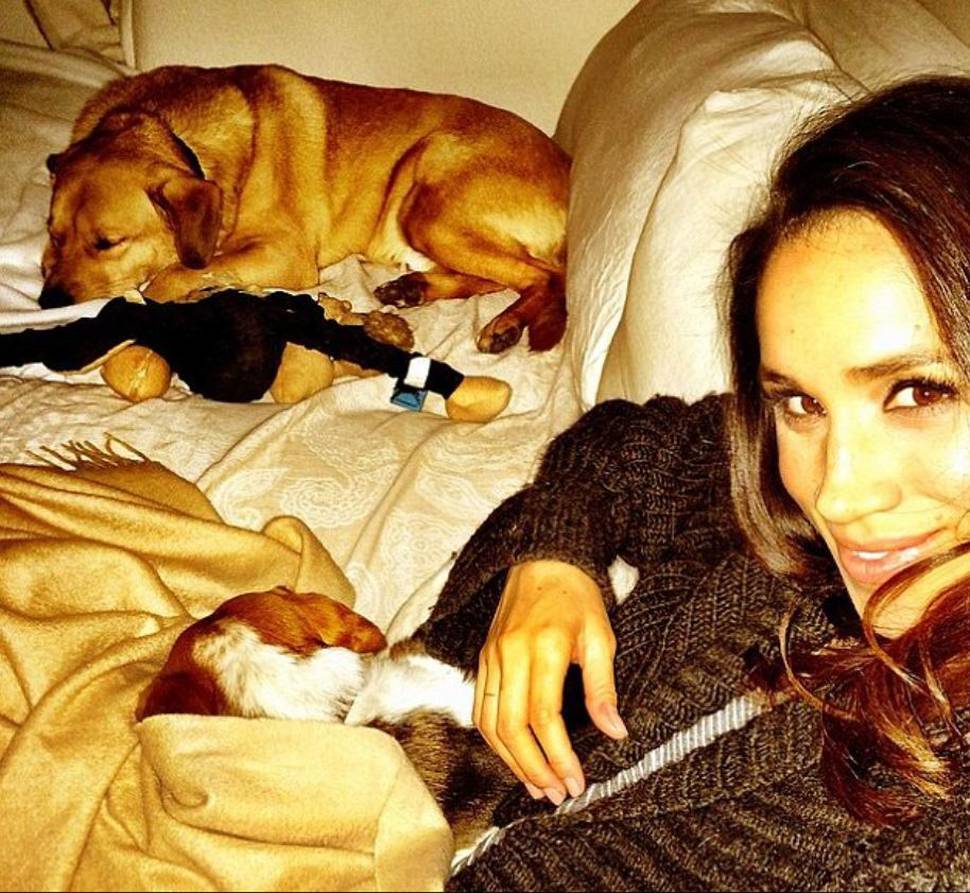 Others however, dismissed the image, insisting that it showed neither Meghan or her dog.
"That wasn't HRH Meghan," one Twitter user wrote. "The dog isn't even a beagle or a black retriever, which are the two types of dogs she owns."
Another person added: "That's not her... nor is it her dog. Jesus I guess you'll do and say anything for a story! How pathetic! You don't have to be s rocket scientist to tell that's DEF NOT her. And her dog is a celeb itself... not her dog! Moving on...."
Pup-loving Meghan has previously rescued two dogs: a beagle named Guy who has followed her to London from Canada, and Bogart, a Labrador-shepherd mix who had to stay behind. Neither Guy nor Bogart looks like the dog in the picture.
While Meghan and Harry did adopt a dog together, their new pooch is a black Labrador believed to be named Oz, who presumably looks much different from the pet in the photo — though it's always possible that the pair decided to adopt an additional furry friend.
Meghan previously referred to Guy as her 'absolute world' and regularly shared photos of herself with her pets when she still maintained a public Instagram presence.
She gushed about Bogart in a 2013 with BuzzFeed, telling the website: "He's a little rescue mutt from SPOT in L.A. and is nine months old. He's adorable. Ellen DeGeneres was there when I was looking at him and told me I had to take him home. So I did. It's like if Oprah told you to do something, you just do it!"
Guy was injured shortly after Meghan's engagement to Prince Harry was announced in November 2017, the Mail on Sunday revealed earlier this year. While it remained unclear how the injuries might have occurred, the beagle was believed to be recovering in Surrey.
Eagle-eyed fans were convinced they saw Guy riding at the back of Queen Elizabeth II's car in May this year.