Prince Harry praised the "can-do" attitude of youngsters who have been "dealt the toughest cards imaginable" in a heartfelt speech after he and Meghan met families at the WellChild Awards in London.
Delivering a speech in the hotel ballroom, the Duke paid tribute to the children, carers and nurses telling them: "Every one of you is truly amazing."
Saying their stories were "without doubt incredibly moving and motivating", he hailed the young people who have been "dealt the toughest cards imaginable" and are a "constant reminder that we must look to the positive and never give up".
He also paid a special tribute to Scarlett, a 10-year-old girl who helps with the care of her sister Freya, reported the Daily Mail.
Prince Harry said: "Scarlett, who has been sitting next to me while we have been watching these remarkably inspirational stories this evening, is an absolutely perfect example of exactly why that training for families is so incredibly important.
"At 10 years old, she plays a key role in caring for her sister Freya – and I know that there have been occasions when she has taken the lead in managing Freya's feeding and oxygen when helping her Grandmother on the very rare occasions when her parents have taken a few much-needed hours for themselves."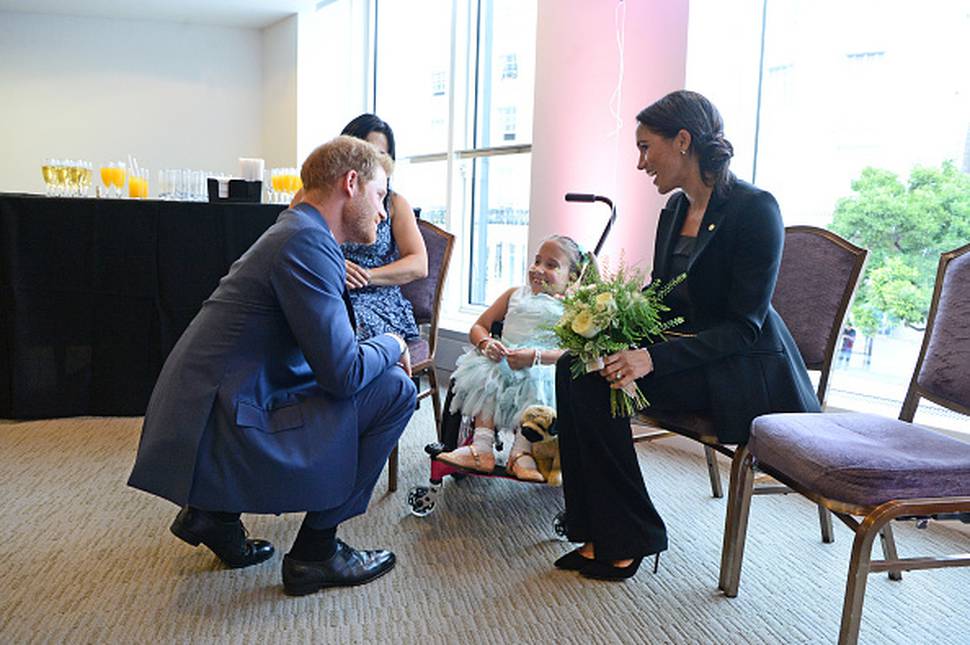 Gesturing to the Duchess, watching him from her seat around a table, he said he was "especially grateful to be able to share the scope and magnitude of this work with my wife who joins me here this evening".
Earlier in the evening Prince Harry made a "pinky promise" to an inspirational girl as she handed Meghan a posy of white roses.
The Duchess of Sussex pulled out a white rose from a posy given to her by a seriously-ill little girl and told her keep it in her "memory box".
Adorable Matilda Booth, seven, who suffers from spina bifida and is paralysed from the chest downwards, was also asked by Prince Harry to "pinky promise" him that she would "never stop smiling".
"Never hide that brilliant smile away," he said.
The youngster, from Sowerby Bridge, West Yorkshire, met the Royal couple at the WellChild Awards at the Royal Lancaster Hotel in London, which celebrates the unbelievable bravery of the nation's most seriously ill children and the carers who selflessly look after them.
Matilda spent her early years in hospital and has had more than 40 operations, including brain surgery seven times.
Despite this, the beautiful little girl has a huge zest for life and impresses all she meets with her courage, strength and determination, never complaining or feeling sorry for herself. She even says she wants to be a nurse when she grows up.
Speaking after their meeting with Harry, who is patron of the charity, and his new wife, Matilda's mother, Sharon, told MailOnline: "They were just so lovely. It was very exciting. Matilda had watched the royal wedding and was very nervous about meeting them but they completely put us at ease.
"They got down to Matilda's level and she gave Meghan a posy. But she took one out and handed it back to Matilda and told her to keep it in her memory box. She made her feel so special.
"Prince Harry also made her give him a pinky promise and told her to never stop smiling. He told her she had such a lovely smile. They also wanted to meet Simon, her toy dog. She is inseparable from him."
Prince Harry also joked to Matilda, "Are those flowers for me?"
Matilda was still clutching her rose and toy afterwards - with a beaming smile that went ear from ear.
Other inspirational children the Royal couple met include McKenzie Brackley, who was the joint winner of the Inspirational Child (four-six years) Award with Matilda.
His mother, Amy Brackley, said of their meeting with the royal couple: "It was amazing.
"They were so lovely. They knew he [Mckenzie] was scared of the cameras and they said they didn't like the cameras either so they turned around.
"They said he was amazing and to keep going the way he is going and told him to look after me.
"He's never going to forget this, even though he's only four."
At the event, Prince Harry revealed he loves the Lion King, whereas Meghan has "always loved the Little Mermaid".
Meghan also recommended the 2016 Dreamworks film Ballerina and added: "Harry likes it because she [the main character] has got red hair."
The WellChild Awards celebrate the inspiring qualities of some of the country's most seriously ill young people and the dedication of those who go the extra mile to keep children healthy and happy, including the outstanding health, social care and education professionals.
Harry, 33, and Meghan, 37, are attending a pre-ceremony reception where they will meet the young winners of each award category and their families, and the nominated healthcare professionals.
Meghan was wearing what is fast becoming her trademark black trouser suit, this time by Altuzarra, and a blouse by Deitas.
As they left, the Duke and Duchess met children from Riverside School, who are the WellChild choir of the year.
Ruby Joslin-Smith, aged seven, stole the show after delightedly grabbing the Duke's tie to play with as he talked.
Harry, now the Duke of Sussex, became Patron of WellChild in 2007 and has described the youngsters he meets as 'amazingly brave'.
WellChild is a national charity for seriously ill children and their families. Across the UK, growing numbers of children remain in hospital simply because there is no support enabling them to leave.
Through a nationwide network of WellChild Children's Nurses, home makeover projects and family support programmes, the charity works to give children and young people the best chance to thrive, properly supported at home, together with their families.
Other celebrities attending the event include Dynamo and Strictly Come Dancing star Katie Piper.