Melania Trump is no stranger to being mocked online for questionable wardrobe decisions.
But this skirt and stiletto combo may well take the cake for her most inappropriate outfit yet.
Stepping out to plant Eisenhower-era oak sapling in the White House grounds (for those playing at home, it's a type of tree), the US first lady opted for a NZ$1030 blush-pink Christian Louboutin stilettos and a NZ$6000 Valentino floral skirt.3
Putting her back into it, snaps of Melania sinking her shovel into the soil for the ceremony have gone viral.
"Who in hell gardens in spike heels," one person commented on Twitter.
"Who gardens in stilettos, did they have to carry you out there so you wouldn't get stuck in the grass like a lawn dart," another added.
"Stilettos and a US$4000 skirt: Melania Trump's tree-planting outfit. I mean, this is totally what I wear to garden," one woman commented.
"Did her high heels sink into the ground about 8 inches? I'm not being sarcastic. I truly don't know how she walks on dirt," one person commented on a Facebook video of the event.
As she plodded across the garden bed, her 10cm heels disappeared into the dirt.
The ceremony, which coincided with her meeting with Kenyan President Uhuru Kenyatta and his wife Lady Margaret Kenyatta earlier in the day, is not the first time Melania has been slammed for her garden gear while getting outdoors at the White House.
In July, photos of the first lady showing off her green thumb did the rounds on social media. Digging up the White House garden, which was founded by former first lady Michelle Obama, Melania looked a little out of place in the vegie patch.
The photos, which were actually taken in September 2017, showed the former model wearing a US$1300 Balmain shirt and fresh sneakers.
During her most recent outdoor adventure, some raised concerns over her choice of footwear and how it could impact her posture.
Speaking to the Guardian, gardening expert Alys Fowler raised concerns over the safety of her lower back.
"If you are going to lean over and try to lift something quite heavy, that's a real strain on your lower back," he said.
"There is nothing wrong with wearing a skirt to garden in. Skirts are free-moving. People have this sense that you need workwear to garden. But if it's not your style, you don't have to wear it."
The first lady just can't catch a break when it comes to her wardrobe decisions. When visiting victims of Hurricane Harvey in Texas last year, she caught criticism for wearing a similar pair of high heels into a disaster zone.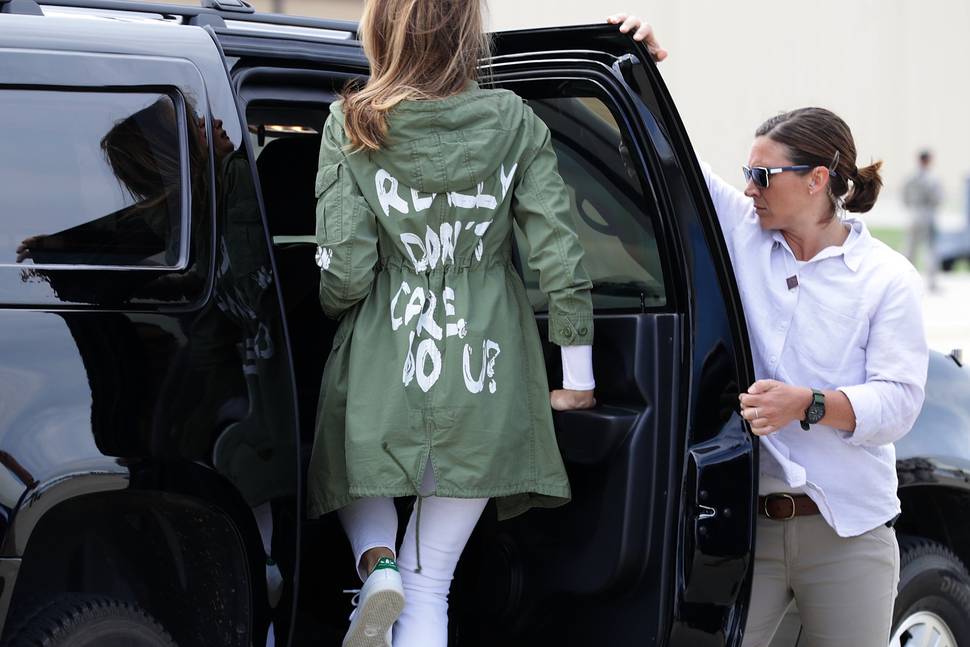 And earlier this year, she opted for a Zara military coat embellished with the words, "I REALLY DON'T CARE, DO U?" to visit a detention centre where children had been separated from their families.