Samantha Markle continued her Twitter attack against her half-sister Meghan this weekend and this time took aim at Prince Harry too.
Rebranding her the "Duchess of Nonsense", Samantha said it was Meghan and not their father Thomas who had been behaving badly.
In astonishing impropriety, she then accused Prince Harry of bowing down to his new wife and labeled him a "wuss".
"Harry is a wuss to allow the Duchess of Nonsense to mistreat everyone who has been close to her, especially her family.
"Diana would be ashamed. Stop wearing Meg's skivvies and bra and take your pants off of her!" she wrote.
Samantha also claimed to have listened to her half-sister speak recently and said she had a "very fake" accent.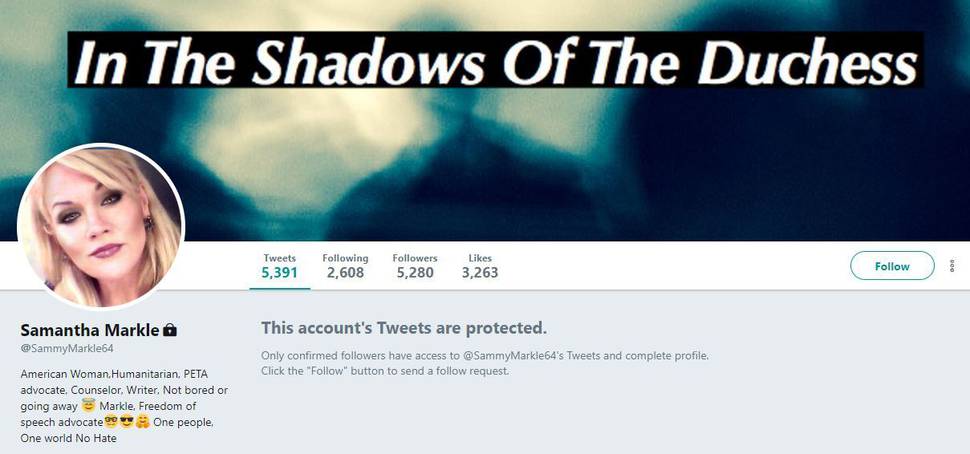 The tweets extend Samantha's previous attacks on Meghan, who she has not spoken to for years.
Since before the royal wedding, the disabled Florida resident has made several unkind remarks about her half-sibling both on Twitter and in media interviews.
She has passionately defended their father Thomas for staging paparazzi photographs before the wedding and says that none of the family have been given the tools they needed to face the global media storm which engulfed them when Harry and Meghan became engaged.
Thomas has since apologised for setting up the photographs and has said that he thought he was taking control of the situation by doing so.
READ MORE: • Thomas Markle reveals profound regret over daughter's wedding
In a recent interview, he became emotional as he said he did not think he would hear from his daughter again.
Meghan's half-brother, Thomas Markle Jr, has also done the media rounds.
The only relative of hers who attended the wedding was her mother Doria Ragland, who has maintained a dignified silence since the royal couple started their relationship.