Oprah Winfrey has revealed details about her April 28 meeting with Meghan Markle's mother Doria Ragland, which took place just three weeks before the Royal Wedding at the TV mogul's lavish California home.
Speaking to ET at the premiere of her new TV series Love Is in Los Angeles, the 64-year-old revealed that she and Doria, 61, spent the afternoon together at her US$88 million "Promised Land" mansion in Santa Barbara bonding, doing yoga, and eating kumquats from her garden, reports the Daily Mail.
However, Oprah also took the opportunity to fire back at the suggestion that she had used the meeting in order to discuss the chance to do an interview with Doria in the wake of her daughter Meghan's marriage to Prince Harry.
Doria was seen leaving Oprah's house after a six-hour visit carrying a selection of gifts, including a basket containing some of the broadcasting legend's favorite things.
Oprah fired back at suggestions that the gifts had anything to do with her trying to convince Doria to do an interview.
"The story was that Meghan's mum had come to my house and she left laden with gifts," Winfrey shared.
"You know what the gifts were? First of all, she's great at yoga, so I said, 'Bring your yoga mat and your sneaks in case we just want to do yoga on the lawn.' So one of the bags was a yoga mat and the other was lunch."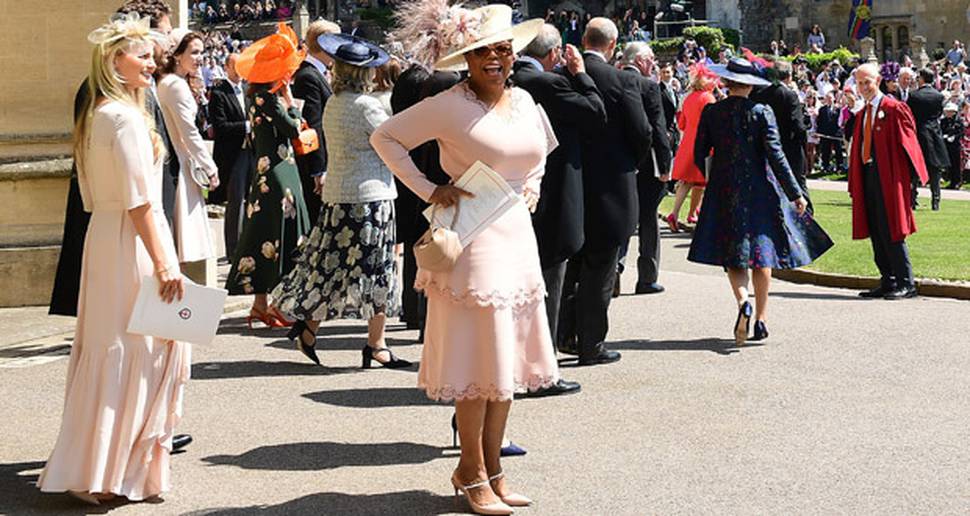 Oprah also shared that the pair ate together and snacked on a dessert made from kumquats freshly picked from Oprah's garden.
"She said, 'I love kumquats,' and I said, 'I have a kumquat tree!"' Oprah detailed.
And while her appearance at the royal wedding prompted speculation that Doria was considering giving a tell-all interview to the former talk show host, Oprah confirmed that this was not the case and no interview was going ahead.
"For all of the people who said I am getting her gifts and I'm trying to bribe her for an interview — they were kumquats," Winfrey quipped. "If kumquats can get you an interview, I'm all for it!"
However, while Oprah was open about certain aspects of her meeting with Doria, she failed to address exactly how she ended up with an invitation to Prince Harry and Meghan's wedding in May.
The TV host was a rather surprise guest at the couple's nuptials, which took place in Windsor on May 19, and has yet to reveal who she received the invite from.
Her appearance at the wedding added more fuel to the fire as far as a potential interview between Doria and Oprah; at the time of their meeting, multiple sources had suggested that it was just the first of many that would take place between the two women in anticipation of a more in-depth interview.
'No one knows how to schmooze better than Oprah,' a source told DailyMail.com of the meeting between the two women.
'It's very much her MO to win people over by showering them with her personal attention – and gifts – to get what she's after.
'In this case whether it's a pre- or post-wedding interview with the mother of the princess bride for her magazine or OWN network, Oprah definitely wants the inside track.
'And this is probably not the first conversation she's had with Doria – or the last,' the insider added.
Meanwhile, the Mirror Online also reported that the pair had been discussing ideas for a tell-all interview that would touch on the racist abuse that Meghan has suffered as a result of her relationship with the royal.
The source said: 'Oprah and Doria spent a long time chatting and they got on really well. The most important and significant issue they spoke about was race and how badly some people had reacted to Meghan and Harry.
"What happened to Meghan and Harry was disgusting and they and all of their families were horrified. It's an issue close to both Doria and Oprah, who have both suffered racism."
Meghan's estranged half-sister Samantha Markle later lashed out at Doria over her meeting with Oprah, accusing her of "cashing in" by talking to the TV legend.
Ms Markle, who was called a "vulture" by Piers Morgan for writing a book calling her sibling a "pushy princess", made the claim when she was called an attention seeker on Twitter.
She replied: "Even Doria cashed in talking to Oprah and some of the first photos out there only she could have had."
Not long after Doria's meeting with Oprah took place, it was then reported that the social worker had quit her job at a mental health clinic near her home in California, sparking further speculation that she was ready to embrace a more public role in the spotlight.
According to Us Weekly, Doria left her role at the Los Angeles clinic she had been working at to pursue her goal of starting her own private practice following Meghan and Harry's wedding, which took place on May 19.
"Doria is no longer working at the mental health clinic in the Los Angeles area. It was Doria's decision to leave," a source told the outlet. "She has talked about starting her own private practice, focusing on working with elderly patients."
Meghan opened up about her mother and her work with the elderly in an essay published by Glamour last August.
"My mum's a yoga instructor, but she does social work, as well, and she works specifically with the geriatric community," she wrote.
"For me to watch this level of life-long sensitivity to nurturing and caregiving, but at the same time my mum has always been a free spirit. She's got dread locks and a nose ring. She just ran the LA Marathon.
"'We can just have so much fun together, and yet, I'll still find so much solace in her support," she added. "That duality coexists the same way it would in a best friend."