Address:
124 Queen St, Northcote Point
Phone:
(09) 480 9600
We spent:
$104 for two
Rating:
13 — Good
Book online
with Restaurant Hub
I once asked a former colleague to explain exactly how far across the harbour bridge he lived.
He narrowed his eyes and said (a little defensively, I thought): "The North Shore is not another country."
But it might as well be, right? On any given week-night, any given on-ramp is so slow you should probably pack snacks.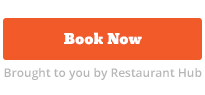 It was just after 1pm on a Saturday when we whizzed across the bridge. Little yachts bobbed in the water, the sun was doing that thing where it flares under thunder clouds and Northcote Point was lit like a movie star.
Celluloid celebrity was, in fact, not far away. Clarence Rd Eatery is in the same historic building as the Bridgeway Cinema — hold my Jaffas, I'm having duck-fat fries with parmesan and aioli.
The lunch menu is also the dinner menu. I imagine the restaurant is very pretty at night with its enormous deco lamp fixtures, but I also loved the daytime ambience. Satiny-brick walls, a tonne of natural daylight and porthole-framed photographic close-ups of nature remind you how close you are to the mighty Waitemata. Crucially, the chairs were very comfortable.
We settled in and contemplated the clever thing they do here with salads and skewers. Order your base (Caesar, kumara and quinoa, etc) and embellish it with a spike (or spikes) of protein — prawns, free-range chicken, etc. Ladies who lunch and backstab must be in heaven.
We shared an heirloom and cherry tomato salad with parsley pesto ($16 minus the skewer) but I think we were about a month too late. The tomatoes were juicy but sharp, and that ricotta didn't stand a chance. Come back in February, I reckon, for lazy, luscious fruit that won't battle its soft, bland companions.
Starters include a very fine duck, pork and chicken terrine. It was cut thick and meaty and loaded with pistachio ($18). An accompanying plum chutney — not too sweet, a little bit cinnamony — was excellent. It needed more than one slice of bread to fully convince me of its "sharing dish" status, but it's possible I'm just greedy.
There was further proof of this hypothesis at the counter. "Big meal," said the woman behind the till. I shrugged, in the non-committal manner of someone who is not actually paying for their own meal. "No dinner," she said sternly.
I guess that explains why we were never offered a dessert menu. Or a refill on our water glasses. If I lived on the Shore, Clarence Rd would be a fine dinner-and-a-movie date night, but I'm less inclined to make a special trip.
The main dishes are gastro pub meets bistro standards — $22 fish and chips; a $23 burger; the market fish that is always pan-fried snapper and a high chance there were will be pea tendrils on everything.
Burnt corn risotto ($25) with chipotle butter and parmesan cheese sounded good. Verdict? A hot bath and a milo before bed; a flannel shirt and Ugg boots on the couch. In short, a big bowl of cosy that I never wanted to climb out of. If I'm honest, I couldn't really taste the chipotle and the corn was more lightly scorched than caramel-burnt, but the burst of those kernels against the sumptuous cheesiness of the rice was succour for the soul. You know those days when nobody loves you? This risotto loves you.
Unfortunately, that's where the fairy tale ends. James had been wooed by the special — a braised beef short rib with smoked cheese mash, pickled onions and jus ($22).
Braising is (usually) where heat, patience and a little liquid turn the inedible edible. Tough fibres fall apart, the collagen melts and the rib bone comes away, clean of surrounding flesh.
My best guess is that perhaps this lunchtime special was actually intended for the dinner rush. The meat was more seared than braised. It was served partially sliced to reveal a still-pink interior that matched a bone that was still tacky with connective tissue.
Maybe the chef was relying on patrons taking longer to get across the bridge?