Address:
91-95 Upland Rd, Remuera
Phone:
(09) 600 3259
We spent:
$239 for two
Book online
with Restaurant Hub
Rating:
13.5 — Good
Every so often, the internet throws up a list of food words people hate.
"Artisan" is always there. So is "moist" and (go figure) "foodie". But the one that trips me up every time is "unctuous".
You see it so often. That pork belly was unctuous. That curated essence of deconstructed salmon was unctuous. But go to a dictionary and discover that synonyms for unctuous include sycophantic, obsequious, fawning and servile. Unctuous means "oily" in the most ingratiating and insincere sense of the word — and we should probably stop using it to describe food.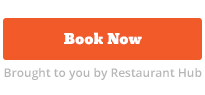 This is a shame. Morell's slow-cooked eggplant with pistachios and crumbed pea beignets ($17) starter was so deliciously, meltingly unctuous that I would like some more RIGHT NOW.
"Too oily," said James.
We did, however, agree on the zucchini flowers ($16). Allegedly stuffed with ricotta, all I could taste was bland and slightly grainy bechamel inside a sad and soggy batter. Awful.
Morell has taken over the former Maple Room and the shop beside it. It has an elegant deco aesthetic (gleaming gold lines and teal velvet seats) but the layout must have been a challenge.
The main dining area is dominated by a long wall of banquette seating that requires patrons to keep their elbows in and pretend they can't hear every single conversation at the next table. It's a neighbourhood bistro, but, in my opinion, neighbours are for putting your bins out while you're away, not passing the salt.
We eventually found some room of our own. "Do we like seafood?" asked a waitperson and I felt the small muscles behind my eyes tighten because, despite the cosy seating arrangements, I had not realised she would be joining us for dinner.
I loathe the royal "we". But I couldn't sustain my grumpiness when she flawlessly recited all the specials, plus the prices (why don't all restaurants do this?) and didn't have to check before telling us the Pacific raw fish ($19) was snapper.
The drinks list is long and sustainably priced. If I lived locally, Morell would tick all the boxes for a smart and easy weeknight wine and food outing with friends. We were interlopers from the other side of town and I did fear we were underdressed when a woman wearing a sequinned fascinator arrived (it was Auckland Cup Day and somebody from Remuera was clearly on the home straight).
We really enjoyed a plate of smoked beef carpaccio ($18) even if we didn't initially recognise the crispy bits on top as the crispy mushroom mentioned on the menu. This is an excellent date night dish. Simultaneously hearty and light — order it when you want the steak but think a salad would make a better impression.
Screw that. It's 2018. Order whatever you want. I wanted the beef short-rib ($39). The meat was soft, gelatinous and maybe a word-formerly-known-as-unctuous. I felt a bit robbed by the absence of bone, but the beef really was gorgeous. Lucky, because an accompanying quenelle of mustard custard was freezing cold and very firm — an interesting idea that needs more thoughtful execution.
Crispy pork belly ($34) was very crispy and very porky. This is the kind of basic by which you can benchmark a bistro, and Morell delivered.
The chef is ex-SPQR and the restaurant manager comes via Prego. They have experience in treating regulars like regulars and everybody else like they should become one. The vibe is bubbly, the transportation of espresso martinis akin to a free floor show. I felt like a total insider when the manager came running to our table and announced, "We've just had a shock-horror in the kitchen!"
As it transpired, an absence of green beans would not be the night's biggest shock horror. We finished with a chocolate mousse and summer berries ($15). Good flavours, but I can never unsee that plate. The mousse was a squashed splodge; a plop of chocolate that looked like someone had stood in something they shouldn't have. I had no words.