Let fabulosity be your guiding light and give free rein to those crafty festive impulses, writes Pony McTate.
GETTING ADVENT-UROUS
Advent calendars are always fun and this one is cheerfully modern. Wrap up a selection of little treats in plain white paper. It makes a nice blank canvas for a riot of colourful ribbons and trims. I went bananas in the haberdashery section of David's Emporium to get mine. Hang them from a length of dowelling and try not to open them all at once. Or, looking this pretty, don't open them at all.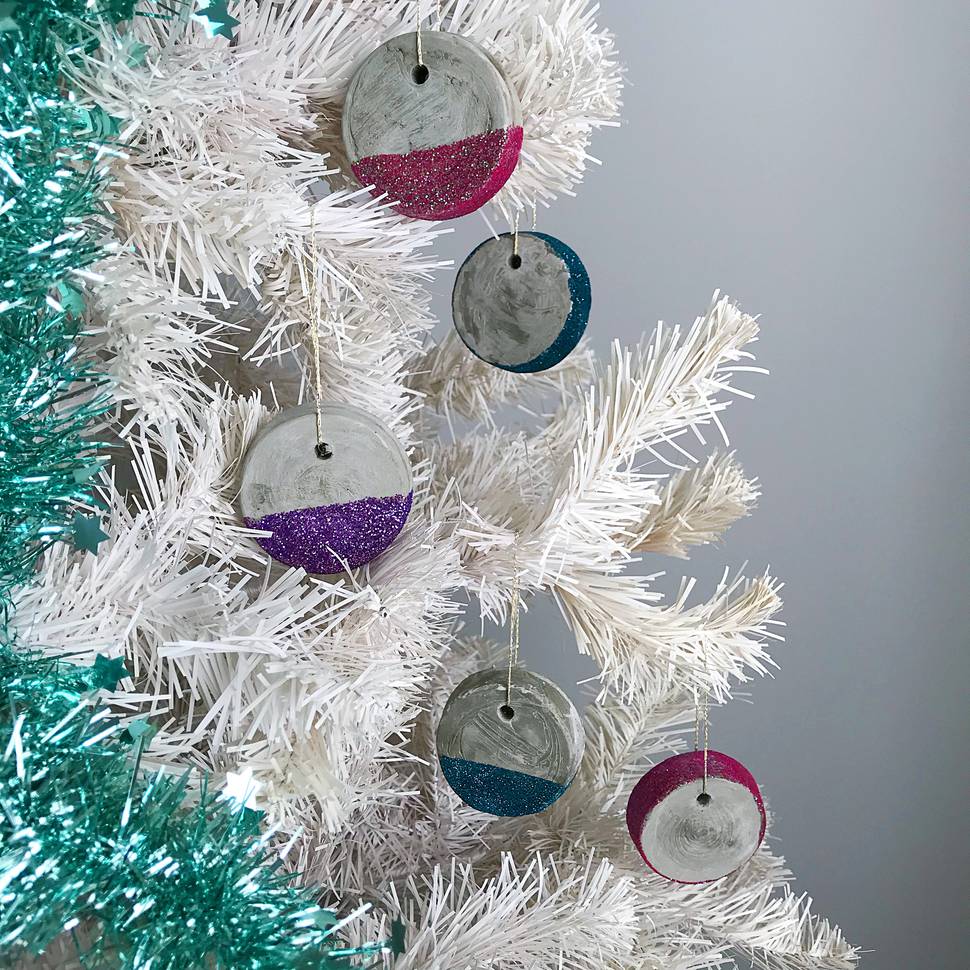 CAST IN CONCRETE
Give your Christmas tree the industrial chic treatment this year with concrete decorations.
You'll need plain cement and a silicon muffin pan. Big bags of cement are cheap enough but you won't need much of it - try to find someone extending their deck this summer, or ask a friendly builder, and see if you can snaffle about two cups.
Put the cement into a disposable plastic container for mixing and add just enough water to make a thick gloop - about the consistency of thick custard. Grease your muffin pan liberally with olive oil or Vaseline (you can reuse it afterwards after plenty of washing) and pour in 1-2cm of your cement mix.
To leave holes for threading, cut a drinking straw cut into short lengths. Grease the outside of each length and push it into the wet cement about 1cm from the edge and right down to the bottom of the pan. Give the straws a quarter-turn every hour for the first few hours to prevent them sticking in place. Then leave them to dry overnight.
Don't be tempted to extract your decorations before then: they'll be brittle until they are fully dry. Once set, turn out your decorations and push out the straws. I applied PVA glue and glitter to mine for some added festive glitz. String them up and you're good to go.
PAPER TRAIL
Fabulous table decor need not be expensive. You can achieve a glam and effective look using cheap everyday items. Wrapping paper, washi tape, hole-punched tissue paper spots and melamine tableware combine here for a cool and contemporary tablescape.
CUTE AS A BUTTON
For a playful touch to your gift-wrapping this year, raid the button box. Choose buttons that are flat on the back and lay them out however you like: stripes, a picture, randomly all over. A glue stick should adhere them just fine as long as your present won't be handled too much before Christmas. Alternatively, use a hot-glue gun for a more secure stick. You can pick the buttons off the paper afterwards for reuse.
Cheers
I'm taking a break from this column over summer, but you can still keep up-to-date with my creative exploits on Instagram. Something in particular you'd like to see me craft up next year? Drop me an email and I'll see if I can make it happen. Merry Craftmas, team.
Instagram: @pony.mctate Email: pony@ponymctate.com