Pony McTate dusts off the best of school holiday craft fun.
In the weary depths of school holidays, the only thing to do is make slime. Your kids will back me up. Its oopy, its gloopy and its even educational (non-Newtonian fluids! Whoop!). My lot spend literally hours mucking around with the stuff. Keep everyone at your place entertained these holidays with my selection of squishy recipes; theres two different slime options, a sublime cloud dough and - everyones perennial favourite - playdough.
Disclaimer: stand by, folks, craft is about to get contentious. To make the stretchiest, squishiest slime - the stuff on YouTube your kids go crazy for - you need borax. Its a boron compound (sodium borate) that is used in cleaning products and laundry detergents.
Using it in playstuff is, however, mired in controversy. Why? Were talking chemicals here. If used undiluted, borax can irritate the skin and when consumed in very large doses, its lethal. Some people get dermal reactions no matter the quantity. On the other hand, borax is regularly touted as an ingredient in homemade natural beauty products. It doesnt penetrate the skin easily and the amounts used in slime recipes are tiny.
My suggestion? Do your research; the crunchybetty.com blog post about borax is a good place to start. Assess your own situation and make an informed decision. If you harbour doubts, you can make marvellous sensory fun with the dough recipes here instead.
If you do choose to make slime, use common sense too. Wear gloves, supervise children, dont ingest it (for this reason, keep slime for children aged 4 years and older). Wash your hands after play, along with anything else thats come into contact with it. Slime is also hard to remove from carpet, fabric, fur and hair - so play on a hard non-porous surface.
Fluffy slime
WHAT YOU'LL NEED
•1 cup PVA glue
•1 cups shaving foam
•Food colouring and/or glitter
•1 tsp baking soda dissolved in 1 Tbsp water
•1-2 Tbsp contact lens solution - you want one that is buffered or lists sodium borate or boric acid as an ingredient.
METHOD
Stick the glue in a bowl and gently stir through the shaving foam. Add food colouring and/or glitter, along with the baking soda mixture, and stir until well combined. Next add the contact lens solution. Stir through 1 Tbsp to start with to gauge consistency. If it is too sticky, add more lens solution, a drop or two at a time. Once it comes together, knead it well until pliant. It is marvellously fluffy and soft and it will run through your fingers. Store in an upright sealed container.
Borax slime
WHAT YOU'LL NEED
•1/2 cup PVA glue
•1/2 cup water
•Food colouring and/or glitter
•1/2 tsp borax (try Bin Inn or Mitre 10, but be warned: in the throes of the current slime craze they regularly run out) dissolved in cup hot water
METHOD
Mix together the glue, water and food colouring until well combined. Add the borax mixture and stir. It will start to glug up immediately, with odd lumps and stringy bits. Keep stirring. When it starts to come away from the sides of the bowl, get stuck in with your hands. I pass it off directly to the kids at this stage. With sustained vigorous kneading (about 10 minutes or so), it will work itself into a pliant, rubbery gloop. Store in an upright sealed container.
Cloud dough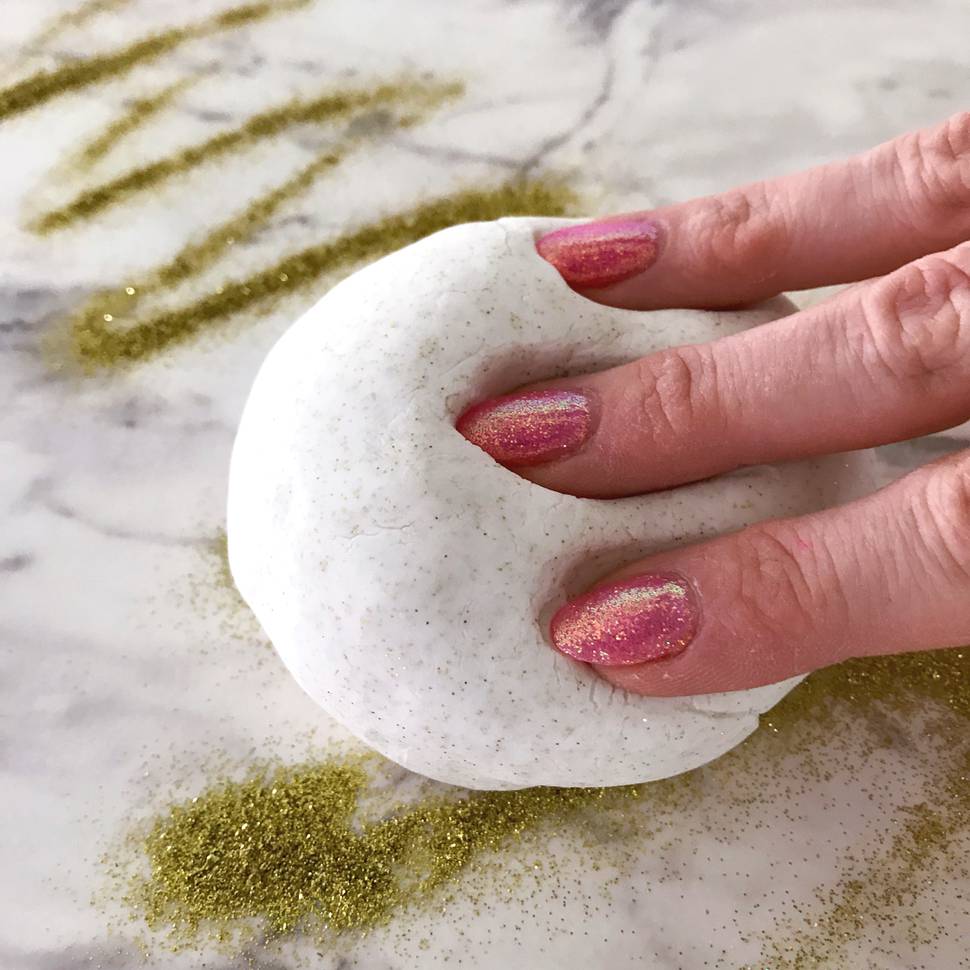 WHAT YOU'LL NEED
•1 cup hair conditioner
•2 cups cornflour
•Food colouring and/or glitter
METHOD
Combine everything in a bowl, kneading with your hands once it comes together. Add more cornflour if its sticky; more conditioner if its too crumbly. This stuff smells delicious and is delightfully soft. It contains no preservatives though so it tends to last for one use only.
If anyone knows how to make playdough, its kindy teachers. This is the tried-and-true recipe shared by the wonderful team at Central Kids Ngatea. It makes a big kindy-sized batch.
Best playdough
WHAT YOU'LL NEED
•4 cups of flour
•2 cups salt
•1/4 cup cream of tartar
•1/4 cup oil
•4 cups of boiling water - plus another for luck
•Fun stuff - paint, dye, glitter, and so on.
METHOD
Mix everything together and get squishing. Dont panic if its a little sticky to begin with. When it cools down it will become soft and pliable.
Instagram: @pony.mctate
Email: pony@ponymctate.com