Address: 591 Sandringham Rd, Sandringham
Phone: 09 845 1144
We spent: $67 for two
Rating out of 10: Food: 7.5 Service: 7 Value: 9 Ambience: 7

In 1825, the French gastronome and epicure Jean Anthelme Brillat-Savarin declared: "Tell me what you eat and I will tell you who you are."
Auckland would have done his head in.
This is the city 220 different ethnic groups call home, where you can find saag paneer, sushi or steak frites without needing to move your car.
It's easy to take this for granted. But when I visit my sister in a small South Island town with its single Indian restaurant that Trip Advisor rates for its jalfreezi but not its decor, I'm reminded - again - how much I love living in a place ranked more ethnically diverse than Sydney, Los Angeles, London or New York.
I especially love Sandringham Village. It starts early and finishes late. It wears pink and turquoise regardless of fashion or season, and it nearly always smells of cumin, coriander and deliciousness. It does not appear to have got the memo about closing on Christian holidays or the need to build a burger bar on every second corner.
For all of this (and the samosa from Shubh) my stomach is eternally grateful. Food dominates this small strip of shops, but one restaurant really captures the crowds. Paradise Indian Foods boasts a sit-down experience in a brown-bricked room that had an old school Cobb and Co feel to it, a frenetic take away counter, and, around the corner, a buffet dining room.
It is a biryani-making behemoth, specialising in food from the city of Hyderabad. It is so busy that, at times, queues block the footpath. Join the line, give them your phone number and spend your wait time in the nearby grocery stores that remind you 12g of star anise doesn't have to cost $4.50. Or you could just stare in the kitchen window and wonder how the chefs don't get repetitive strain injury from all that slap-slap-slapping of naan dough into the tandoor oven.
I've lost count of the number of cab drivers who have asked if I've eaten at Paradise. They recommend, without exception, the chicken 65 from the "Indian Chinese" section of the menu. I desist, because I once had the paneer 65 and it was weirdly sweet, sticky and glow-stick bright.
Paradise's paneer tikka is, on the other hand, addictively good. For an extraordinarily cheap $12 you get multiple large slabs of compressed milky goodness, coated in spice and charred black in a fiercely hot oven. Cottage cheese should always be this interesting.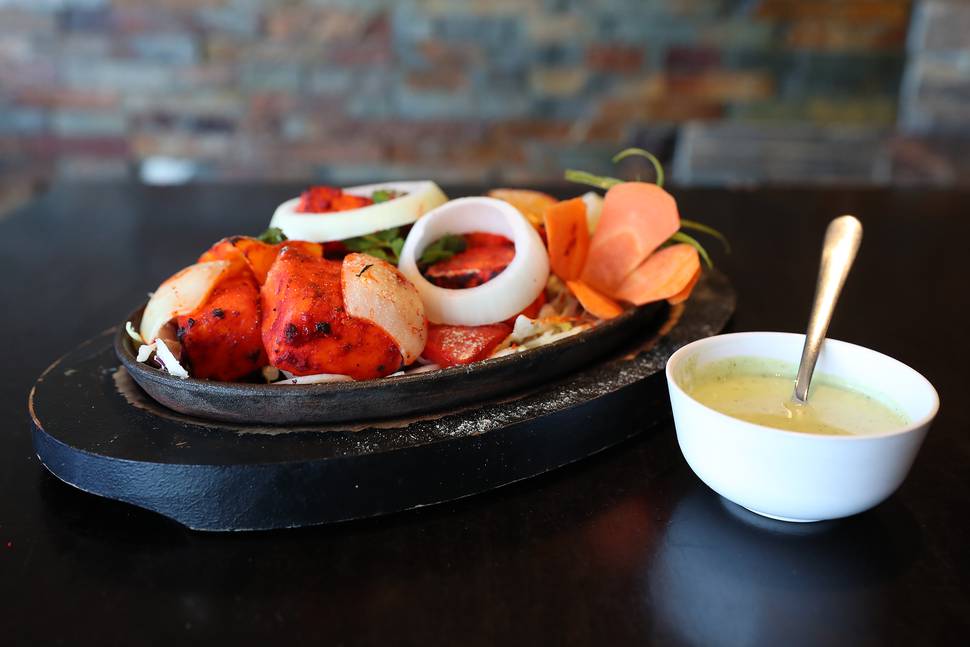 Also insanely cheap: the onion pakora. It arrived as the Indian equivalent to a side of fries, assuming anywhere in Auckland served an enormous basket of fries for $12. We snacked continuously on the thin, crispy strips of chickpea battered vegetable, and still couldn't empty the plate.
This was the moment we sincerely wished Paradise was licensed - a beer would have been the perfect partner.
Dum biryani is, traditionally, rice and meat cooked in a pot sealed with dough. The seal creates dripping steam which renders the dish succulent and fragrant. Paradise's chicken version ($12) includes a hard-boiled egg and a spoonful of what appeared to be butter chicken. It was gratifyingly heavy on cardamom and every rice grain separated beautifully, but the baked poultry was drier than expected.
I've always thought my palate was reasonably curry-tolerant, but, in the absence of a cold beverage, I needed a side of that chewy, tangy naan ($2.50) to help dilute the heat of a lamb masala ($18) that was surprisingly spicy for a "medium" order.
On another day I might have also eaten Paradise's very good bagarey baigan - oily, melting eggplant, in a tamarind gravy ($14) - or the lime and herb marinated lamb chops ($12) that, once you get past their disconcerting shade of green, are bone-suckingly good. But we were stuffed. Just enough room for a thick, cold and not-too-sweet take-out lassi. Our table was turned over, even before we'd paid the bill.