A female bodybuilder has been criticised for body shaming a fellow gym-goer by posting unflattering photos of her on social media.
Diana Andrews, from London, shared an image of a woman on a treadmill with the caption "love handles", while a further post joked she would be "ordering burgers for delivery", reports the Daily Mail.
Campaigners called the comments "tragic" and accused her of discouraging people from trying to lose weight.
Her social media accounts have now been made private but one of the images was shared on a support group for women on Facebook.
It had the caption: "This is why most people hate going to the gym to try and better themselves."
Ms Andrews has now apologised to her 17,000 followers. She wrote on Snapchat: "I realise I was wrong to make this silly joke.
"It wasn't my intention to body shame, hurt or disrespect anyone."
Ms Andrews later wrote on Facebook insisting she was not body shaming the woman but merely joking about the fact she was using a phone on a treadmill.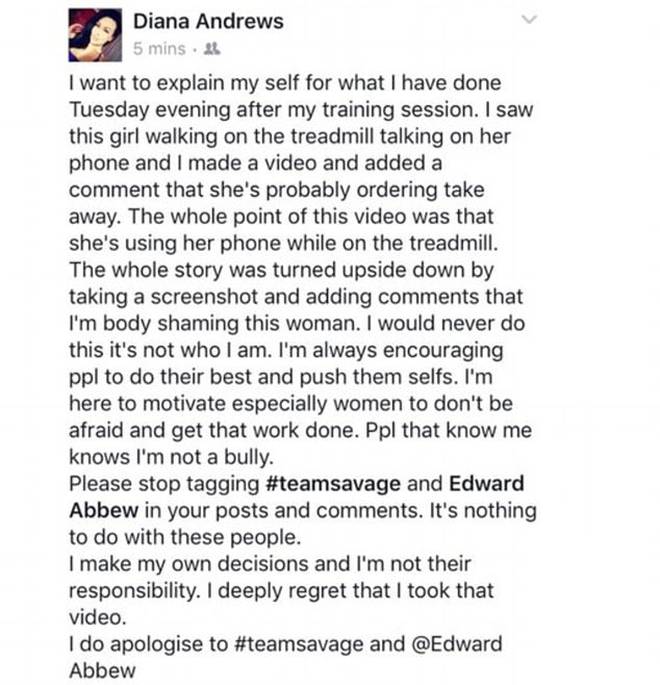 Despite her apology, people have taken to Twitter to reiterate their dismay at her "humour".
Emmy Gilmour from The Recover Clinic, which helps people with eating disorders, said: "This is a really tragic example of a how society has conditioned women to judge and compare one another.
"We're living in an era where it's normal to tell women that they're inadequate, and that they must apologise for how they look," she told the Huffington Post.
Ms Andrews competes in competitions run by the United Kingdom Bodybuilding and Fitness Association (UKBFF), although the organisation said she is "not a paid-up member at the moment".
A spokesperson told MailOnline the organisation would not be getting involved in the controversy beyond condemning Ms Andrew's behaviour.
"We are totally against this kind of thing. We have already told her off and she has apologised. It is not very nice," the spokesman said.
The controversy echoes a row that erupted last year after Playboy model Dani Mathers mocked a 70-year-old woman who was showering at a gym.
The former Playmate of the Year snapped a secret photo of the elderly woman at an LA Fitness gym last July.
This was accompanied by a selfie that showed her covering her mouth in laughter. "If I can't unsee this then you can't either," read the caption on the images.
In November, Mathers was charged with a misdemeanor count of invasion of privacy and could face up to six months in jail and a $1,000 fine if she is convicted.
The model appeared to try and rehabilitate her image following the controversy, pledging her support for anti-bullying non-profit The Tyler Clementi Foundation.
In one tweet, Mathers said she had signed the foundation's Upstander pledge - which asks supporters to vow they will stand up to bullying and never use demeaning language to insult others.