Here is proof that looks can be deceiving.
The guy in the picture above seems nice enough, doesn't he? Friendly smile, kind eyes, pressed shirt. You presume your mum would be relatively happy if you brought him home.
But it turns out Nick Vedovi has a revolting way of treating women. And he just got properly schooled for it. Pleasingly, it seems that the internet won't stand for racist/sexist slurs.
A (former) friend of Vedovi's posted an unflinching Facebook post naming and shaming him after one of his female friends matched with Nick on Tinder and had a truly horrendous conversation with him.
If you're wondering what the girl did to deserve a spray from Nick - a graduate from the University of California, Santa Barbara - the problem was she didn't respond quickly enough to his messages.
Here is the original Facebook post, written by Nick's former pal Kevin Tran.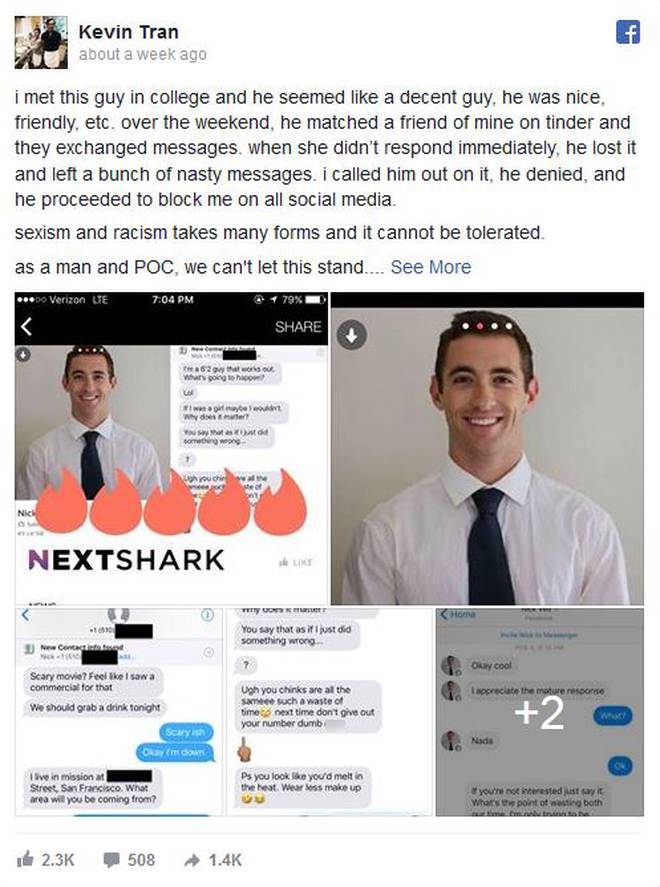 In the post Kevin claims to have met Nick in college, where he seemed like a nice enough guy.
However that all came crashing down when one of his female friends showed him some of the correspondence she allegedly had with Nick on Tinder.
"Over the weekend, [Nick] matched a friend of mine on Tinder and they exchanged messages," Kevin explained.
"When she didn't respond immediately, he lost it and left a bunch of nasty messages. I called him out on it, he denied, and he proceeded to block me on all social media," he said.
He also posted a screenshot of the messages that Nick apparently sent his friend. As you can see, it started out fairly well, but descended quickly: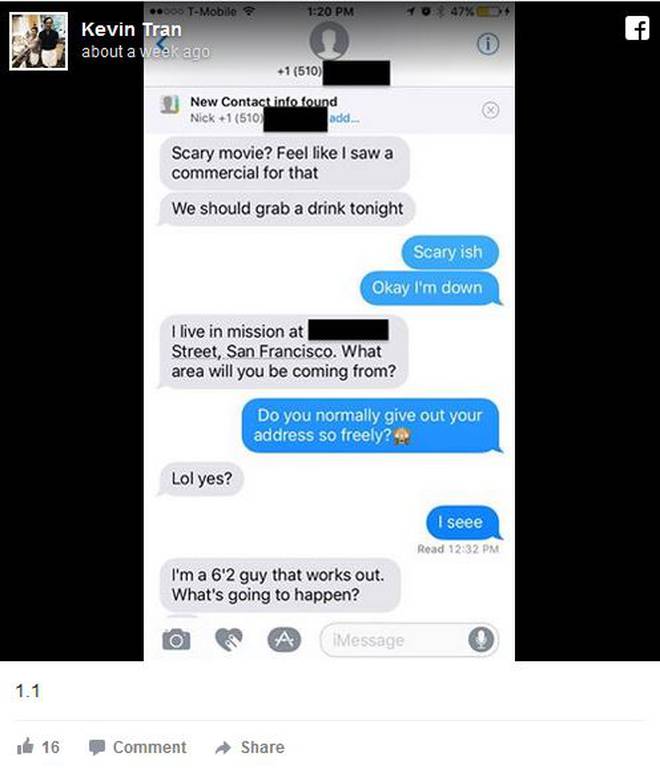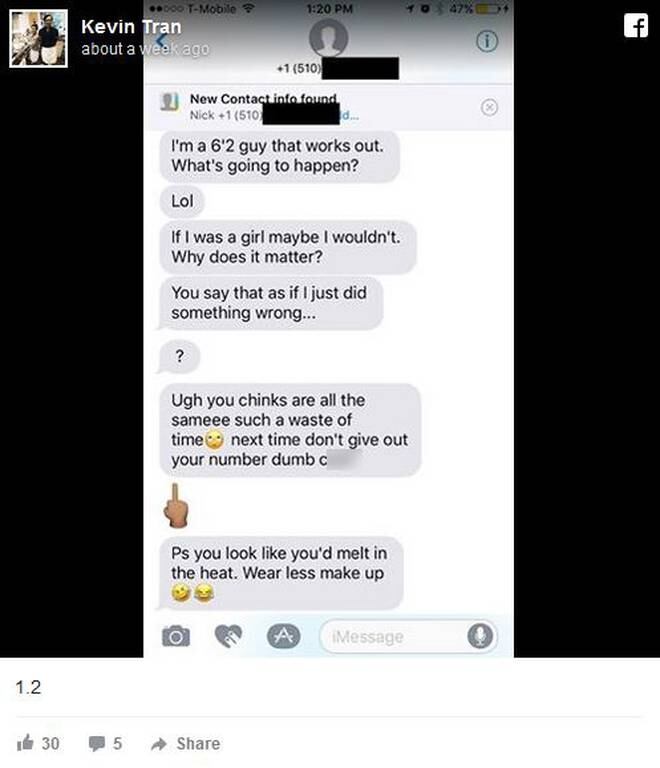 Kevin explained his reasoning for naming and shaming his former friend in his Facebook post, writing "we don't have to put up with this. We have to protect each other by calling these people out, even/especially if they are your friend, and showing that this behaviour will not be tolerated and will never be acceptable #nomorehiding".
The post soon went viral and the story was broken by NextShark. As a result, other women came forward claiming to have been harassed by Nick in the past.
Someone also pointed out that the exposure could have repercussions on Nick's employment ...
... and another woman who had a brutal exchange with Nick posted an excellent open letter to him.
The rumblings came to the attention of Tinder and the company took steps to ban Nick for life.
Rosette Pambakian, Tinder's Vice President of Communications and Brand had this perfect response in a Tinder blog post entitled "In Commemoration of National Pig Day".
"Hey Nick (and anyone who behaves like you),
We're swiping you off the island.
Tinder has a zero-tolerance policy on disrespect. No racist rants. No sexist pigs. No trolling. No jerks who can't get over their own inadequacies long enough to have a decent conversation with another person on Tinder.
I was personally offended by what you said. Your words to that woman were an assault, not only on her, but on all of us. Every day, we work to rid our ecosystem of bad actors like you. Why anyone would choose to go out into the world and spread hate I will never understand, but you do not have that choice on Tinder. Hate is not an option and we will continue to fight it wherever it rears its ugly head.
You have a lot to learn, Nick. I see that you studied global business, and that you joined your school's programs for young entrepreneurs and technology management. Great choices. Because you'll need to search far and wide to find an organisation that will employ you now. Not sure if you've heard, but more and more women are becoming successful entrepreneurs and business leaders. Clearly, you haven't been paying attention. Women's voices are only getting louder. So let me say this loud and clear: you and your kind are not welcome in our world.
And we have the power to keep you out of it."
People were quick to applaud Tinder's response on social media.
After the story broke people started collecting personal information from Nick Vedovi's social media accounts (all of which have since been shut down).
Some people posted things like his address and phone number in Facebook comments.
The woman, who originally shared Nick's racist and sexist messages with her friend Kevin Tran, spoke to Buzzfeed anonymously about the vigilante response.
She says she has found some of the reaction uncomfortable.
"At first, I felt a sense of unity when people were applauding Kevin for his stance for people of colour and women," she said.
"However, when the thread began to grow and promote cyber-bullying, I started to feel uneasy. The reason why the post gained recognition is because people were upset at the hate Nick was spewing. I felt that it was counterintuitive that people were now spewing hate at Nick."
Pambakian at Tinder told Buzzfeed they stand by their decision to ban Nick.
"Given the racist, sexist and graphic nature of his comments, we believed it was important to send a very loud and clear message that we don't tolerate abusive behaviour on our platform," she said.
"We encourage anyone who has encountered this type of behaviour to report the user immediately so we can take swift action to remove them from our platform. As for Nick, we hope he's learned that type of abusive behaviour has consequences, and he cleans up his act in the future - it just won't be on our platform."