She is currently blazing the promotional trail with the live action take on 1991 fairy tale cartoon classic Beauty And The Beast.
And Emma Watson proved she slots perfectly into her title role as she posed for a stunning shoot in the March issue of Vanity Fair, in which she dazzled as she went topless in an artistic image while protecting her modesty with just a caged bolero.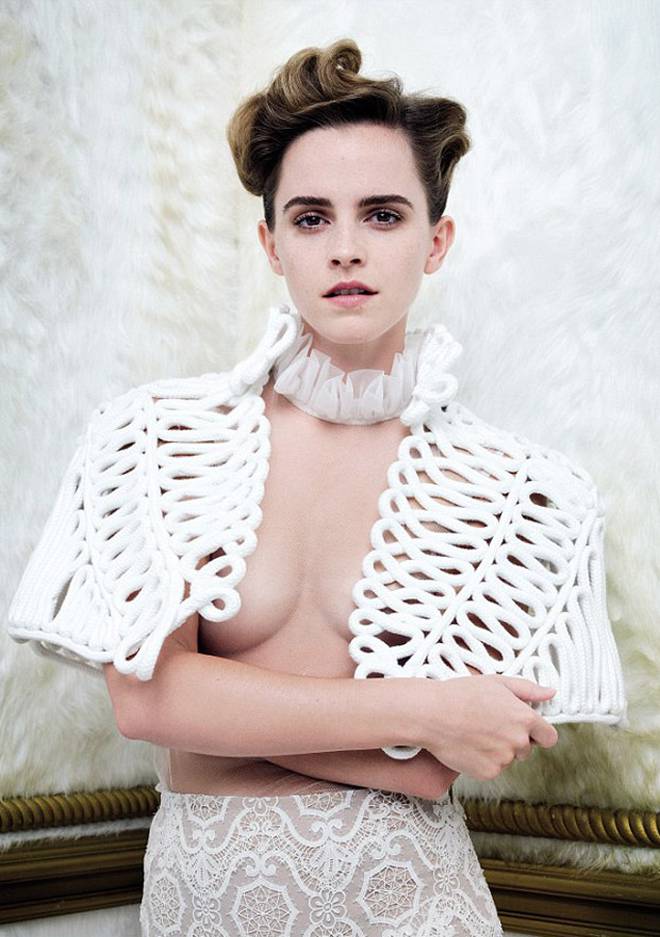 The 26-year-old Harry Potter actress, who is famed for her staunch feminist views and activism, discussed growing up in the spotlight and her disregard for being prized with an Oscar.
Emma looked sensational for the latest shoot in which she scooped a cover image - where she marred her punky hair do with a frothy white gown, in an image sitting alongside the words: "The Bewitching Emma Watson".
In her most daring snap to date, she went topless from beneath an intricately caged bolero which left nothing to the imagination, in a truly high fashion style.
She paired the modesty-protecting Burberry bolero with a high-waisted tight lace skirt from the luxury brand which provided the perfect muted palette to the dramatic shoot.
Her edgy cropped hair do, which was styled into bouncy curls, boasted sheared sides while her make-up was kept extremely minimal to best exhibit her striking good looks.
The racy look comes after Emma famously declared back in 2009 that "I'm not just getting my kit off for anyone," and perhaps opens the feminist star up to criticism from some quarters.
Speaking to the Mail on Sunday's Live magazine, the then 18-year-old explained her stance on sexy shoots and her refusal to let stylists dictate her image.
"Personally, I don't actually think it's even that sexy. What's sexy about saying, 'I'm here with my boobs out and a short skirt ... have a look at everything I've got'?"
"My idea of sexy is that less is more. The less you reveal the more people can wonder."
The actress added that she would only strip for famed arthouse director Bernardo Bertolucci, saying: "I have no plans to do anything for the sake of it, or to shock people.
"I might be willing to take my clothes off for a Bertolucci film, if it was a part that really made sense as part of my character. But I wouldn't do it just to make a point, to move on from Hermione. I'd hate to be so tactical. I'm not just getting my kit off for anyone."
Emma, who soared to fame in 2001 playing Hermione Granger in Harry Potter, gave an extremely insightful interview to accompany her shoot as she delved into the wild world of Hollywood and where she stands as a former child star.
It seems Beauty And The Beast has been Emma's true coming-of-age film, as she attributes the blockbuster for helping her become "a woman" - in her transition from Hermione to Belle.
She explained: "When I finished (Beauty And The Beast), it kind of felt like I had made that transition into being a woman on-screen."