Address: 149 Quay St, Viaduct Harbour.
Phone: (09) 379 6914.
We spent: $214 for three.
Rating out of 10: Food: 6.5 Service: 6 Value: 6.5 Ambience: 7.5
"Everything is good," said the waitperson. "I recommend everything. Except the Buddha's Delight. It's weird."
I checked the menu. Silken tofu, chilli, shiitake, cashew nuts, bean sprouts and wakame ($17). Crunchy-sweet-sour-refreshing. Outside, the humidity had hit 97 per cent and the temperature would not go below 19C for another three days. Salad sounded good. Buddha's Delight was delightful.
Later, we consulted the waitperson about our choice of dishes. He'd already explained this was a sharing menu, the kitchen would send food out in no particular order, and that some dishes were bigger than others (clue: some were listed as "starters").
Our question, therefore, was logistical: would three bigger dishes be too much for three people who also wanted some of those starters that wouldn't necessarily arrive at the start?
"It depends what you choose," said the wait-person, knowledgeably. "Red meat is generally heavier than white meat - the beef, for example, would be more filling than the pork."
The beef was cheek or shin (lean). The pork was belly or scotch (less lean). One thing the waitperson did excellently was to replace my chopsticks less than a second after I had knocked them on to the floor. He also apologised profusely when our first two rosé choices were unavailable and made a good recommendation for a third. (Later, I realised we had been charged twice - the refund was prompt).
Service is such a tricky beast. You can't shoot the messenger because of a kitchen's stupid whatever/whenever policy. And I know the jokey attitude I abhor will entirely charm someone else. So I tried to forgive and forget, but then our chicken karaage bao arrived and it was pork belly (two for $12). We might have noticed the protein switch before the buns hit the table, except that food was arriving so fast our table had taken on the appearance of a buffet for seven.
The problem with the simultaneous delivery of hot, cold, sweet, and spicy is that, within minutes, it's all just one lukewarm mess.
I would recommend refusing to order the next round until you're ready for it. I would also recommend the beef cheek ($32). It was tougher than you'd expect from a slow braise in a master stock, but the flavours were intense and I would have happily eaten a bowl of the accompanying creamy, buttery eggplant miso puree on its own. It came with mushrooms, choi sum and a pretty, lacy doily of deep-fried tripe. The complete package.
Char siu pork scotch ($32) was too dry to enjoy. Hapuku ($32) was advertised as a crispy, wok-fried, dry curry with broccolini, peanut, mint, coriander and kaffir lime. The herbs were lost in a sticky, sweet sauce. The fish chunks were very moist, because they had been encased in a batter, but the coating was more chewy than crisp.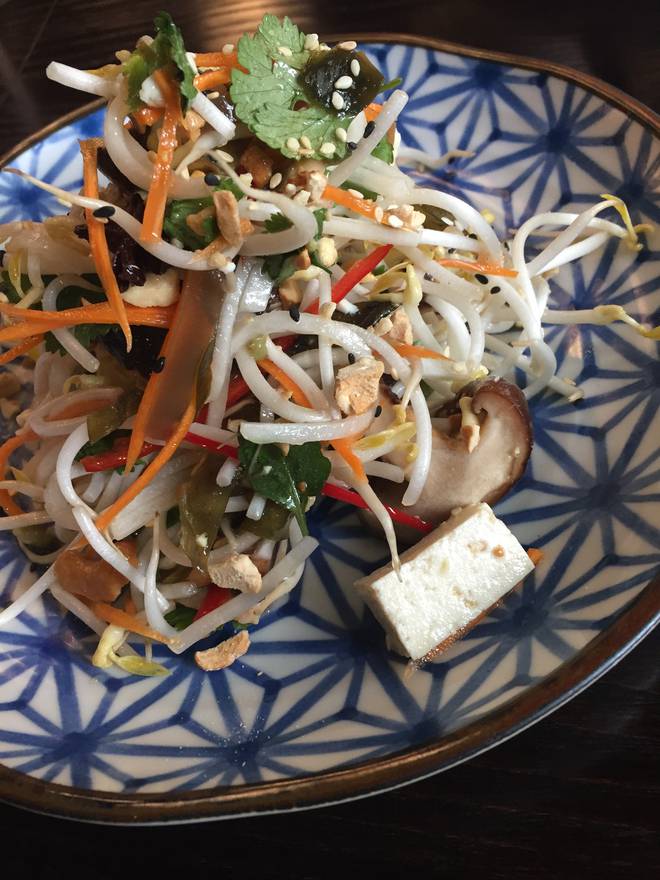 You're possibly wondering why I haven't mentioned the biggest elephant in the room - that name. It's a jaded joke that has bothered me since this restaurant opened, and I don't have the word count here to explain why (google "Winston Peters" and "Race Relations") but it doesn't appear to have deterred the punters.
On the Monday night that we visited, White + Wong's was buzzy and busy. It's a pretty restaurant, with a great waterfront outlook and a menu that runs the Southeast Asian gamut, from kung pao chicken to tom yum soup to roti chanai. Everybody is bound to find at least one dish that appeals. If you don't, don't worry, because the next will be there before you know it - or want it.