There have been no complaints about a new billboard in Bulls despite its similarity to one that caused consternation last year.
Michael Adams, owner of Designer Direct has replaced a billboard which featured barely covered female breasts with one that is almost identical except that the model in this one is male.
"One person has commented that the image still objectifies female breasts but most people have said that it has given them a laugh and they are enjoying it," said Mr Adams.
The previous billboard showed a bottle of perfume nestled between the breasts and the current version also features a scent named "Equality" manufactured by a company called "PC."
When the Chronicle investigated complaints about the previous billboard in December, most people we spoke to said they were not offended by the image.
"The people who made the initial complaints were very reasonable and I understood their objections," says Mr Adams.
"The billboard was behind a bull statue where visitors might want to stop and take pictures of their kids and that was fair enough but there were a small number of people making very nasty posts on Facebook."
The new billboard is on SH1 between Sanson and Bulls where north bound travellers can enjoy it and Mr Adams said he plans to shift it to the other side of the road next week so motorists going the other way can get a laugh as well.
"Locals are loving it," he says.
"I go in to the supermarket or the pub and put my hands over my breasts and everyone cracks up."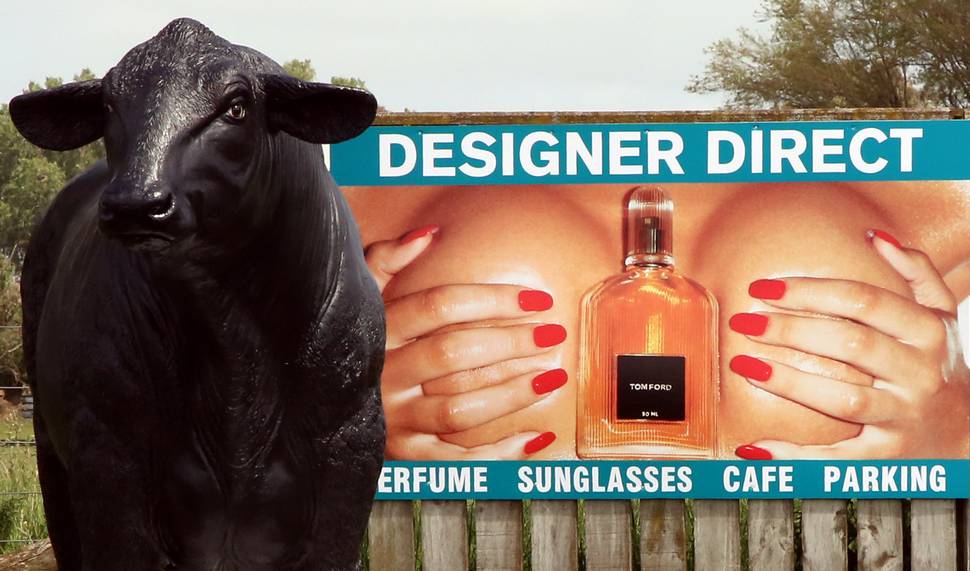 The previous billboard is sitting in Mr Adams' office and will shortly be collected by a buyer.
"We put it on Trade Me where it had 13,000 views and the successful bidder paid $250 for it."
Mr Adams said the money from the sale will be donated to the local kindergarten.