Winner of the first season of The Block Ben Crawford finished the show and, with wife, Kylie, bought a plot of land in the middle of bush on the outskirts of Auckland. He reveals what the couple learned from their Grand Design.
Time's a funny thing. It's been 18 glorious months since Kylie and I moved into our dream home. Meaning we've been living in the house for exactly three times longer than it took to build.
I'm not sure where that last year and a half disappeared to. It's flown by compared to the construction phase when time stood painfully still.
This comparative oddity of time is the biggest lesson that I learnt from building our home. While the construction phase feels like an eternity when you're in the midst of it, in reality it's not.
The proportion of time building compared to the time spent enjoying your brand-new home is minuscule. Every extra day spent ensuring perfection is well worth the wait once you've moved in.
However, it's extremely hard to see that during the build and tempting to try and rush the whole process.
In our (admittedly biased) opinion the house looks stunning and it has settled into the land beautifully. That's been helped by the mature bush we built within, but also by the long hours spent toiling in the garden to establish extra natives in and around the building platform.
Actually, maybe our opinions aren't so biased. Towards the end of last year the house won a Gold, then a National Gold Reserve Award in the NZ Master Builders House Of The Year Awards, making it one of the best homes built in 2016.
That's something we're proud of, but it's also great recognition for the skill, commitment and craftsmanship from our builders at Haven Renovations.
We aren't architects, so we were slightly nervous moving in because here we'd gone and designed a house over a stream in a tree-filled valley. Would it be easy to live in? Would we get enough sun? Would our little babbling brook turn into a raging torrent and wash our dreams away?
So many questions that have now been answered after spending two winters and two summers in the house, experiencing first-hand how it performs in all sorts of weather.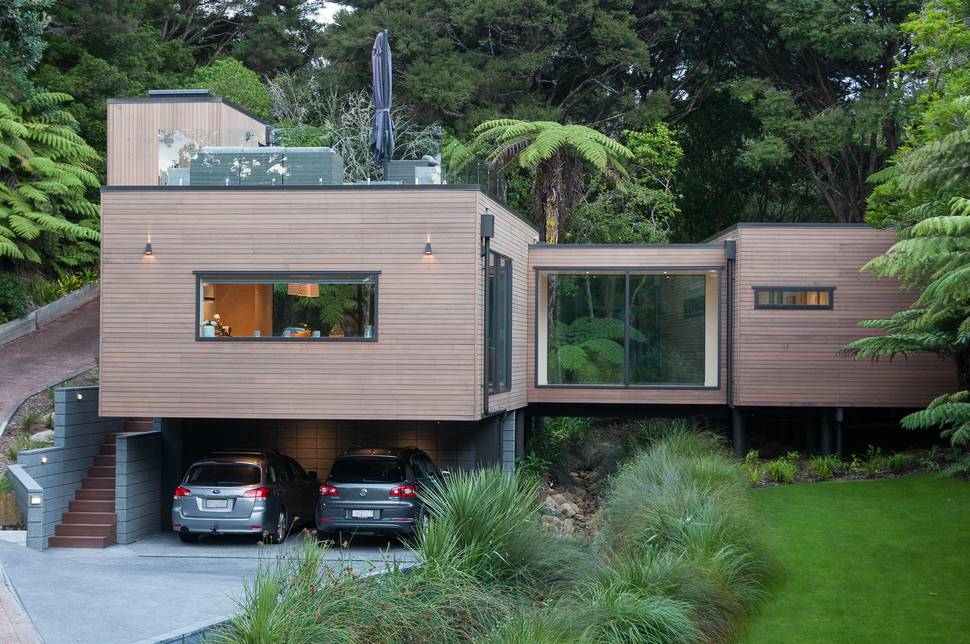 We're happy to report that our expectations have been exceeded.
The sun hits us in all the right places and at all the right times. Refreshing rays over our Weetbix at the breakfast bar in the mornings through to golden evening sundowners on the roof-top deck.
I've sat in the bridge on numerous occasions during big storms watching the stream in all its glory while the flow stays within its banks. We love the way we live in all of the rooms and connecting spaces. It's easy, intuitive and super cosy.
Would we do it again? Absolutely. It was such a rewarding and satisfying experience. Especially designing the house ourselves and turning an unwanted, challenging section into a unique home that we absolutely love.
We've had so many questions from people looking to build their own home, so I thought I'd share the five most common topics as they nicely summarise the more unusual aspects of our construction.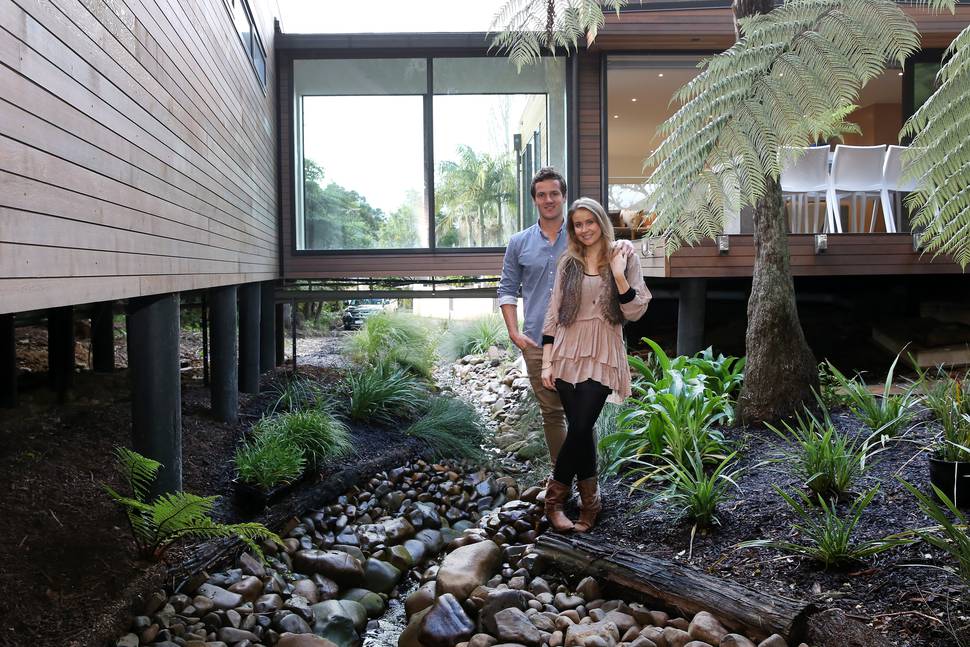 Would you build your house from Structural Insulated Panels (SIPs) again?
I truly believe SIPs are the future of building in New Zealand because they make so much sense and highly recommend building with them. We started looking into prefabrication and Formance SIPs to speed the build up, save on construction costs and to be light on our site. Which they absolutely were and are a significant pro for building with SIPs.
But in the end we've found the real benefits lie in the superior thermal insulation and air-tight envelope a Formance SIPs home provides, creating an extremely dry and healthy home to live in. The house is always warm and takes very little to heat even in the middle of winter, despite the huge amounts of glass that we have. Usually the sun is more than enough to keep us nice and warm, meaning our power bills are pleasant on the bank balance.
How is your cedar cladding performing?
It looks amazing and the Dryden Woodoil we used has matured beautifully. Granted cedar isn't a low maintenance cladding, but we love the aesthetic and it's such a natural fit in our wooded surroundings. I've just spent the past four weekends applying another coat of oil to the whole house as per the manufacturer's specifications. However, it should only need another coat every 4-5 years and the effort is minimal to preserve the look we love.
Are you still happy with your decision to use composite decking?
Absolutely. Our Outdure Resort Decking looks great and so many people mistake it for hardwood because it looks so natural. We've seen very minimal fading, if any at all. There have been no splinters, no cracking, no bleeding and no noticeable movement. A great decision compared to staining a timber deck every year and pulling giant splinters from your feet.
Is your laminate flooring holding up?
Yes. We get so many positive comments about the Quick-Step laminate flooring we used throughout the living pod. It looks great, but importantly it does what it says on the box. It's super-hard-wearing and even after multiple parties with 60-plus people, it looks flawless without a stain or dent in sight. It's also very solid underfoot and looks extremely natural.
Do you use your roof deck?
Of course! It gets so much sun and it's incredibly peaceful amongst the trees, so we use it all the time. We hope to eventually put in a little outdoor kitchen with a dining table to really maximise the space.
We were quizzed a lot about our decision to go with a ''flat'' roof, but we couldn't be happier. It's given us a huge outdoor living area in what is traditionally wasted space, it looks great and it's very easy to access all areas of the house for maintenance. We've found the Nuraply 3PM membrane to be bulletproof, keeping everything dry and leak-free in the house below.
10 LESSONS WE'VE LEARNT BUILDING OUR DREAM HOME
1. Have a pre-application meeting
Had we not involved the council from the beginning, we would've had a lot more difficulty building our home. It gave us a clear road map to follow to get our consents, making the process a lot easier than we'd expected. The small cost of $287 for the pre-application meeting was one of the best investments we made.
2. Choose a Registered Master Builder
You want the peace of mind that your new home has been built to the highest of standards and your financial outlay is in safe hands. Choosing a Registered Master Builder gives you that reassurance. The builder has been successfully assessed by the Registered Master Builders Association to have the required skills, licenses and knowledge to adhere to the Building Code. They also have to show proof of being a well-run, solvent business.
Only a Registered Master Builder can offer you a 10-year Master Build Guarantee, covering you for loss of deposit, non-completion of work and materials, workmanship and structural matters. However, cover isn't automatic. Discuss the process and costs with your builder first.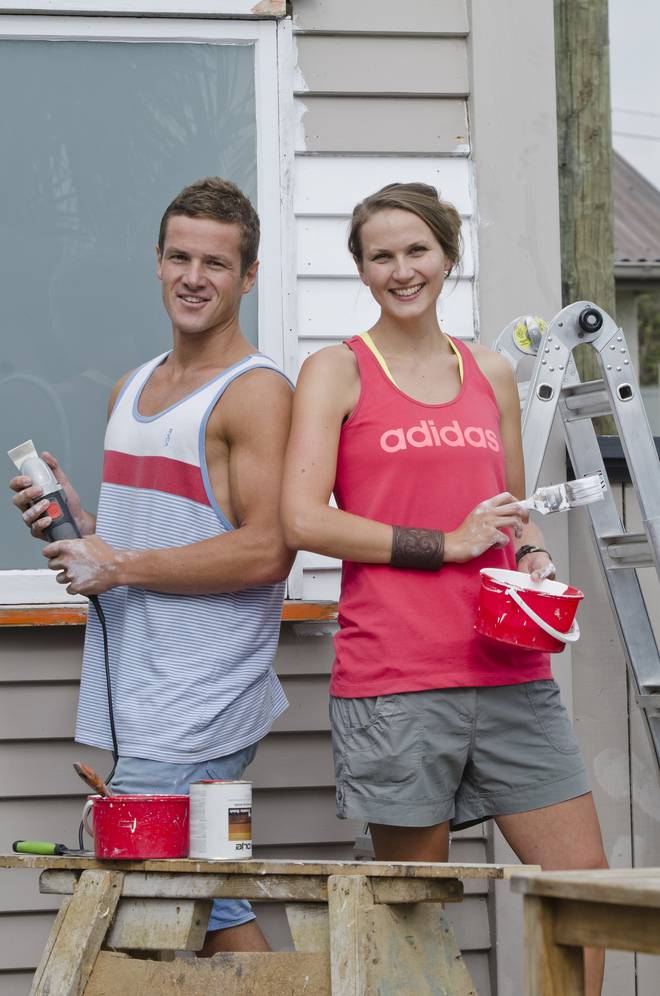 3. Build everything during the build
When the bills are piling in, it's tempting to postpone some work until you move in to stem the cash haemorrhaging out of your bank account. You won't. Once you are servicing the full mortgage, it's very hard to save enough to undertake any sizeable project. However, while the builders were still on site, we found the bank to be flexible about extending our construction loan to finish some additional works. With that extra expenditure now spread across 30 years, we barely notice it.
4. Don't scrimp on your hardware
There are so many choices for taps and handles and it's hard to quantify why an almost identical looking product is three or four times more expensive. Our advice would be to choose the most expensive hardware that you can afford. They're the items in your house you use the most often and cheap products will wear out very quickly.
For example, we spent a lot on top-of-the-line Methven taps, except for in the laundry. We bought a cheap tap and you can tell. It's wobbly and not as nice to use so we'll be replacing that soon.
5. Set a time frame. Decide how long you plan to spend living in your new home
This will help you prioritise what aspects are must-haves and what are nice-to-haves. For example, we plan to spend at least 10 years in our home, so we could justify spending money on a floating staircase, automation and pre-wired AV. But if we were only thinking of building and flicking it on in two or three years, it's unlikely we would have spent money on these nice-to-haves.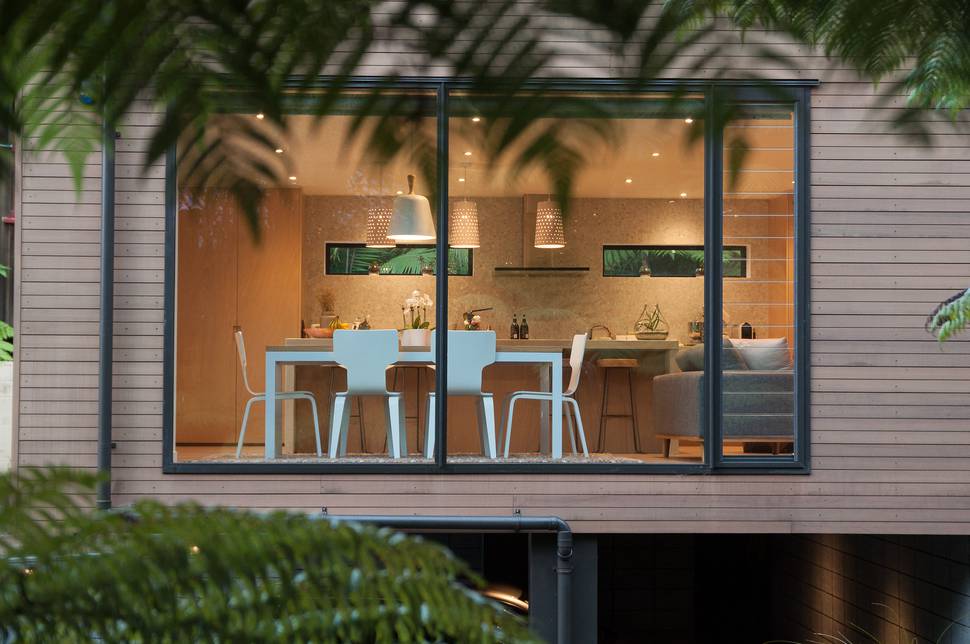 6. You never really finish decorating
It takes a long time to create a truly warm, homely home from scratch. We find ourselves constantly curating the inside of the house and I don't think that will ever really stop. We're always picking up new items when we can afford them and rearranging elements to personalise the spaces more.
7. A deck is more than just a deck
We were slightly guilty of just making our decks as big as we could. Instead we should have thought of them more like a room in the house. What are the zones and how will we actually live in them? Do we have room for dining and lounging areas? Can we factor in an outdoor kitchen? Our decks are amazing but we're still working on creating different zones.
8. Lead times will be long
We had long delays waiting on some suppliers. It's frustrating, but unfortunately commonplace and it is worse now with the construction boom in full swing and a shortage of quality tradies. So it's key to lock them in as early as you can and keep communicating with them. As they say, a squeaky wheel gets the oil and that couldn't be truer when building.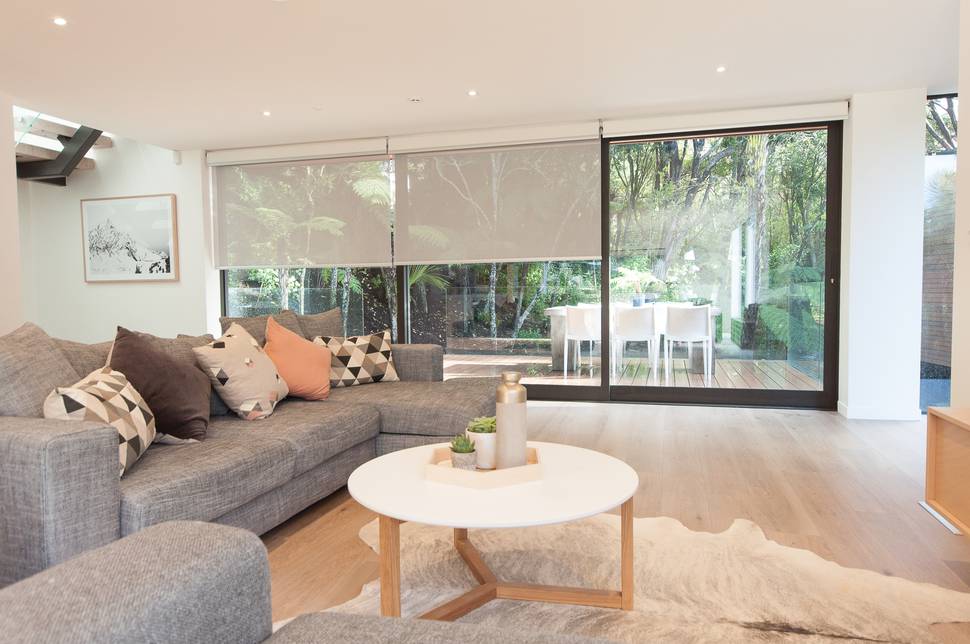 9. No question is a silly question
Building is full of calculations, technical terms and jargon, not to mention the actual construction plans which can be difficult to understand. Make sure you ask your architects and builders any questions you have. They're more than happy to explain things, then you won't be left living in a home with aspects you don't like, just because you didn't understand the plans.
10. Mark out your spaces
As you build, the rooms in your home will feel massive, then tiny, then big, then small again. You probably won't be confident if they are the right size until you actually move in. Avoid any stress by marking out your floor plan to scale, including your furniture. You can do this really easily on a beach or a sports field.