The Australian Instagram star who claimed her photos were copied by a mystery follower has been accused of masterminding a hoax.
Lauren Bullen, 23, travels the world posting glamorous photos to her Instagram account, but was 'disturbed' to find another woman had recreated her images - right down to the finest detail.
Since making the shocking discovery last week, Bullen has been inundated with messages of hate by people who claim the photos were part of a conspiracy she thought up in an attempt to gain publicity.
In the week since the mimicked photos were first published, Bullen gained hundreds of thousands of new followers, prompting accusations she and the mystery woman had planned it together.
One online sleuth accused Bullen and the other woman, known as Diana Alexa, of being connected based on a Google search.
"A Google search for 'gypsea_lust Diana Alexa' yields this archived Twitter profile," one user said.
"At one time Lauren's email address and Instagram ID appeared in Diana Alexa's profile."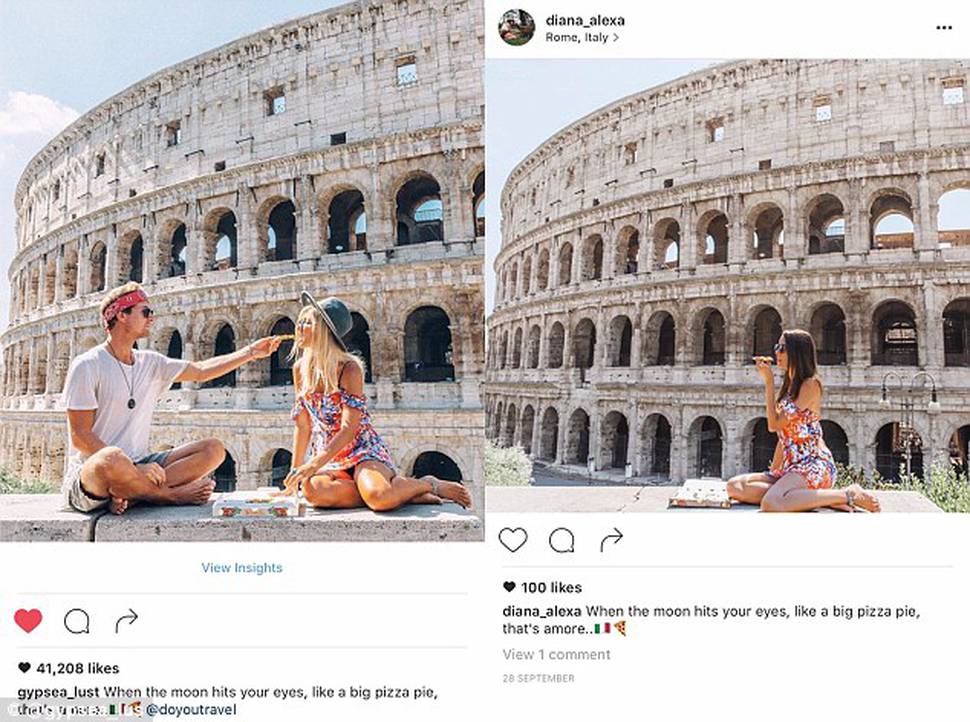 Another person has even claimed the two women are sisters.
"Do a search, they're sisters. Staged this to get publicity and obviously it has worked," one woman, from the US, said.
Another claimed it was the same woman in both photos, and she had simply donned a brunette wig.
But Bullen has lashed out at her haters, claiming the story was legitimate and not a hoax in the slightest.
The Instagram star told Daily Mail Australia on Saturday: "What I've said is 100% the truth."
She admitted she had gained followers in the aftermath, but it was not worth the 'traumatising' experience.
"It's spinning and backfiring on me, I'm accused of faking it and I don't know what to do, I hate it," she told Daily Mail Australia.
"It's so tough, I have nothing to hide."
In response to the damning Twitter result linking the pair, Bullen said she "didn't think anything of it".
"'My interpretation of it is that when you google two people's usernames, you'll get excerpts from both of their Twitter accounts," she said.
"It's not rocket science."
Initially angered by the shock finding, Bullen said she and the mystery woman were now friends and spoke 'everyday'.
"I don't know much about her, but I found out she's Italian," she said.
"I asked her today 'is Diana your real name?' and she said no, it was a nickname and she would never put her real name on the internet."
"So I don't even know her real name."
While the experience has been tough for Bullen, she said her Italian copycat was coping even worse.
"She says she's the laughing stock of her town, she's not having a good time with it," she said.
"She says it's embarrassing and she's so humiliated.
"She doesn't sound like a threat, maybe one day we'll meet."
But she said the friendship started out on rocky ground.
"She said: 'I'm not doing anything wrong and if you don't want your pictures copied you should make them private'," Bullen said.
Bullen even released screenshots of her conversation with the mystery woman to Daily Mail Australia in an attempt to prove the story's authenticity.